Twist Flavored Cotton $7.56 (USA)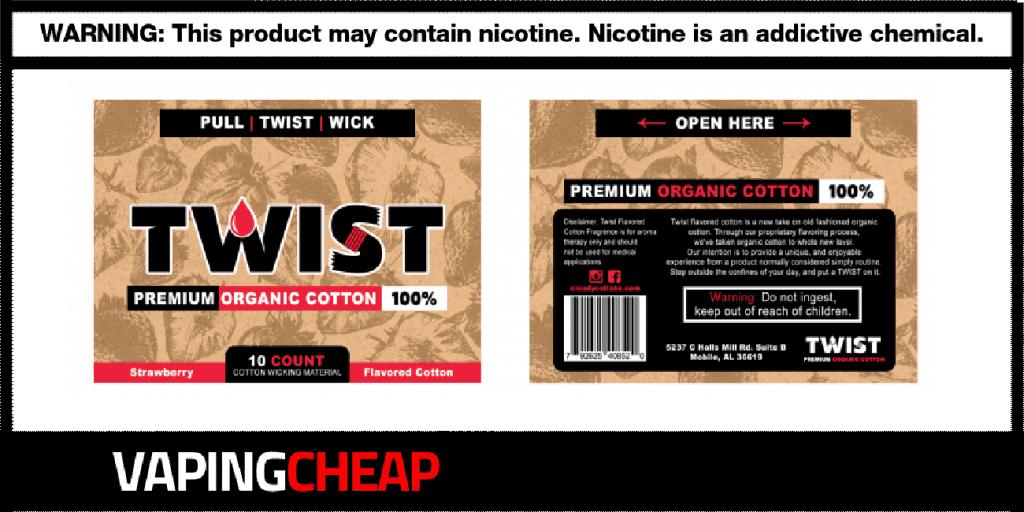 Here's a cheap deal, and discount for the new Twist Flavored Cotton. Get a bag of 10 pieces for just $7.56 when you apply the code "MYVPRO-2020". Free shipping is included with orders $50 and over.
Twist Flavored Organic Cotton by Cloud Chasers Inc. (CCI) is unlike any other vape cotton on the market. It's gone through a proprietary flavoring process, providing vapers with a unique vape experience, and completely changes the game when it comes to wicking.
CCI Twist Flavored Cotton is available in multiple different flavors including Strawberry, Vanilla, Cinnamon, Jasmine and Menthol.
Additionally, each pack of the Cloud Chasers Inc Twist Flavored Cotton comes in a pack of 10 pieces. Whether you're looking to try out some unique wick for your atomizers, or put a twist on some of your favorite vape juices, you'll want to check this out. It's definitely one of a kind, that's for certain.
Twist Flavored Organic Cotton Features:
Comes in pack of 10 pieces
Organic Cotton
Proprietary Flavoring Process
Multiple Flavor Options:

Strawberry
Menthol
Vanilla
Cinnamon
Jasmine