Vapcell U2 Smart Charger $5.56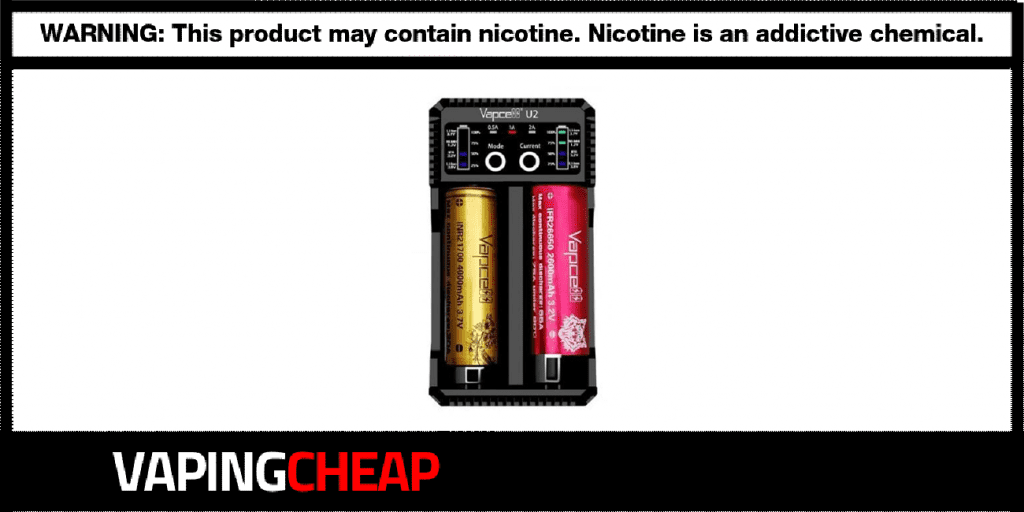 Here's an excellent deal for you vapers looking for an affordable vape charger. Get the new Vapecell U2 Smart Charger for only $5.56! No coupon code required!
Vapcell is more known for their batteries, but this new battery charger is quite simple, and super affordable. For one, it's a 2 bay charger, which means you can charge up to 2 batteries at the same time.
What's great about it is that it can charge a wide range of sizes, including the most popular 18650 batteries, and the newly popularized 21700 and 20700 battery sizes.
Not only does it charge those different battery sizes, it also can charge up to 2A, so you can charge your vape batteries incredibly quick if desired. There's three different charge speeds as well, the 2A, 1A and 0.5A. Like some of the top vape battery chargers, this one does offer multiple different safety features including the fact that it automatically stops charging once the battery is fully charged, and reverse polarity protection.
For the price, the Vapecell U2 Smart Charger is packed with tons of features, can charge up to 2A, and best of all, supports a variety of sizes. If that's what you're looking for, then this is a deal worth checking out for sure.
Discount Code: vapingcheap10 (must log in to get lowest price)
Vapcell U2 2A Battery Charger Features:
2 Bay Charger

Can Charge up to 2 Batteries Simultaneously

Compatible with Many Battery Sizes

Including 18650, 20700, 21700 & 26650

Three Charging Speeds
Automatically Stops Charging
Reverse Polarity Protection
USB Charge Port for Phones
Batteries Not Included
What's Included
Vapcell U2 Charger
User Manual
USB Cable