BMTD Ni80 MTL Fused Clapton Coils $1.44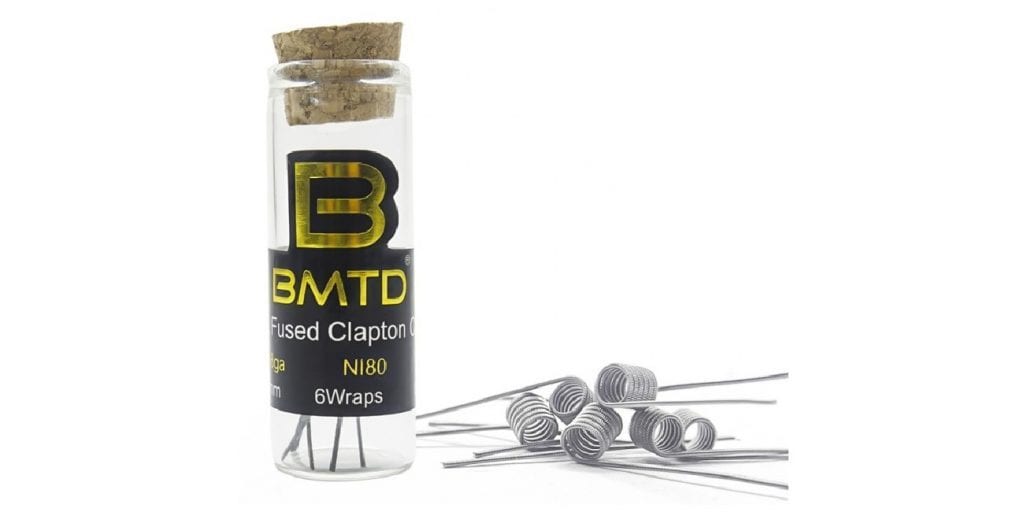 Here's an amazing deal on the new BMTD Ni80 MTL Fused Clapton Coils! Get a 6 Pack for only $1.44 when logging into your account and using our exclusive 3Avape Coupon Code "vapingcheap10"! Free worldwide shipping applies to orders over $30.
The BMTD Ni80 MTL Fused Clapton Coils are available in multiple options. The first is a 1.65 ohm regular Clapton coil which has 30GA inner wire wrapped with 38GA. Now, the second option is the 1.2 ohm Fused Clapton which features two inner 32GA cores wrapped in 38GA.
There's another Fused Clapton option which has a resistance of 0.7 ohm. Last, but certainly not least is the Triple Fused Clapton by BMTD which has a resistance of 0.41 ohm.
While these are geared towards mouth to lung vaping, you can definitely used the two lower resistance options (0.7 ohm and 0.41 ohm) for a direct lung vape experience. Since these pre-built Clapton coils feature Ni80 wire, they'll ramp up incredibly quick, and produce stellar flavor. These are some of our preferred picks when it comes to the best coil for flavor.
If you're looking for some exotic coils for both your mouth to lung and direct lung atomizers, then this is a deal you cannot miss out on. For under $2 per pack of 6 coils, how can you go wrong with this deal.
Promo Code: vapingcheap10 (Log in to get full discount)
BMTD MTL Fused Clapton Coil Features:
Pack of 6 Coils
Constructed of Ni80 Wire
Inner Diameter: 2.5mm
Comes In Small Container
Coil Options

1.65 ohm Clapton
1.2 ohm Fused Clapton
0.7 ohm Fused Clapton
0.41 ohm Triple Fused Clapton