SnowWolf Wocket Pod System $9.45 (USA)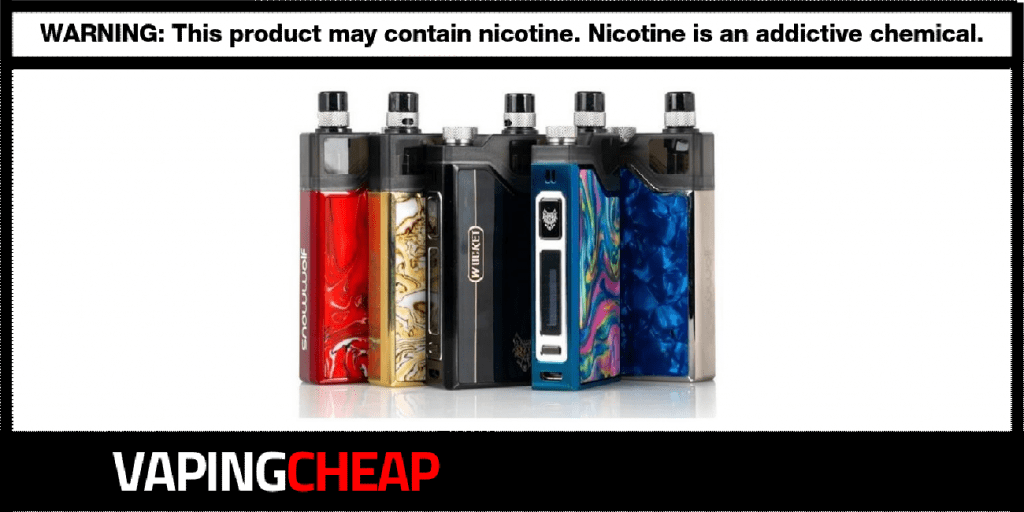 The SnowWolf Wocket Pod System is now on in stock and on sale for only $9.45 at a USA shop. Use coupon "vapingcheap10" to get the discounted price. There are various color options currently in stock.
SnowWolf's Wocket Pod Kit sports an internal battery with a capacity of 1,150mAh. Charging can be done quite easily with its micro USB port. In addition, it does have a compact form factor, so it is pocket friendly.
What's great about this pod vape is that there are three different power settings. This allows you to fine tune your vape experience to your preferences. There's high, medium and low settings.
This pod kit is primarily constructed of aluminum alloy, so it's not only durable, but pretty lightweight too. Included with this vape kit, you do receive a refillable pod, which has a large 3ml e-juice capacity. Thankfully it features a threaded top fill port, so you can fill it quickly. Another great feature with this device is that it does have an OLED display screen, which is not too common.
Lastly, there are multiple coil options available for the SnowWolf Wocket Pod System including a 1.3 ohm ceramic coil, a 1.3 ohm coil, and a 0.7. ohm coil. However, included with the full kit, you'll get two SnowWolf Wocket Replacement coils.
All in all, this is a great price for the Sigelei SnowWolf Wocket Pod Kit. If you're after a unique pod system with multiple options, and various coil heads, then you'll definitely want to check out this vape pod deal. With its unique looks and features, it's one that's hard to beat.
SnowWolf Wocket Pod Vape Features:
Built In Battery

Capacity: 1,150mAh
Micro USB Charge Port

Three Power Output Modes
Aluminum Alloy Construction
Large Firing Button
OLED Display Screen
Refillable Pod (Included)

3ml E-Liquid Capacity
Threaded Top Fill System
Adjustable Airflow

Coil Options

1.3 ohm MC (Ceramic Coil)
1.3 ohm S2 Coil
0.7 ohm S2-H Coil

Five Unique Colors Currently Available
What's Included (Kit)
Wocket Pod Device by SnowWolf
Wocket Pod Cartridge
Two 0.7 ohm X-Grid Coils
User Manual
Warranty Card
SnowWolf Wocket Review Video