Smok TFV16 Lite Replacement Coils 3 Pack $8.54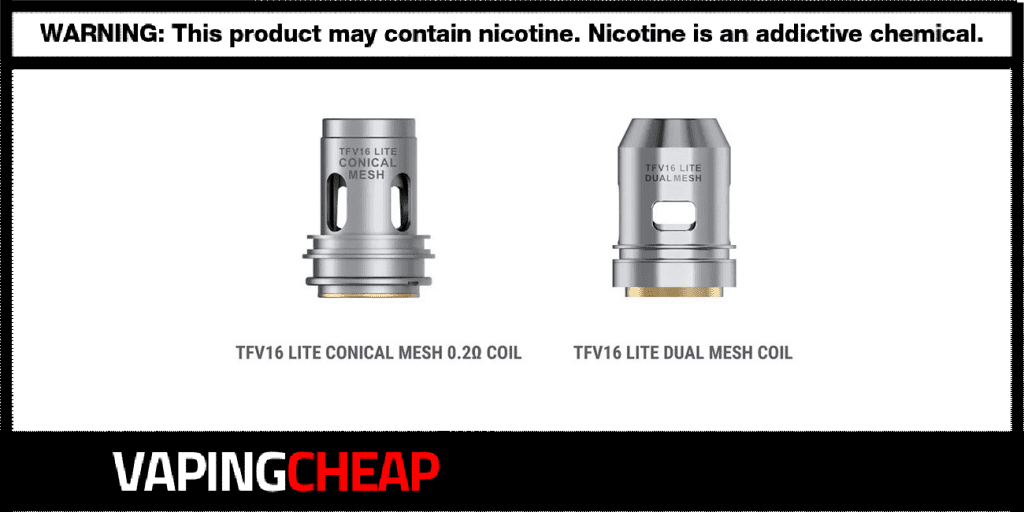 Here are cheap deals and discounts for the Smok TFV16 Lite Replacement Coils. Get a 3 Pack from just $8.92 when using the code "LOVE10". It's in stock at a USA based store for $13.95 plus free shipping.
These replacement coil heads are compatible with the Smok TFV16 Lite Tank only. In addition, there are currently two different coil options you're able to choose from. The first, and probably the most innovative of the two is the 0.2 ohm Conical Mesh Coil,
It's constructed with Kanthal wire, and rated between 60w and 80w. As we've seen in some other sub ohm tanks released within the past year, this design provides massive amounts of flavor, and huge plumes of clouds. On top of that, it'll heat up very quickly, so there's literally no ramp up time with this TFV16 Lite Coil.
The other coil option available is the Smok TFV16 Lite Dual Mesh Coil. This one has a slightly lower resistance, coming in at 0.15 ohm. Additionally, it can be vaped at a higher wattage too, up to 90w recommended.
One major difference with this Smok TFV16 Lite Replacement Coil is that it has two mesh holes for its dual coil structure, while providing superior wicking. This means that it'll not only be great with max VG e-liquids, but will keep up with chain vaping.
If you're looking for cheap Smok TFV16 Lite Replacement Coils, then look no further! Each option is available in a pack of 3, so you can definitely stock up for quite a while at a discounted price.
Smok TFV16 Lite Mesh Coil Features:
Pack of 3 Replacement Coil Heads
Compatible with Smok TFV16 Lite Tank
Two Coil Options Available:

Smok TFV16 Lite Conical Mesh 0.2 ohm Coil Head
Smok TFV16 Lite Dual Mesh Coil 0.15 ohm

Constructed with Kanthal Wire