Vapesta EJuice Sale! 25% Off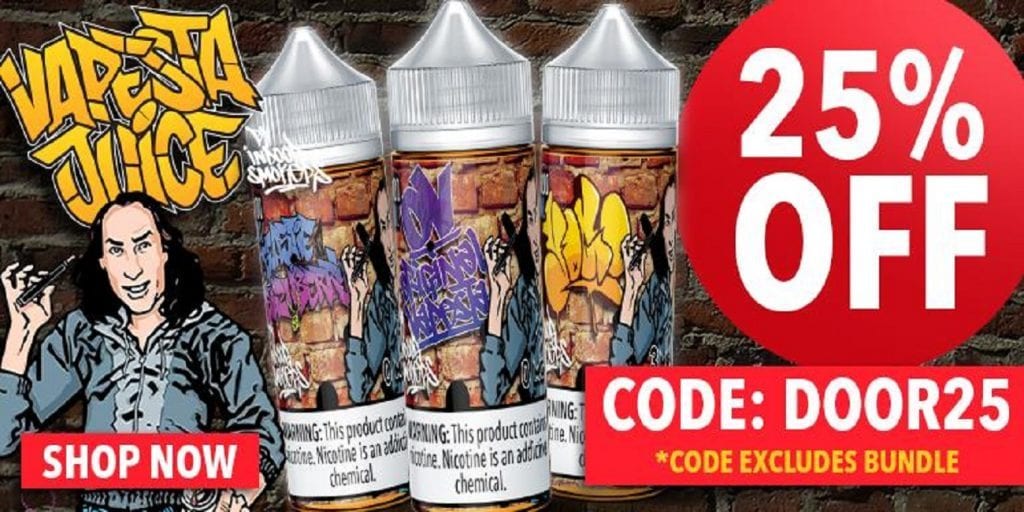 Here's a cheap deal and discount on the Vapesta EJuice Line by IndoorSmokers! Get ​25% ​off by using code "DOOR25".​​
Vapesta EJuice by Indoor Smokers consists of 3 unique flavor options. Each vape flavor does come in a large 100ml Chubby Gorilla Bottle, and are available in 0mg, 3mg or 6mg nicotine strength. The three flavors available are OV, Beastie Boizn' Berry and YOGO. OV by Vapesta E-Liquid is described as sugary grape candy flavored e-juice.
Beastie Boizn' Berry by Vapesta has a flavor description of bowl of freshly picked berries, primarily blueberry and raspberry topped with sugar. Lastly, YOGO by Vapesta is a sweet blend of strawberry, banana and yogurt.
If you're a fan of IndoorSmokers Vapesta EJuice or simply looking for an e-juice deal to try out some new premium flavors for cheap, then this is a deal definitely worth checking out. Keep in mind it's valid for a short time only, so don't miss out on these savings.
Vapesta E-Juice Discount Code: DOOR25
IndoorSmokers Vapesta E-Liquid
Large 100ml Chubby Gorilla Bottles
Nicotine Strengths Available: 0mg, 3mg, 6mg
High VG Blend
3 Unique Flavor Options:

OV - Sugary Grape Candy
Beastie Boizn' Berry - Bowl of Freshly Picked Berries With Sugar
YOHO - Strawberry, Banana & Yogurt Blend