Minute Man EJuice Sale! B2G1 Free!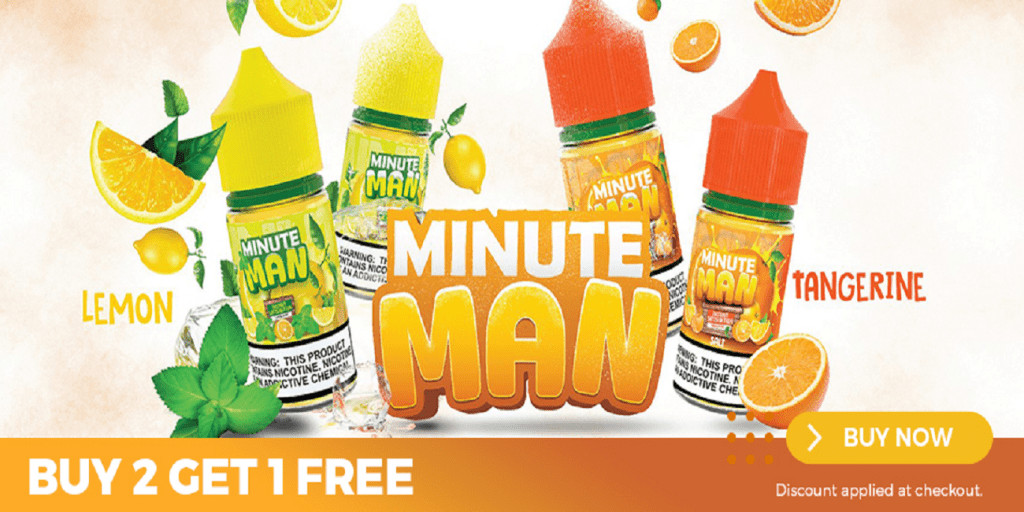 Here's a great sale on the Minute Man EJuice Line. Buy 2 Get 1 Free, with no code required! This discount will automatically applied at checkout. Simply add three bottles of your choice, and you'll get this discount.
The Minute Man vape juice line has a wide variety of flavor options, and has even released a few new flavor options. There's two bottle sizes available which include 60ml for freebase nicotine, and 30ml for the nicotine salt version. When it comes to the actual flavor options, there's Tangerine, Pink Lemonade, Lemon Mint, and menthol or ICED versions. In addition, they're available in 0mg, 3mg or 6mg nicotine strength for freebase, and 35mg or 50mg for salt.
If you're looking for another e-juice deal to try out some new vape flavors for cheap, then you're gonna want to check out this Minute Man E-Juice Sale. Keep in mind it's valid for a limited time only.
Minute Man Vape Juice Sale Details:
Buy 2 Get 1 FREE (Discount Automatically Applies)
60ml or 30ml Bottle Sizes
Nicotine Strength Options: 0mg, 3mg, 6mg, 35mg, 50mg
Great Selection of Flavors (Regular & ICED/Menthol)
High VG Blends (Freebase)
Limited Time Sale
More Great Vape Deals...
---
G-Taste Aries RTA 30mm $17.06
The new G-Taste Aries RTA 30mm is now on sale from $17.06 using the code "vapingcheap" with free worldwide shipping over $59. Simply log[...]