EJuice Connect Summer E-Juice Sale! Extra 20% Off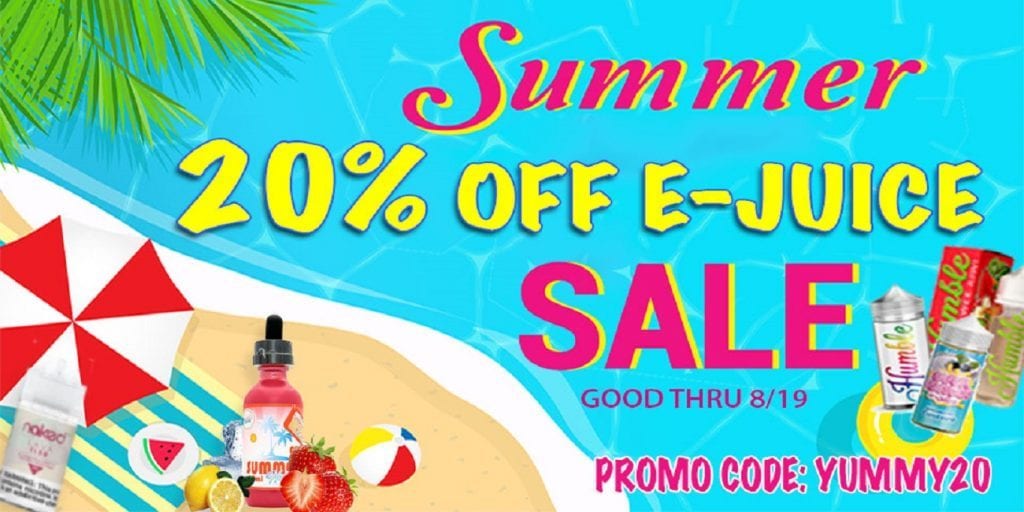 Here's an amazing deal at EJuice Connect to end the Summer Season! Save an extra 20% off all e-juices using the code "YUMMY20".
During the EJuice Connect Summer E-Juice Sale, you can save an additional 20% off all e-liquids site-wide! They've already got some of the best prices on e-juice with prices being slashed by up to 80%! So with this promo code, you'll be getting some insane deals on 120ml, 100ml and 60ml bottles of premium vape juice. Not to mention, they carry a huge selection of nic salts as well, so if you enjoy pod systems, definitely check those out.
If you're looking to grab some premium vape juice at super cheap prices, then this is a deal you cannot miss out on. Although this code works on e-juice only, be sure to check out their hardware as well since they do have huge discounts already.
EJuice Connect Sale Details:
Save Extra 20% off E-Juice
Wholesale Pricing to Public
100ml/120ml Premium Bottles For under $9
Huge Hardware Discounts
Wide variety of premium e-juice brands available
Limited Time Sale
More Great Vape Deals...
---
Fuggin Vapor $5 Fuggin Friday Sale!
Here's an awesome deal over at Fuggin Vapor! Save 10% off accessories using the code "CAP10"! During the Fuggin Vapor Accessories Sale,[...]
Horizon Magico Kit $24.96
For a limited time only, the new Horizon Magico Kit is now in stock and on sale from only $24.96! It's[...]