Innokin Zenith Pro Tank $23.99 (USA)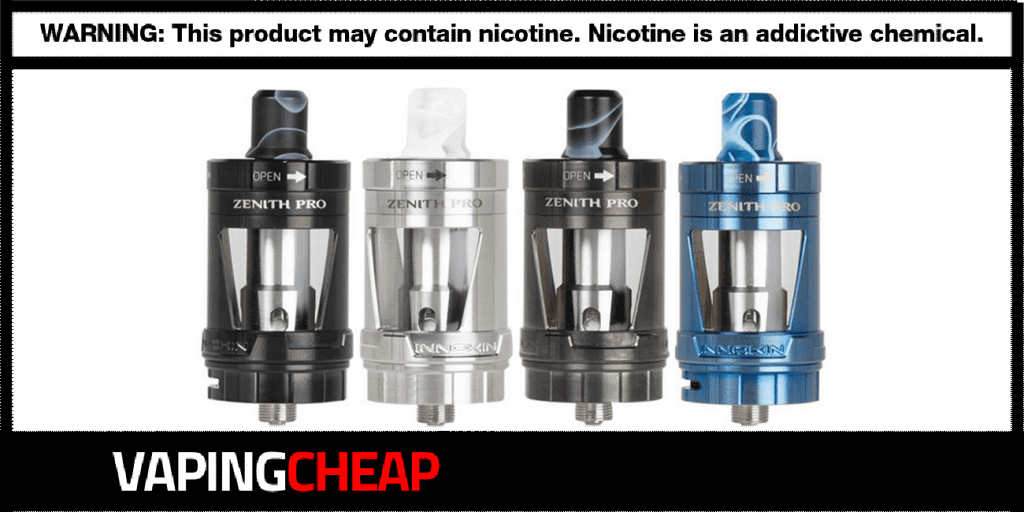 For a limited time only, the new Innokin Zenith Pro Tank is now on sale from a USA based shipper for only $23.99. No code is required for this discount. Free shipping applies to orders over $65. It's also available from another USA based store for only $26.05 after code "MFS10". There's four color options available which are Black, Blue, Stainless Steel and Gunmetal.
The Zenith Pro Vape Tank by Innokin is a huge improvement over it's predecessor. They took user feedback and made changes, and adjustments to make it that much better of a vape tank. Firstly, it sports a base diameter of 24mm, but it can be extended with optional beauty rings. Additionally, it has a huge 5.5ml e-liquid capacity alongside an easy to use top fill system.
What's great about it, is that as you open to fill, it closes the juice flow control. This ensures no leaking, no gurgling and no spit back. Also, you're now able to replace the coil even when the tank is filled with vape juice.
Speaking of coils, it's compatible with the entire Z Coil Family, which means there's a lot of options. Included in the packaging, you'll get a 1.0 ohm Z Coil which is rated up to 25w. You'll also get the 1.2 ohm Z Coil which can be vaped up to 14w. This one specifically is designed for mouth to lung vaping, while the other is great for restrictive direct lung vaping.
Another amazing feature is the airflow control system. For one, it's fully adjustable. Secondly, you have two different types of airflow. One is for MTL vaping, and the other has a wider airflow slot, and perfect for those restrictive DTL vapes. Now, if you wanted a super tight draw, the airflow can be completely closed. Lastly, the Innokin Zenith Pro Tank is compatible with 510 drip tips.
if you enjoy both mouth to lung and restrictive direct lung vaping styles, then you'll definitely want to add the Zenith Pro Tank to your collection. With all of its improvements, and versatility, it really is that much better of an atomizer.
Innokin Zenith Pro Vape Tank Features:
Stainless Steel & Glass Construction
24mm Base Diameter
Optional Beauty Rings
5.5ml Maximum E-Juice Capacity
Twist to Open Top Fill

Closes Juice Flow Control When Open
Minimizes Leaking, Gurgling & Spit Back

Fully Adjustable Airflow Control System

Multiple Airflow Options (MTL & RDL)
Can Be Fully Closed

Compatible with Z Coil Family
510 Drip Tip
4 Color Options
What's Included
Zenith Pro Tank by Innokin, Phil Busardo and VapinGreek
1.2 ohm Z Coil
Spare 1.0 ohm Z Coil
Replacement Glass Tank Section
Additional Drip Tip
Extra O-Rings
Decorative Ring
User Manual
Check Out The Innokin Zenith Pro Tank Review