Vaperz Cloud Valhalla V2 40mm RDA $49.50 (USA)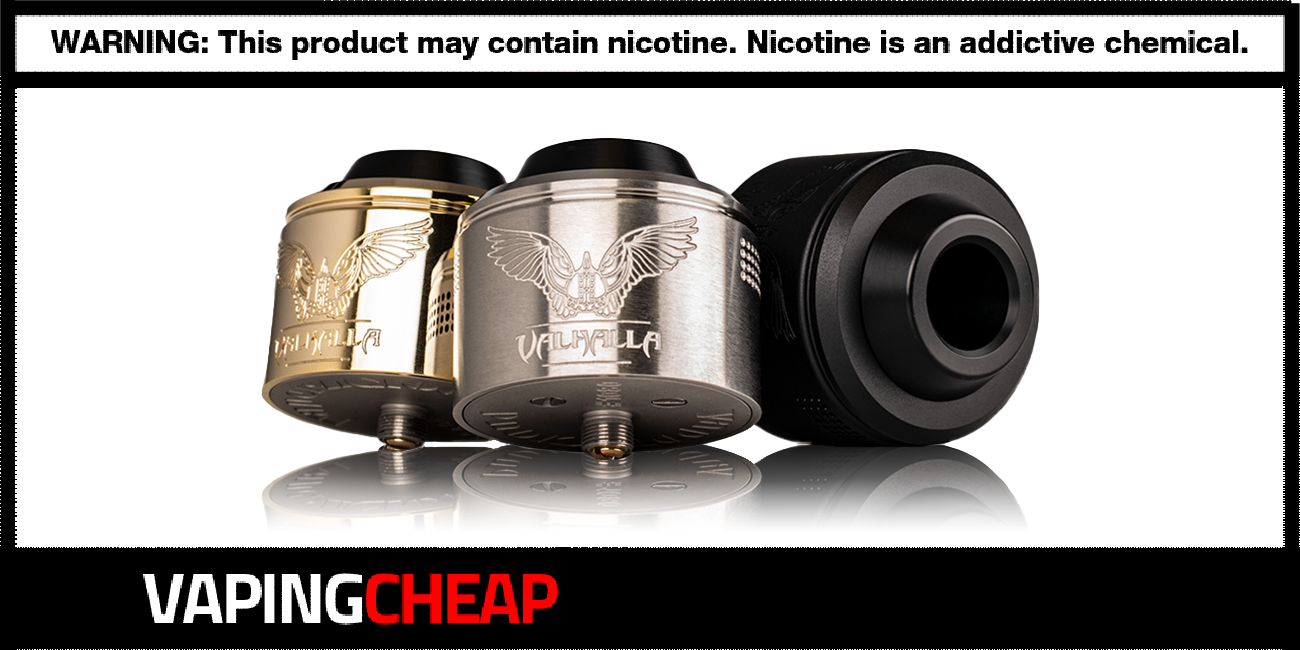 The Vaperz Cloud Valhalla V2 RDA is now finally back in stock at a cheaper price! Buy this monster 40mm atty from $49.50 using discount code "HARDWARE10". Free shipping is included when you spend over $80. There are multiple color options that have been restocked including the limited Niflheim edition, Smoked Out, Ultem, Iced Out and more.
Vaperz Cloud is back with another beast of an atomizer. Their new Valhalla V2 RDA is an updated version of the original Valhalla RDA. For one, this variant sports a massive overall diameter of 40mm, making it one of the largest RDAs to drop on the market this year. In addition, it's primarily constructed out of stainless steel material and has a CNC engraved logo on the front.
Besides the size of the atomizer, another feature that makes it stand out from other RDAs is the build deck. With the large four post build deck, you can throw just about any cbuild you want in there. On top of that, between the posts are two airflow diffusers.
The Valhalla V2 40mm RDA by Vaperz Cloud has an adjustable top airflow system. There're 44 holes on both sides giving you a total of 88 airflow holes, you can easily adjust them by twisting the top cap. Not only do you have tons of airflow, but it's super smooth too with its design.
There's also an ultem chamber reducer and inner ultem AFC chamber, which means not only giant clouds, but solid flavor as well Lastly, this atomizer comes with a large wide bore delrin drip tip pre-installed at the top.
For you cloud chasers or fans of larger attys, you'll definitely want to grab the Vaperz Cloud Valhalla V2 RDA. This 40mm RDA features a build deck that's easy to build that has room for anything and a massive amount of available airflow.
Vaperz Cloud Valhalla V2 RDA Features:
Overall diameter: 40mm
Deep juice well
Stainless Steel construction
CNC Engraved logo
Quad Post build deck
Adjustable top airflow
Ultem Chamber Reducer
Inner Ultem AFC Chamber
Wide bore drip tip
What's Included:
Vaperz Cloud Valhalla V2 RDA
Inner Ultem AFC Chamber
Ultem Chamber Reducer
Spare Parts
Vaperz Cloud Valhalla V2 40mm RDA Review