Vapefly Holic MTL RDA $10.35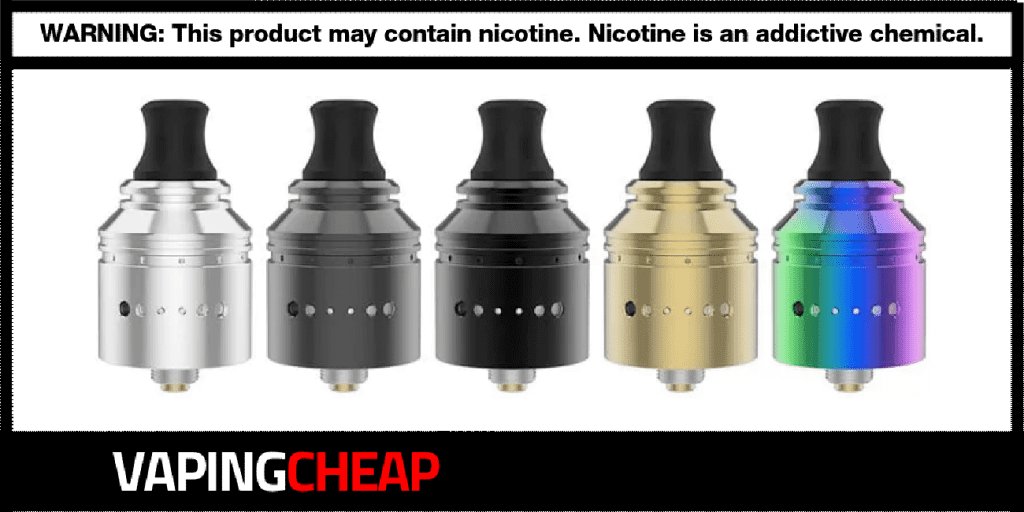 Here are cheap deals and discounts for the Vapefly Holic MTL RDA. For a limited time only, get yours from only $10.35 plus free shipping over $30 when using code "vapingcheap10". It's also in stock at a US shipper for $27.00 with code "VC10". There are multiple color options you can buy including Silver, Rainbow, Gold and more.
The Vapefly Holic MTL RDA sports an overall diameter of 22.2mm. However, it does include a beauty ring, which brings the overall diameter to 24mm. As expected, this atomizer is primarily constructed of stainless steel, and includes a delrin 510 drip tip. Building on the Holic MTL RDA is quite easy since it features a simple two post build deck.
At the bottom, it does come pre-installed with a gold plated regular 510 pin. Included in the packaging, you will also get a BF 510 pin, so you can use this atty with your squonk mods if desired. Additionally, it has a massive 12mm deep juice well, which is perfect for that style of vaping.
By looking at the Holic MTL RDA by Vapefly it seems rather plain, but it offers an incredibly versatile airflow design. Whether you enjoy MTL or restrictive direct lung vaping, it's got you covered.
It has a 360 degree airflow system, which can be adjusted by simply turning the top cap. Airflow can either enter through dual or single airflow configuration. Also, you can adjust the airflow internally, allowing you to fine tune it even further.
All in all, this is an excellent sale on the Vapefly Holic MTL RDA. If you're looking to add a new RDA to your collection that's not only cheap, but works incredibly well, then look no further. It's amazing how much you can really fine tune the airflow on this atty, making it incredibly versatile. As mentioned earlier, if you're a fan of restrictive vapes and mouth to lung vaping, then this is a must have for your collection.
Vapefly Holic 22mm MTL BF RDA Features:
Designed by Horick TV
Overall diameter: 22.2mm

Extended to 24mm with Beauty Ring

Two Post Build Deck For Single Coils
Adjustable Side Airflow

Can Adjust Internally & Externally
Single & Dual Airflow Configurations

Gold Plated 510 and Squonk 510 Pins
Stainless Steel Construction
Delrin Drip Tip with Narrow Bore
What's Included
Vapefly x Horick TV Holic MTL RDA 22mm
Beauty Ring
2x Airflow Control Sets
T-Tool
BF 510 Pin
Firebolt Cotton
Bag of Spare Parts
Pre-Built Ni80 1.0 ohm Coils
User Manual
Check Out The Vapefly Holic MTL RDA Review
More Great Vape Deals...
---
Sourcemore MEGA Sale! Up to 73% off
For a limited time only, Sourcmore is having their Holiday Sale right here where you can save 10% off sitewide using coupon code "TSF10"![...]