Mech Mods Review: Top 10 Best (Cheap) Mechanical Mods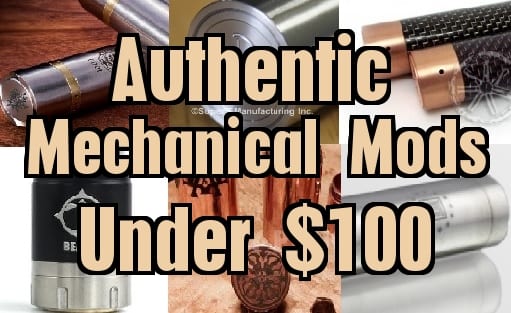 It's not always easy to find top mechanical mods while on a budget. Often when we need to vape on the cheap, we start looking for the best mech mod clones, because most authentic mech mods are painfully out of reach, often costing $200 or more.
However, the market is changing. Top mechanical mods makers are starting to see that we are more willing to buy from them if the price is right, and so more and more products are being released at lower prices. For the first time, we are starting to see good mech mods at prices most of us can afford.
So now I present to you a list of 10 best mechanical mods available right now for less than $100:
| Image | Product Name | Best For | Rating | Price |
| --- | --- | --- | --- | --- |
| | Precise WorkHorse | Super-T Manufacturing | | |
| | The Dharma | Kidney Puncher | | |
| | Ragnarok | VLS | | |
| | The Kindred | Council of Vapor | | |
| | Colonial | Mad Industries | | |
| | The Klone | Asmodus | | |
| | Magneto II | Smoktech | | |
| | Seeker | EHPro | | |
| | Fu Chai | Sigelei | | |
| | The Beacon and Sage | Beyond Vape | | |
10 Best Mechanical Mods under 100 USD:
Precise WorkHorse by Super-T Manufacturing
Originally a manufacturer of performance auto parts, Super-T Manufacturing now makes high performance mech mods. Known for their ELA and Simplicity mods, Super-T machines quality vapor products in the U.S.A.
The Precise WorkHorse consists of a solid stainless steel tube with a recessed switch and features palladium plated contacts for high conductivity and durability. It is available in 18650, 18500, and 18350 versions, and additional tubes can be purchased in stainless steel or brass. This mod is available directly from the manufacturer for only $69.99.
There is also a telescopic version of this mod that will accommodate multiple battery sizes for $99.99.
The Dharma Mechanical Mod
The Dharma is a high quality mech mod offered exclusively by Kidney Puncher. It was designed in the United States and features a recessed switch and adjustable copper contacts. The Dharma has multiple modular tubes to accommodate an 18650, 18500, or 18350 battery, and it is available in brass or copper.
The threading on the tubes is finely machined, and all parts are interchangeable between the brass and copper versions. Kidney Puncher is known for offering top quality vape products, and they recently reduced the price of this authentic mod to a stunningly low $49.95.
Ragnarok by VLS
​From the manufacturer: "The Ragnarok Copper was produced from a firm belief of value that, something exquisite and refined does not have to be unreachable. Completely made from 99.99% pure red copper and PEEK insulators, the Ragnarok triumphs beauty and performance in the most effortless fashion."
The Ragnarok features pure copper contacts, a recessed switch and modular tubes to accommodate all 18650, 18500, and 18350 batteries. It is the first pure copper mod to ever be made available for under $100. This hard-hitting mod can be purchased from ebay for $78.00 or on Vapor DNA for only $94.99 when using the coupon code "VC5" at checkout.
The Kindred by Council of Vapor
"We are brothers in arms, we fight to the death. We are family. We are kindred." Designed in the United States by Council of Vapor, the Kindred mod is a stunning stainless steel device with brass accents.
It features a recessed magnetic switch, reverse threaded locking ring, and adjustable silver plated copper contacts. This mod has modular tubing to accommodate 18650, 18500, and 18350 batteries, and it is said to have an extremely low voltage drop. The Kindred mod is on sale at Egovape for only $89.00.​
Mad Industries Colonial
The manufacturers of the popular Penny mod have outdone themselves once again with the release of affordable and hard-hitting Colonial mod. Composed of billet aluminum, this lightweight mod features adjustable copper contacts and a unique concave recessed switch that seems designed for comfort when pressed.
It consists of a single tube that will house an 18650 battery. Back in production, the Colonial mod with a brushed aluminum finish is now available from Vapor Range for $99.95. Matte black, glossy black, and copper finishes are also available for pre-order.​
The Klone by Asmodus
From the manufacturer: "This 18650 mechanical mod was designed here in the U.S.A. by our highly skilled team of engineers and vape enthusiasts. By applying science and our knowledge in the field of vapor products, we have created this mod that has been constructed with a combination of some of our favorite products in mind." The beautiful Klone mod is made of copper with a stunning glossy carbon fiber finish. It featured a recessed magnetic switch and a hybrid top cap, reducing the voltage drop to near zero. This high quality mechanical mod is available direct from the manufacturer for only $69.95.
Smoktech Magneto II
Rumored to be an homage to the character Magneto from the X-Men, the Smoktech Magneto II is a telescopic mech mod with floating brass positive and negative contacts designed to house batteries of multiple sizes. The Magneto II features stronger magnets than the original Magneto and has a reverse threaded locking ring. Smoktech is a leading manufacturer of affordable, quality vape products, and this mod is no exception. A stainless steel mod available in multiple colors, the Magneto II can be purchased from Madvapes for $44.95, on ebay for $35.00 (black, gold, steel), or ebay for $35.80 (colors).
Seeker by EHPro
​The Seeker mod by EHPro is one of the hardest hitting mods in existence. It consists of a solid copper tube designed to house a single 26650 battery, and features pure silver contact pins. The Seeker has a recessed spring switch and a unique knurled stainless steel locking ring. This mod was designed with conductivity in mind and is promised to have a voltage drop of less than 0.12 volts. The EHPro Seeker can be purchased from Vapor DNA for $54.99 when using the coupon code "VC5" at checkout or on ebay for $59.95 with free shipping.
Fu Chai by Sigelei
The Fu Chai was a famous Chinese king dating back to 500 B.C., and this mod named after him is truly fit for a king. The Fu Chai by Sigelei features a beautiful hexagonal tube design covered in ancient Chinese text. Made to accommodate a single 18650 battery, this mod is a stainless steel tube completely lined with copper throughout the inside, making it both durable and highly conductive at the same time. It has adjustable copper contacts and a recessed switch with a locking ring. This unique mechanical mod is available in stainless, gold, coffee, and black finishes at Eciggity for only $46.99 or on ebay for $42.95 with free shipping.​
The Beacon and Sage mods by Beyond Vape
Beyond Vape is becoming an industry leader in producing quality merchandise and offering it at affordable prices. Their Beacon and Sage mods are both excellent quality, and I could not recommend one without the other.
The Beacon mod is a telescopic mod made of aircraft aluminum and will house any 18350, 18500, or 18650 battery. It features a brass switch with locking ring and silver plated brass contacts. The top cap is made of 303 stainless steel for maximum durability.
This high-performing mod is available in black, gray, and red directly from Beyond Vape for only $65.00. This mod is also available in copper for $85.00. The Sage mod is a beautiful mechanical mod whose sleek design rivals that of many high-end devices.
Its modular tubes will accommodate an 18650, 18500, or 18350 battery, and it is available in brass or stainless steel with brass accents.
It features silver plated brass contacts with a floating positive pin and a magnetic press fit switch design. The Sage mod is available from Beyond Vape for just $89.00 or on eBay for $87.95. You can also buy a "blemished" brass Sage mod at a steep discount for $45.00.​
Now that you have the list of best cheap mech mods and you can vape on the cheap, this video below should help you make a smooth transition from electronic vapes to more advanced mechanical mods.