Smok x OFRF NexMESH Pod System Kit $9.79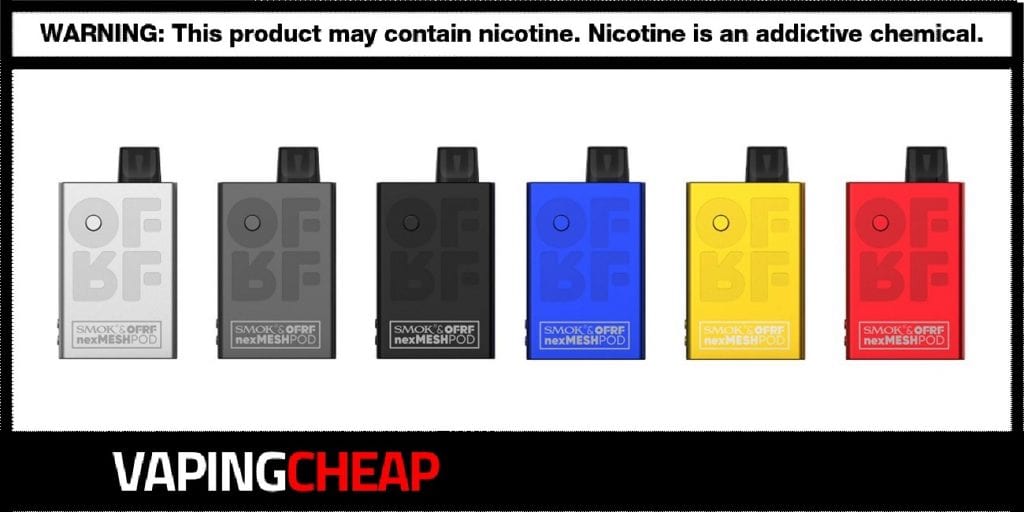 Here are cheap prices on the Smok x OFRF NexMESH Pod System Kit. Grab yours for a limited time only for just $9.79! No discount code required. It's also in stock and on sale at a USA based shop for only $11.90 using coupon "HARDWARE15". There are currently six different color options available for purchase.
The new NexMESH Pod Kit is a collaboration between two well known brands, Smok and OFRF. This pod system sports a compact size, yet packs a large internal 1200mAh battery. Additionally, this device does feature an adjustable voltage output, that you can quick adjust by using the two buttons located right at the front. Even though the maximum wattage output is 30w, it's quite powerful given its overall size.
One unique feature the Smok x OFRF NexMESH Pod Kit has is the firing button is located on the front of the device within the logo. Not only is it different, but makes it very comfortable to use due to where it's located. Not to mention, it's not what you see with many other pod vapes. Furthermore, this the OFRF and Smok nexMesh vape pod is constructed of aluminum.
Another interesting mention is the included coil heads. The first one is a NexMESH 0.4 ohm SS316L coil head. Secondly, you'll get the NexMESH 0.4 ohm A1 coil head. If you've vaped nexMesh coils before, then you know you're gonna get killer flavor.
When it comes to the replacement pod cartridge, it has a maximum e-juice capacity of 2ml and can be filled from the side. Lastly, you can adjust the airflow by twisting the base of the coil head.
If you're a fan of OFRF and their mesh style coils, then you'll definitely want to check out the nexMesh pod system by Smok and OFRF. With its coil heads, overall design and ultra compact form factor, it's definitely a game changer.
Smok x OFRF NexMESH 30w Vape Pod Kit Features:
Built in 1200mAh battery

Charge using a micro USB cable

Maximum wattage output: 30w
Variable voltage output
Aluminum alloy construction
Large OLED display screen
Three button design
Includes a refillable pod cartridge

Maximum e-juice capacity: 2ml
Side fill design
Comes with two coil heads
Bottom airflow design
Check out the Smok OFRF nexMesh Pod Kit Review