Artery Pal 18650 Pod Mod Kit $23.79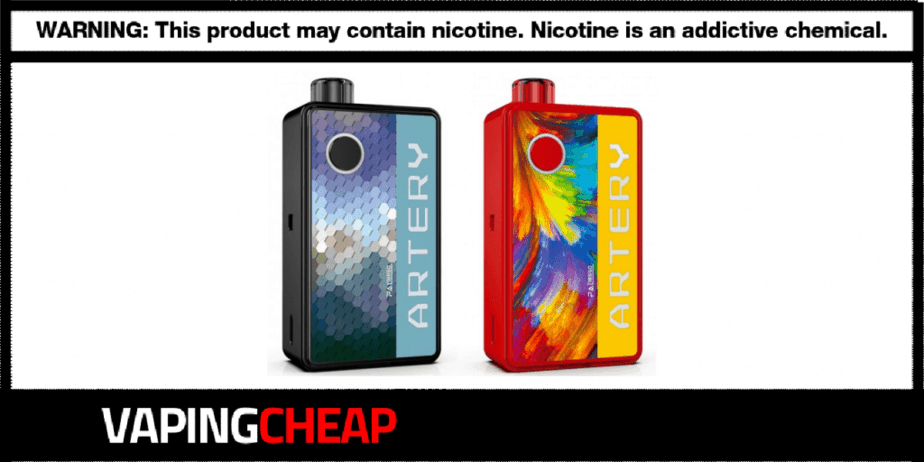 The new Artery Pal 18650 Pod Mod Kit is now in stock and on sale. Grab this 60w device for just $23.79 using code "AP18650". It's also available from another China based store for only $27.79 after logging into your account and using code "DRAGON15". There's currently two color options to choose from which include Honeycomb and Rainbow.
The new Artery Pal 18650 Pod Mod Kit 60w is quite different than its predecessors. Unlike the original Pal 2 and Pal 2 Pro, it's powered by an external high drain 18650 battery. We've seen this trend with recent AIOs and pod vapes, and it's definitely a good thing.
Since the Artery Pal 18650 utilizes an external battery, it's able to have a maximum wattage output of 60w. However, that's not the only difference, and improvement with the Artery Pal 18650.
The biggest improvement over the originals is definitely the coil system. For one, there's an optional RBA section that will be available. This allows you to use your own coils inside of the Pal II 18650 rather than vaping on pre-built coils.
However, if you prefer pre-made coil heads, there are two that's available. Firstly, there's the 0.4 ohm mesh coil, which is catered to direct lung vaping. Secondly, you have the option of a 1.4 ohm parallel coil, perfect for mouth to lung vaping. It's important to note that there are two different bases (A and B), which are used depending on which coil you want to vape with.
The Artery Pal 18650 pod cartridge does hold 3ml of e-juice, and fills from the front. A major improvement here is that the cartridge is clear, so it's easy to see your e-liquid level. Lastly, this pod device can fire down to a 0.3 ohm resistance, and there is a USB Type-C charging port.
If you enjoyed using the original Pals, but prefer replaceable batteries, then the Artery Pal 18650 Pod Mod Kit is a must have for your collection. It's definitely an improvement over the originals in many different ways.
Artery Pal 18650 Pod System Features:
Requires Single High Drain 18650 Battery (Not Included)
Wattage Output Range: 5w - 60w
6063 Aluminum Alloy Construction
Minimum Firing Resistance: 0.3 ohm
USB Type-C Charging Port
Hidden OLED Display Screen
Ergonomic Design
Refillable Pod Cartridge

3ml Maximum E-Liquid Capacity
Front Fill Port

Replaceable Coils

0.4 ohm Mesh (Base A) - 20w - 28w
1.4 ohm Parallel (Base B) - 7w - 11w
RBA (Optional)

Multiple Safety Protections Built In
Adjustable Airflow
What's Included
Artery Pal 18650 Pod Vape
Pal 18650 Refillable Cartridge
0.4 ohm Mesh Coil + Base A Pre-Installed
Base B + Spare 1.4 ohm Parallel Coil
Charging Cable (USB Type-C)
Spare Plug & O-Rings
User Manual
Warranty Card