Mechlyfe Ratel XS AIO Pod Mod Kit $39.99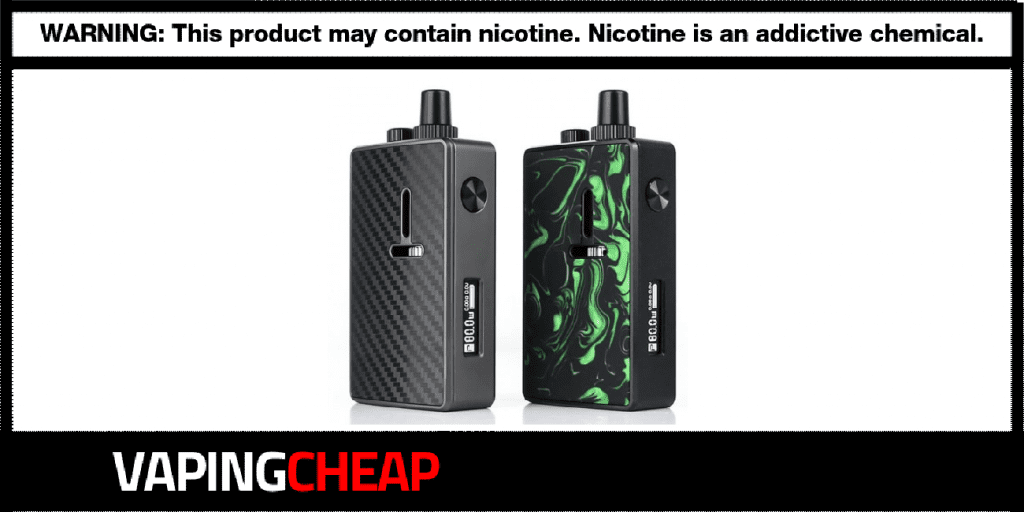 Here are cheap deals, discounts and sales for the new Mechlyfe Ratel XS AIO Pod Kit. Grab yours for a limited time only for just $39.99. It's in stock at a USA based shipper for $59.81 plus free shipping with code "NEW5". There's a few color options you're able to choose from including both Resin, and Carbon Fiber versions.
While this new pod mod kit shares the same name as the original Mechlyfe Ratel, it's a completely different vaping device. It does share some similarities, such as the fact that it provides a rebuildable section. Let's cover some of the basics first. It's powered by a single high drain 18650 battery, which is something we've see more, and more often with pod vapes.
Additionally, the Mechlyfe Ratel XS can deliver between 5w and 80w of power. The maximum output voltage is 8v, so it'd definitely work great with higher resistance builds. There's a couple of different working modes too which includes standard wattage, variable voltage, bypass and temperature control.
On the front of the pod device is where the display screen and firing button is located. On the inside, when taking off the panel, is where you'll see both the wattage adjustment buttons and pod cartridge.

Here's where the Mechlyfe Ratel XS AIO Pod System differs from the original. The actual pod cartridge has been completely redesigned, and looks similar to what we've seen in the dotMod dotAIO Kit. However, it features a super easy to use top filling system. It can hold a whopping 5.5ml of e-juice, which means you won't be needing to refill it often.

Like the original, you can use your own coils. It features a simple two post build deck, so it won't be a challenge to install coils. Wicking the Mechlyfe Ratel XS Pod Mod is quite easy too. There's two generously sized wicking channels. Simply fluff your cotton, and gently pack it into the channels, and you're good to go.

Airflow is adjustable too, so if you wanted a direct lung or mouth to lung vape, you sure can with this one. This is definitely a huge pro, and if you're vaping at lower wattages, you can certainly get a full day of vaping on a single battery. For you cloud chasers, you'll want to also grab the dual coil RBA.
If you were a fan of the original, but prefer something just a bit smaller, then you've definitely got to check out the Mechlyfe Ratel XS 80w Pod Mod Kit. They've definitely added some upgrades, and made it even more user friendly than before.
Mechlyfe Ratel XS Pod System Kit Features:
Requires Single High Drain 18650 Battery (Not Included)
Wattage Output Range: 5w - 80w
Max Output Voltage: 8v
Minimum Firing Resistance: 0.05 ohm
4 Working Modes

Variable Wattage
Variable Voltage
Bypas
TC

Compact & Ergonomic Design
510 Drip Tip Compatible
Aluminum Construction
Adjustable Airflow (MTL to DTL)
Refillable Pod Cartridge

5.5ml E-Liquid Capacity
Top Fill System

Rebuildable RBA Section

Single Coil Deck
Easy to Build & Wick

Various Color Options
What's Included
Mechlyfe Ratel XS Rebuildable AIO Pod Kit
2x MTL Fused Clapton Coils
L Tool by Mechlyfe
Organic Cotton
Screwdriver
Spare Parts (O-Rings & Screws)
Charging Cable
Check Out The Mechlyfe Ratel XS AIO Kit Review
More Great Vape Deals...
---
Hellvape Drop Dead RDA $18.56
Rebuildable Dripping Atomizer For a limited time only, the new Hellvape Drop Dead RDA is now back in stock and on sale right[...]