Rincoe Tix Pod System Kit $7.99 (USA)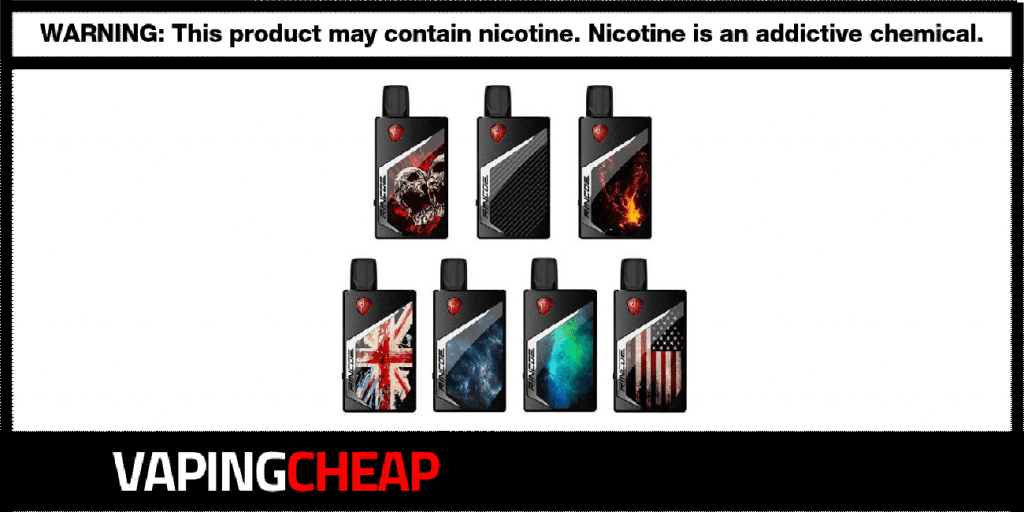 The new Rincoe Tix Pod System Kit is now back in stock and on sale! Today only, buy yours for $7.99. You can also grab one from a China based store only $18.29. There's plenty of color options that you can choose from such as Vast Sky, Flame, Galaxy, Carbon Black, and more.
Rincoe's Tix Pod Kit sports a similar overall design to the Artery Pal 2 Pro Pod System, but is a bit different. It houses a 1,000mAh battery, and can be charged using a USB Type-C Charging cable, so you'll be able to quickly charge it. In addition, it keeps a super small size, perfect for when you're traveling.
Aside from its small overall size, it does have a firing button that is located at the top side, which at first may seem uncomfortable. However, we've found that once you get used to it, you won't wanna go back to a side firing switch as it's very comfortable to hold and use.
Moving onto the actual power output, the Rincoe Tix Pod Mod can deliver up to 20w and can fire down to 0.3 ohm. On top of that, you'll be able to control the voltage output with three different settings available, 3.3v, 3.65v and full output. There's a bunch of safety protections built in as well, definitely something we always like to see in any pod vape.
Now, the Rincoe Tix refillable pod cartridge holds 2ml of e-liquid, and features a side filling system. The best part is with this pod device is that it utilizes replacement coil heads, so you'll be able to reuse the cartridge. There are two different coil options currently available which include a 0.8 ohm mesh, and a 1.0 ohm regular coil. Airflow is adjustable no matter which coil you install, which is also a good thing, and allows you to get a MTL or DL lung vape. Regardless of which coil, you can use whichever type of e-liquid including nicotine salt vape juices.
If you're looking for yet another pod device that can provide both a mouth to lung and direct lung vape, then definitely check out the Rincoe Tix Pod System Kit. It's small, ergonomic, versatile and super easy to use, making it a solid option for both beginners and advanced vapers.
Rincoe Tix Pod Kit Features:
1,000mAh Built In Battery
Zinc Alloy Construction
Wattage Output Range: 10w - 20w
Minimum Firing Resistance: 0.3 ohm
3 Voltage Settings

Low (3.3v)
Medium (3.65v)
Full Output

95% Efficiency
Compact & Ergonomic Design
Refillable Pod Cartridge

2ml E-Juice Capacity
Side Fill Port
Adjustable Airflow
Comfortable Drip Tip

Tix Replacement Coils

0.8 ohm Mesh
1.0 ohm Regular
What's Included
Rincoe Tix Pod Device
Tix Cartridge with 0.8 ohm Coil Pre-Installed
Spare 1.0 ohm Coil Head
Charging Cable (USB Type-C)
Certificate & Warranty Card
Landyard
User Manual
Check Out The Rincoe Tix AIO Kit Review
More Great Vape Deals...
---
Smok TF2019 Sub Ohm Tank $13.64
For a limited time only, Cookie Twist Strawberry Honey Graham 2 Pack bundle is now on sale right here for only $15.95! No coupon[...]
Smok Nord Pod System $8.90
For a limited time only, the Desire Cut Premium 220w Starter Kit is now on sale right here for only $59.95 + Free US shipping! No coupon[...]
Vapefly Holic MTL RDA $6.99
For a limited time only, the Vapefly Holic MTl RDA in silver is now available for pre-order right here for only $14.31 using coupon code "vapingcheap10"![...]
Asmodus Lustro Box Mod $23.84
Temperature Control Box Mod The Asmodus Lustro Box Mod is now in stock and on sale right here for only $36.00 using coupon[...]