Expromizer V3 Fire MTL RTA $7.99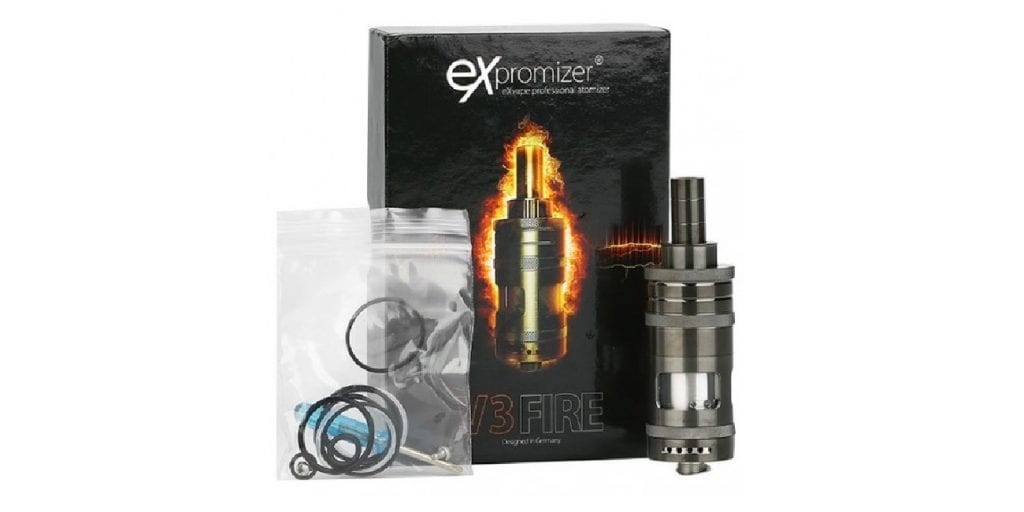 Here's an amazing deal on the Expromizer V3 Fire MTL RTA! Get it for only $7.99 with no code needed. The only color option available is Rainbow. However, there's a TPD and standard edition that's available. You can also get free worldwide shipping over $30.
The Expromizer V3 Fire MTL RTA sports a base diameter of 22mm, and a height of 70mm. Since it's smaller at the base, it'll make a great match for most vape mods available, even your smaller mini mods. It has an e-liquid capacity of either 4ml or 2ml for the TPD version. This tank was designed in Germany, and offers quite a few features to not only make a great vape, but have some key features making it very easy to use, and the ability to tailor it to provide exactly what you need.
For one, it can be filled from the top, which makes the filling process that much faster and easier to do. Another great feature is e-liquid control. What this allows you to do is open or close the e-juice flow control based on high thick or thin your e-liquid is. For example, if your e-liquid has a higher PG, then you'll want to close it off a bit to ensure no leaking or flooding. Now, if you're vaping on a high VG e-liquid, then you'll want to open it up a bit more.
Building on the Expromizer V3 Fire MTL RTA is super easy to do as well since it features a simple single coil build deck. Airflow is fully adjustable too with 10 different steps, giving you full control of how loose or tight of a draw you want. Some of the best RTAs for this style of vape often offer this type of airflow control system, since it gives the user more options.
If you're looking for a mouth to lung RTA at a super cheap price, then you won't wanna miss out on this sale on the Expromizer V3 Fire MTL RTA. They'll definitely go quick at this price. Definitely check out the Exvape Expromizer V4 MTL RTA if you're looking for another atomizer designed for MTL vaping.
Expromizer V3 Fire MTL RTA Features:
Designed in Germany
Stainless Steel Construction
22mm Base Diameter
70mm Height
2ml or 4ml E-Liquid Capacity
Easy to Use Top Fill
Single Coil Build Deck
Juice Flow Control System
Adjustable Airflow Control (10 Steps)
What's Included
Expromizer V3 Fire MTL RTA
Extension Kit
Screwdriver
Bag of O-Rings
Replacement M2 Screws
User Manual
Check Out The Exvape Expromizer V3 Fire MTL RTA Review
More Great Vape Deals...
---
Vapefly Nicolas MTL Tank $10.79
For a limited time only, the Vapefly Nicolas MTL Tank is now on sale right here for only $11.99! No coupon code required! The colors available[...]