Efest iMate R4 Intelligent Charger $17.77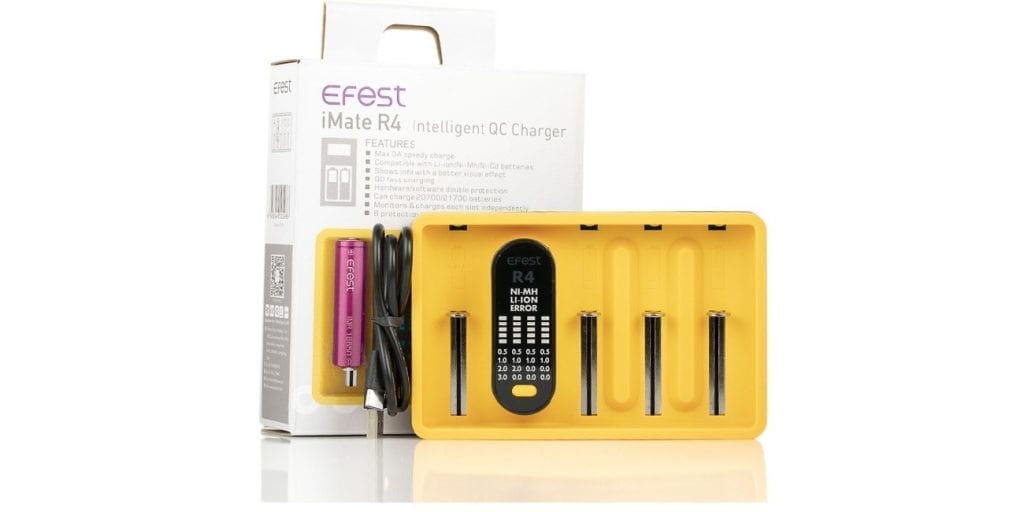 Here's a great deal on the Efest iMate R4 Intelligent Charger! Get it using our exclusive Sourcemore Coupon "vapingcheap" for only $17.77. It's also in stock over at a US shipper for only $26.95 with free shipping on USA orders over $50.
Efest is known for some of the top vape battery chargers, and this is one of their latest releases. As always, they've kept the price competitive, but still manage to pack a ton of features that makes battery charging convenient. For one, the Efest iMate R4 Intelligent QC Charger can charge up to 4 batteries at once. On top of that, it's compatible with a bunch of different sizes including 18650, 26650 and 20700. Also, it sports an intuitive battery life LED indicator light alongside a simple to use no button design.
Another great feature of the Efest iMate R4 is that it has automatic charging. When you put in one battery to charge, it'll charge it at 2A, and when two batteries are installed, it'll automatically switch to charging at 1A. So, if you're in need of charging a single battery quickly, you can certainly do it with the iMate R4 Charger by Efest.
As you'd expected with a battery charger from Efest, it does have quite a few safety features built in such as short circuit protection, reverse polarity protection and automatic over-charging protection. It's also built using fire resistant and fire retardant material, keep you and your charger safe.
If you're looking for an affordable 4 bay charger that packs a ton of features, and is able to charge your batteries quickly, then definitely check out the Efest iMate R4 Intelligent Charger. At its price point, it's a hard one to beat, that's for sure.
Efest iMate R4 Intelligent QC Charger Features:
4 Bay Battery Charger
Independently Monitors & Charges Batteries
Battery Life Indicator Light (LED)
No Button Design
Fire Resistant & Fire Retardant Material Construction
Multiple Safety Features Built In
Piano Wire Springs
Automatic 2A Charging For 1 Battery
Automatic 1A Charging For 2 Batteries
Compatible With Various Battery Sizes (18650, 26650, 20700 & More)
What's Included
Efest iMate R4 Vape Charger
Micro USB Cable
Warranty Card