Dovpo Blotto Mini RTA $24.99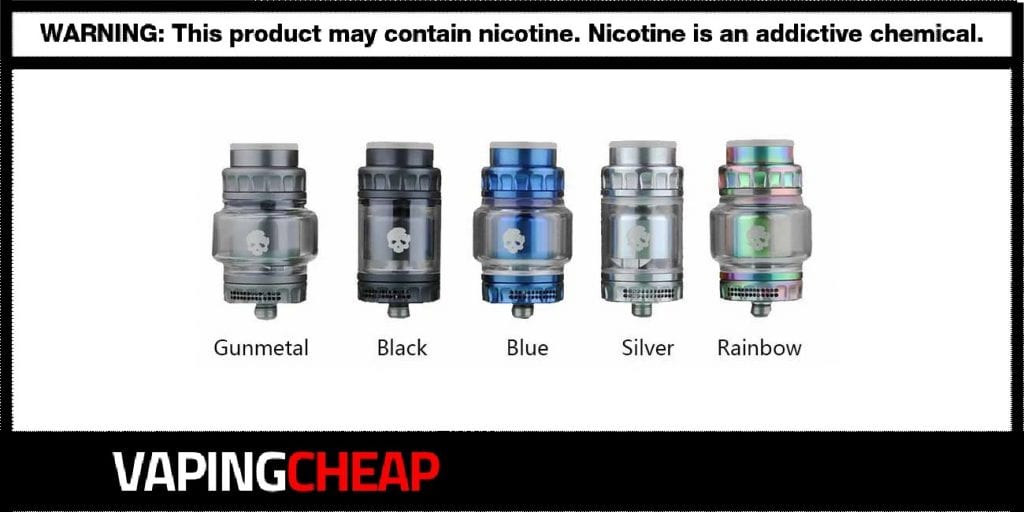 The new Vaping Bogan and Dovpo Blotto Mini RTA is now on sale! Get yours from a USA based shop for $24.99 with discount code "DBMRTA". It's on sale at a USA based store as well for $27.99 when using discount code "FREESHIP25". There are five different color options you can choose from.
Dovpo's newest RTA the Blotto Mini, is a smaller version of the original Dovpo Blotto RTA. Firstly, this tank atomizer has an overall diameter of 23.4mm. As expected, it is primarily constructed out of stainless steel material and features the signature Vaping Bogan logo you saw on the original
When it comes to e-liquid, it has a maximum capacity of 2ml or 4ml with the bubble glass. Both tank sections are included plus an additional PCTG tank, providing a "frosted" look. Filling it can be done quickly as it does fill from the top. What's great is that the Blotto Mini RTA Tank does feature the same knurling, so taking the tank apart, and filling is super easy.
Just like the original, this one does have a unique build deck. What's great about it is that you can use both single coil or dual coil builds. This gives you plenty of options to try out. With its overall design, installing coils are a breeze too!
It does feature the same 242 degree airflow system, providing you with a incredibly smooth draw. You'll get plenty of flavor too as the air travels from the bottom, and hits the coil directly. Lastly, you can fully adjust the airflow by simply twisting the base of the tank.
If you were a fan of the original, or looking for a new, slightly smaller rebuildable tank, the Dovpo and Vaping Bogan Blotto Mini RTA is one to check out. With its amazing airflow, and deck design, it's a winner.
Dovpo Blotto Mini 23.4mm RTA Features:
Overall diameter: 23.4mm
Maximum e-juice capacity: 2ml or 4ml (Bubble Tank)
Top fill design
Four post build deck
Compatible with single and dual coil builds
Bottom airflow design
242 degree airflow feature
Gold plated 510 connection pin
Stainless steel construction
What's Included
Dovpo Blotto Mini RTA
Bubble Glass Tank
Accessories
Bottle Opener
PCTG Bubble Tank
User Manual
Check Out The Dovpo Blotto Mini Review
More Great Vape Deals...
---
dotMod dotAIO Kit $62.96 (USA)
Here's a sale on the popular dotMod dotAIO Kit! Get yours for only $62.96 when using the code "VC10". Free shipping[...]
Innokin GoMax Tube Kit $15.89
Here's a cheap deal and discount on the Innokin GoMax Tube Kit. Buy yours for only $15.59. No code required. There's[...]