dotMod dotAIO SE Pod System $59.46 (USA)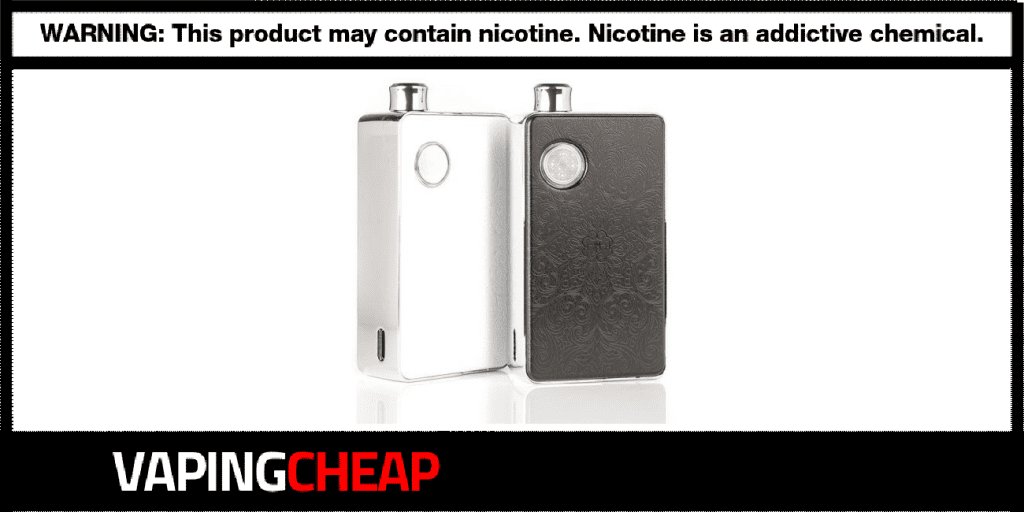 The dotMod dotAIO SE Pod System is now back in stock and on sale at a USA based store for only $59.46 when using the code "LABOR15". Free shipping is included when spending over $99. There are two color options available for this AIO, which are Black and White.
dotMod's dotAIO SE is a special edition of their original dotAIO Kit. Although it sports a nearly identical design, there are certain differences.
Firstly, the overall construction and color option. It is constructed primarily of zinc alloy, so it still remains quite durable and lightweight. Secondly, it's priced much cheaper, which is always a good thing in our book.
Moving onto the similarities, it features the same awesome design that's like both an all in one kit and pod vape. On the inside is where everything is hidden, and on the outside, all you'll see if the firing button, charging port and airflow vent. Inside of the dotMod dotAIO SE is where the battery compartment is, the refillable cartridge and adjustment button. Like the original, it requires a single high drain 18650 battery. Additionally, you can select from one of four power levels.
When it comes to the pod cartridge, it can hold a maximum of 2.7ml. You can fill it by simply taking out the silicone stopper, which is located right on the front. There's no need to take out the cartridge to fill it. There's multiple dotMod dotAIO replacement coils available too. Firstly, there's the 0.7 ohm coil designed for a MTL vape. Secondly, you have the option of the 0.3 ohm mesh, which is perfect for restrictive direct lung vapes. It doesn't stop there either. An Aspire Nautilus adapter is included, giving you even more coil options for your dotMod dotAIO SE. Lastly, there's an optional RBA to use your own coils.
If you were a fan of the original, but didn't want to pay that premium price tag, then you'll definitely want to check out the dotMod dotAIO SE 35w Pod System. It keeps all of the awesome features you'd expect, giving you the same great vape experience.
dotMod dotAIO Special Edition Features:
Zinc Alloy Construction
Requires Single High Drain 18650 Battery (Not Included)
Maximum Wattage Output: 35w
Four Power Levels (Very Soft, Soft, Medium, Strong)
Minimum Firing Resistance: 0.28 ohm
Hidden Adjustment Button
Intuitive Firing Button
Magnetic Panels
Refillable Pod Cartridge

2.7ml E-Liquid Capacity
Front Fill Port

Compatible with dotMod dotAIO Coils

0.7 ohm MTL
0.3 ohm Mesh (DL)
RBA (Optional)

USB Type-C Port
Dry Burn Protection (SS Coils)
Spring Loaded Pod Connection
2 Special Edition Color Options (Black, White)
What's Included
dotMod dotAIO SE (Special Edition) Pod Device
Refillable Cartridge
AFC Control Ring
Adapter for Nautilus Coils
Tank Plug & Silicone Bumper Replacement
Drip Tips (2)
Spare O-Rings
Charging Cable
0.3 ohm Mesh Coil
0.7 ohm MTL Coil
Check Out The dotMod dotAIO SE Review