Smoant Charon Baby Pod System $13.51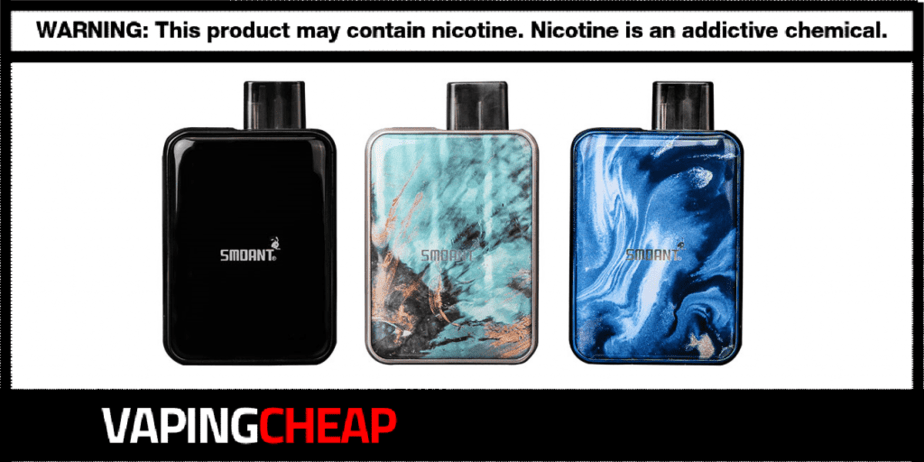 Here are cheap deals and discounts for the new Smoant Charon Baby Pod System. Get one for just $13.51 when logging into your account and using code "XMAS15". Free worldwide shipping applies to orders over $30. There's three different color options available which include Black, Stainless Steel and Blue.
Smoant is back with a follow up to their original pod release, the Smoant Battlestar Baby. The Charon Baby Pod System Kit sports an ultra compact design as well, and packs a rather large 750mAh built in battery.
It does feature a CPR design, which provides a high quality glossy finish that not only looks amazing, but is water-resistant and leaves no fingerprint trace. Additionally, this material ensures excellent durability.
The maximum output wattage of the Smoant Charon Baby Pod Mod is 15w, which is plenty for this type of device. There's also a 3 color LED battery indicator light that will notify you of the current battery state. As expected with this pod vape, like many others, it utilizes a refillable cartridge. This one can hold 2ml of e-juice, and features a side refill system.
A key difference with this cartridge is that you are able to change out the coils. This means you won't have to buy an entire cartridge when the coils burn out, which is always a good thing. Speaking of coils, there are two that's included. One is meant for a direct lung vape, and has a resistance of 0.6 ohm. It's a mesh coil as well, so you know you're gonna get awesome flavor production. The next coil has a resistance of 1.2 ohm, and this one is great for MTL.
Smoant is known for some pretty great products, and this one looks to be like another winner. It's for looking for a new compact device, then we definitely recommend taking a look at the Smoant Charon Baby Pod System.
Smoant Charon Baby Vape Pod Features:
750mAh Built In Battery
Powered by ANT Chip
USB Type-C Charge Port
45-60 Minute Charging Time
CPR Exerior Design

Glossy Finish
Water-Resistant
Leaves No Trace
Great Durability

Max Wattage Output: 15w
4 Safety Protections
Refillable Pod Cartridge

2ml E-Liquid Capacity
Side Fillling Port

Replaceable Coils

0.6 ohm Mesh (DL)
1.2 ohm Ni80 (MTL)

3 Color Options
What's Included
Smoant Charon Baby Pod Vape
Pod Cartridge (0.6 Ohm Coil Pre-Installed)
Spare 1.2 ohm Coil
Lanyard Charging Cable
Warranty Card
User Manual
Certificate Card