Ejuice Connect New Year Sale! Wholesale Pricing + Extra 20% OFF Sitewide!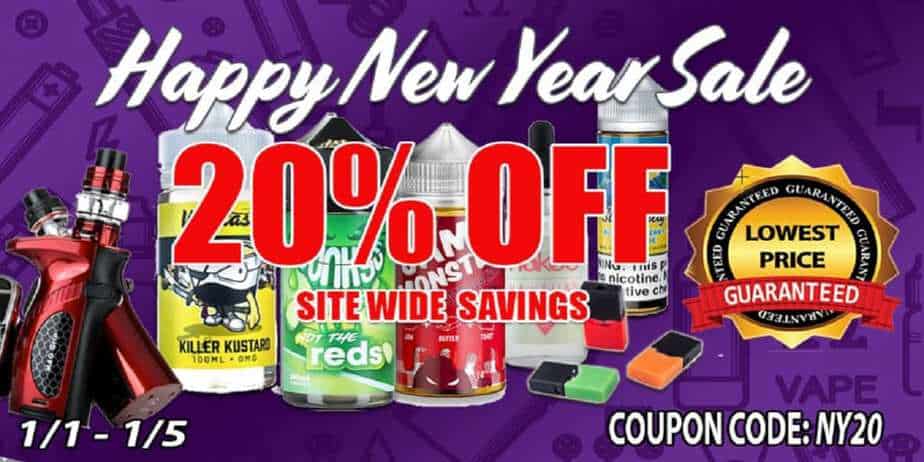 Store Sale
For a limited time only, Ejuice Connect is having their New Year Sale right here where you can get an extra 20% off sitewide using coupon code "NY20"! This sale ends 1/5/19!
During the Ejuice Connect New Year Sale, you can save an additional 20% off sitewide using the provided coupon code! They already offer Wholesale Pricing to the Public with discounts up to 80% off sitewide, so with this sale you'll be getting new products for insanely cheap prices! In addition, EJuice Connect has a wide selection of vape gear from some of the most known vape brands such as Smok, Lost Vape, VGOD, DotMod, Digiflavor and tons of others.
They have tons of different premium e-liquid brands to shop from as well! Some of the premium e-juice brands available are Keep It 100, Jam Monster, Cake Pops, King's Crest, Ruthless and more! Lastly, they have a wide selection of nic salt e-juice, bottle sizes and nicotine strengths, so if you enjoy pod systems, be sure to check those out!
All in all, this is a incredible store sale!  If you're looking to grab some premium e-liquid or new vape gear for cheap, then this is a deal you simply cannot miss out on! Make sure to check out this deal at Ejuice Connect where you can save an extra 20% off sitewide! Remember this deal does end 1/5/19!
Coupon Code: NY20
Some Of The Current Deals:
Wholesale Pricing to the Public
Save an Additional 20% Off Sitewide Using Coupon Code "NY20"
Various Nic Salt E-Juice, Bottle Sizes and Nicotine Strengths Available
Wide Variety of Premium E-Liquid & Hardware Brands
Sale Ends 1/5/19