Vaporham Lincoln 120ml Only $6.99!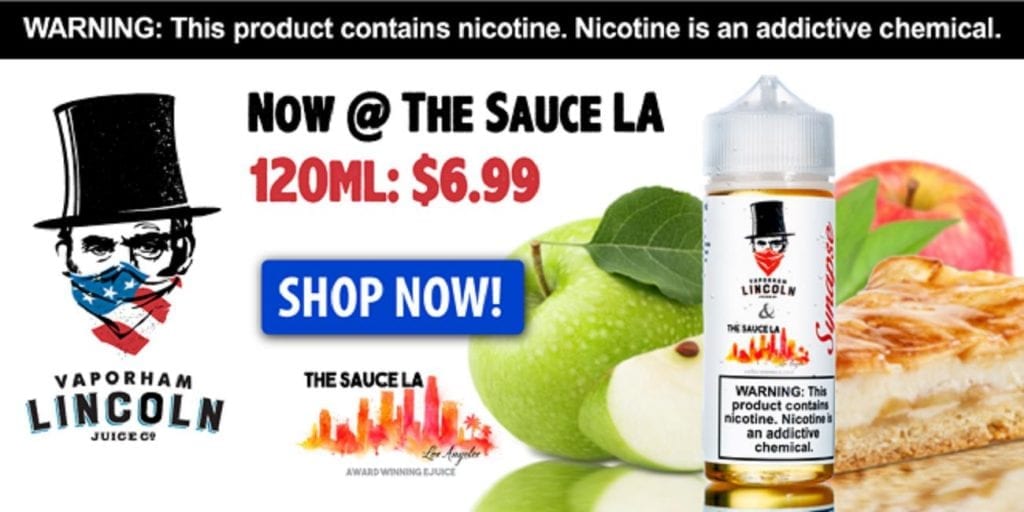 E-Juice Sale
For a limited time only, The Sauce LA is having an introductory sale on the Vaporham Lincoln E-Liquid line right here where you can get 120ml bottle for only $6.99! No coupon code required to get this discount!
During the Vaporham Lincoln E-liquid sale, you can get 120ml bottle for only $6.99! No coupon code required! There are currently 3 different flavors which are America, Synapse and Revolution. Each of these flavors come in a 120ml Chubby Gorilla Bottle, making it easy to travel and drip with! The nicotine strengths available for each flavor is 0mg, 3mg and 6mg. These flavors are known for being incredibly tasty and best of all, CLEAN e-juice! Their Synapse flavor is known for being the perfect apple pie, which is a great flavor profile for the Fall season! Lastly, all flavor descriptions will be posted below for your convenience!
All in all, this is a excellent e-juice sale! If you are looking to try out some premium e-juice for cheap, then this is a deal you cannot miss! Make sure to check out this deal at The Sauce LA where you can get 120ml bottle for only $6.99! Remember, this sale is for a limited time only and ends soon!
E-Juice Sale Details:
120ml Bottle Sizes
Chubby Gorilla Bottles
High VG Blends
Nicotine Strengths Available: 0mg, 3mg and 6mg
Flavor Description:

America: An homage to the star-spangled creed of our nation, its colors honorably represented by strawberries, blueberries, and peach. Taste vibrant, punchy blueberries on the inhale, balanced by ripe, sweet strawberries. On the exhale, enjoy a bright, succulent peach!
Synapse: The fusion of cinnamon and apples is tried, true, and dazzlingly tasty! We brought grandma back and she's been to culinary school. This is THE BEST apple pie flavor EVER! Try it to see what I mean – this rendition is the perfect balance of sweet, gooey filling, tart apples, and crispy pie crust.
Revolution: A harmonious collective of sweet guava, juicy tangerine and tropical passion fruit sure to overthrow your taste buds. Viva la revolucion! You'll taste the most natural and sweet guava flavor on the inhale, with subtle notes of tangerine and passion fruit. This is a go to flavor for the summer and all lovers of fruity ejuice!