Eightvape Mystery Box (Pod Device + 30ml EJuice) $11.95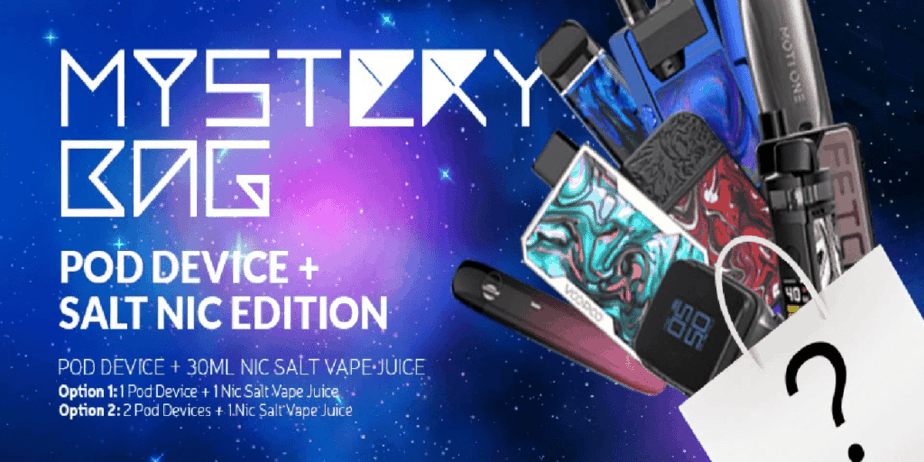 One of Eightvape's hottest deals is back! Get their Holiday Mystery Box from just $11.95. There's two different options available. The first includes a pod device and a 30ml bottle of nic salt ejuice. If you get the second option, you'll get two pod devices and a bottle of vape juice for just $17.95.
With this EightVape Holiday Mystery Box Limited Edition, you'll both a vape pod and some salt nic e-lquid to go with it. This literally includes everything you need to start vaping, making it an awesome gift for a vaper, especially with the New Year coming up soon.
What's even better, this mystery vape box will include some of the hottest pod systems from brands such as Lost Vape, Smok, Geekvape, VooPoo and more. When it comes to e-juice, they're including some of the most popular brands as well. This does include Naked 100, Candy King, Jam Monster and more.
If you're looking to grab a new pod kit plus some vape juice for cheap, then you can't go wrong with this Mystery Holiday Box from Eight Vape. At just over 10 bucks, it's an insane deal. If you're looking for more discounts, definitely check out our EightVape Coupon.
EightVape Mystery Box Details:
Holiday Mystery Box from $11.95
Two Options Available

#1

Pod Device + 30ml Nic Salt E-Juice

#2

2 Pod Devices + 30ml Nic Salt E-Liquid

Many Popular E-Juice & Hardware Brands Included
Limited Time Sale