Eightvape Mystery Box (Pod Device + 30ml EJuice) $17.95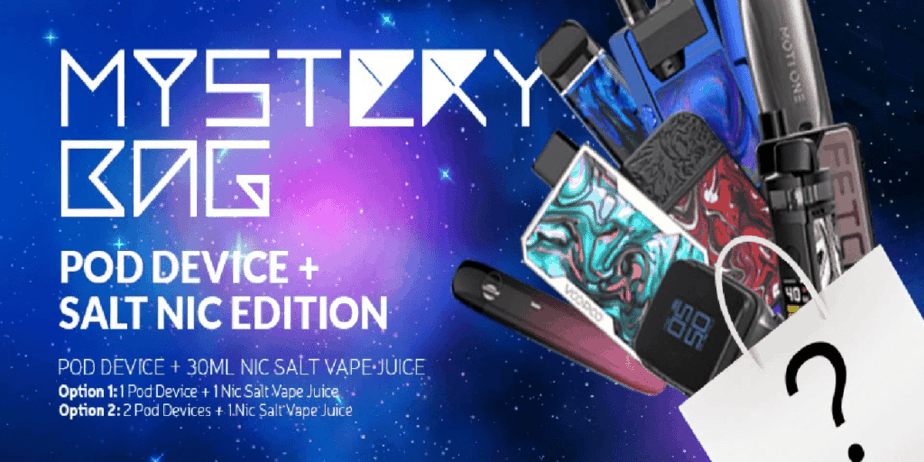 EightVape is back with another awesome sale yet again. Get a mystery box which contains a pod device plus a 30ml bottle of salt nic e-liquid for just $17.95. You can also upgrade the option, and get 2 mystery pod devices for only $24.95.
With this EightVape Mystery Box you can get either 1 or 2 mystery pod kits plus a 30ml bottle of nic salt for a super cheap price. There's a few awesome brands they're including in these boxes as well including Moti, Geekvape, Smok and even Lost Vape!
When it comes to the mystery vape juice, there's a bunch of brands you'll be able to get too. This includes Jam Monster, Naked 100, Candy King, Dinner Lady, Mamasan and more.
If you're looking to grab a backup pod setup for cheap, then you won't want to miss out this sale. Just keep in mind, it's back for a limited time only, so don't miss out. If you're looking for more discounts, definitely check out our EightVape Coupon.
EightVape Mystery Box Details:
Holiday Mystery Box from $17.95
Option 1:

1 Pod Device + 30ml Nic Salt
2 Pod Devices + 30ml Nic Salt

Various Brands Can Be Included

Geekvape
Moti
Lost Vape
Smok
Candy King
Mamasan
Naked 100
Jam Monster
Keep It 100
and more!

Limited Time Sale