Eightvape Holiday Mystery Box $13.95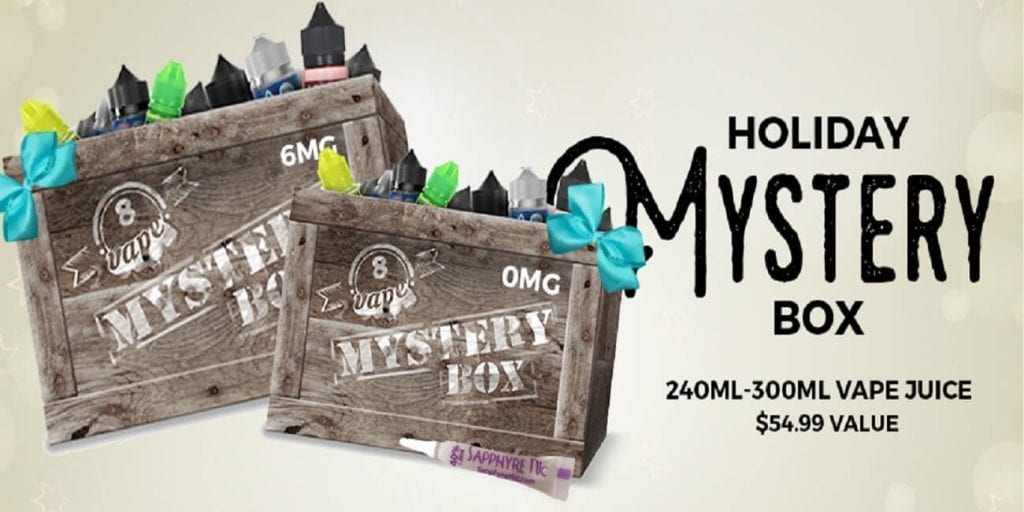 One of Eightvape's hottest deals is back! Get their Holiday Mystery Box from only $13.95! No code needed!
What you'll get with the EightVape Holiday Mystery Box is between 240ml and 300ml of premium vape juice! The total value of each box is up to nearly $55, so you'll be saving tons of cash! There's three different type of bottle sizes that can be included too which are 60ml, 100ml and even 120ml! Each mystery box also includes a variety of brands and flavors. Lastly, the three nicotine strength options are 3mg and 6mg.
If you're looking to try multiple new flavors and brands at one low price, then this is a deal you can't miss! Act quickly though as these sold out fast the last time they were available. If you're looking for more deals, definitely check out our EightVape Coupon.
EightVape Mystery Box Details:
Mystery Vape Juice Box from $13.95

Contains Between 240ml to 300ml

Value of each box is $55
Nicotine Strengths Available: 3mg, 6mg
Includes Various Flavors & Brands
Bottle Sizes Can Be 60ml, 100ml or 120ml