Cloupor Mini 30w Box Mod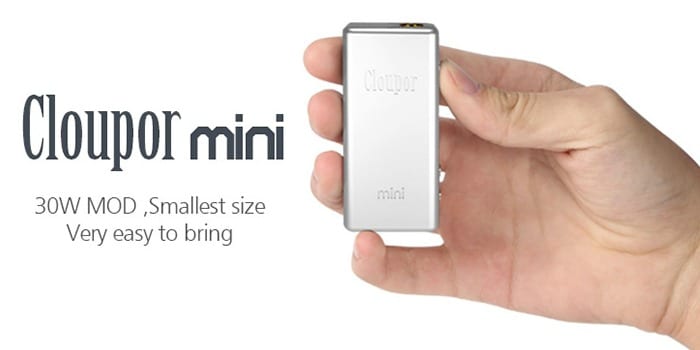 New Mini Box Mod by Cloupor
Not to be out done by the Eleaf iStick or new Mini iStick Cloupor is now releasing a new mini box mod called the Cloupor Mini. One of huge benefits of using the Cloupor Mini over other mini box mods is it's ability to fire atomizers down to a 0.45ohm load. That's quite a bit better than the iSticks which can only fire down to a 1.0ohm load. This makes the Cloupor Mini a perfect compact box mod to use with the new Aspire Atlantis or Kanger Subtank, both of which use 0.5ohm coil heads.
I first heard about the Cloupor Mini from Blake, from GuidetoVaping.com, when he directed me his Cloupor Mini article and I'm glad he did because it looks like a really cool new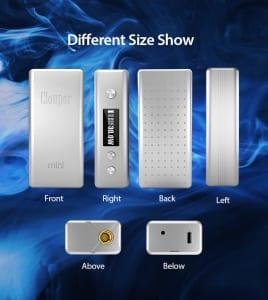 mini box mod. The device uses a replaceable 18650 battery but it's still not much bigger than the Eleaf iStick measuring only 77.5mm tall by 36mm wide and 22mm deep. It's a variable voltage and variable wattage and can be adjusted from 7.0 to 30.0 watts in o.1 watt increments. which is enough power for the majority of vapers.
The design of the Cloupor Mini is very simple. The front says "Cloupor Mini", the black has a pimple design like the T8, and one side has a few lines. The other side has a OLED screen with a firing button and two adjustment buttons. The top of the Cloupor Mini has a 510 connection with air-channels and the base has a micro USB port. The back cover is held in place by magnets for easy access to the battery and since they don't use screws the back plate looks very clean.
I'm very excited to try the new Cloupor Mini…
Cloupor Mini Features:
Size: 77.5mm*36mm*22mm
Output power: 7W-30W
Removable 18650 battery
Output voltage : 3.6V—7.0V
VV/VW Mode can be switched manually
Optional Left & Right Mode
Can build on 0.45-3.0 ohm atomizer
Adjustable 510 Pin
Ohms reading calculats to 0.01ohm
Reverse battery protection , no worry about installing battery improperly
Pass Through (can vape while charging)
Magnet back cover,no need to use screwdriver,more convenient
Instead of screen lock, It can be turned off
Can be charged through USB port
Over charge protection
Colors: Black,Silver