Smoant Rabox Review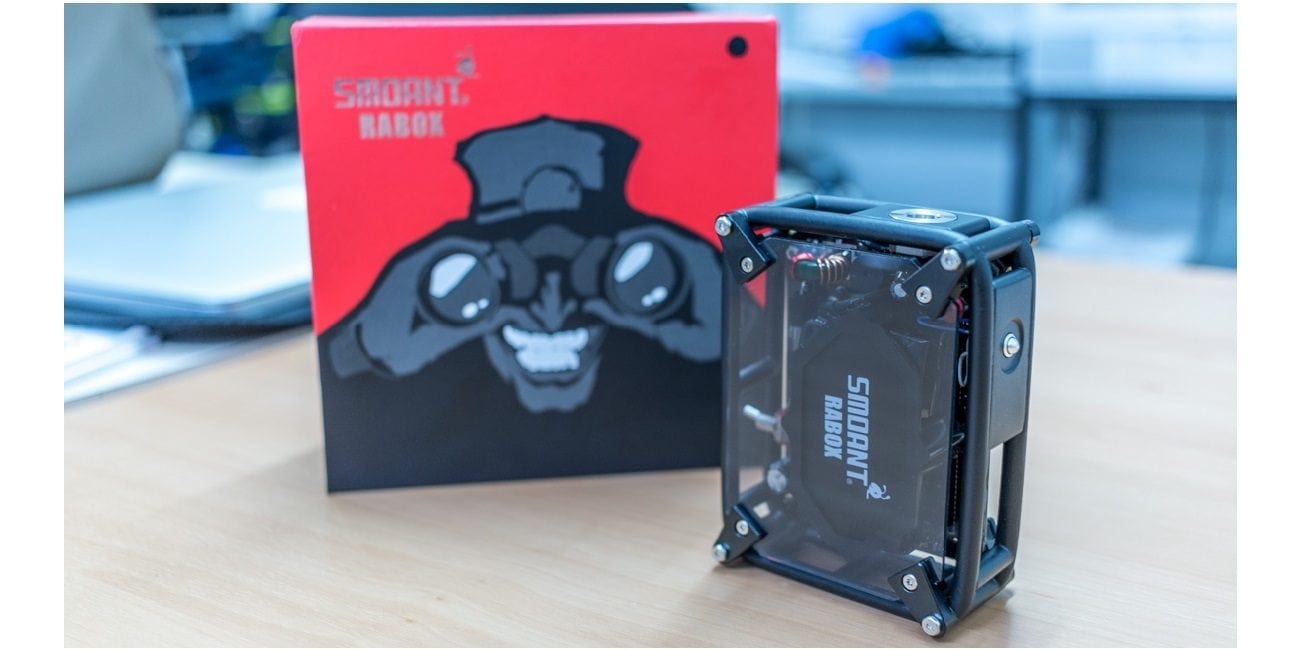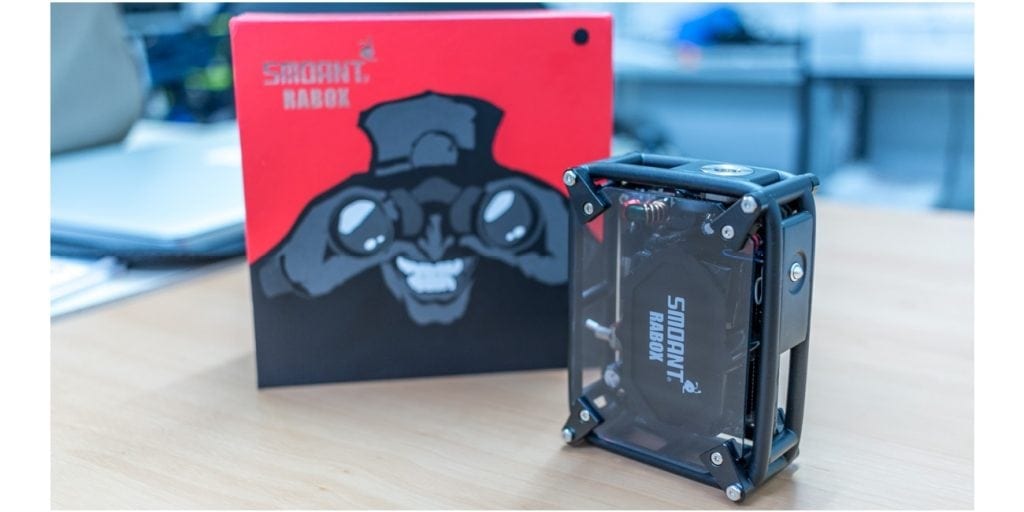 Smoant Rabox Review
The RABOX mod by Smoant is an unregulated mechanical mod with a built in 3300 mAh battery, transparent chassis, nano water-resistant PCB Coating on the circuit board, PMMA acrylic covers and a 304 stainless steel construction welded using GTA method. It has a maximum power output of up to 100W and capable of firing as low as 0.1ohm. The RABOX is a stunning system that features the first open chassis and welded framework designed platform available on the market.
Smoant has undergone extensive design, engineering, and manufacturing for the development of the RABOX. The result is a 100% handmade welded framework made from 304 Stainless Steel which is then ceramic coated to ensure a smooth and durable finish. The front and back faces feature a see through PMMA panel that allows users to see the PCB , chipset and LED lights. The RABOX utilizes a two mode Smart Mechanical Output that can be switched between a 5V constant output in HIGH mode or a traditional Direct Voltage Based Output based on battery state in SOFT mode.
With support down to 0.10 ohms, the RABOX can easily power most atomizers on the market with the flexibility to instantly switch between outputs depending on preference. The maximum output capacity during use is 100W, and is backed by safety features that include low battery, resistance, over heating, and over use protections. Integrated within the RABOX is a rechargeable 3300 mAh Lithium Polymer battery that powers the entire system, providing long lasting battery life. I would like to thanks Heaven Gifts for sending us the RABOX for the purposes of this review.
Heaven Gifts Coupon Code: ACHEAP15 for 15% Off!
What's in the box?
1x Smoant Rabox Mod
USB Charging Cable
User Manual
Out of the box
The packaging for the Smoant RABOX is quite appealing, with a cartoon figure on the front of the black and red box. Upon opening the box, we find the mod securely in place in protective foam so there is no chance of it getting damaged in transit to you. We also find a USB cable tucked neatly into a box beside the mod. There is a user manual in both English and Chinese and also some generic warranty, QA and safety cards. Overall very nice, visually appealing and fit for purpose packaging.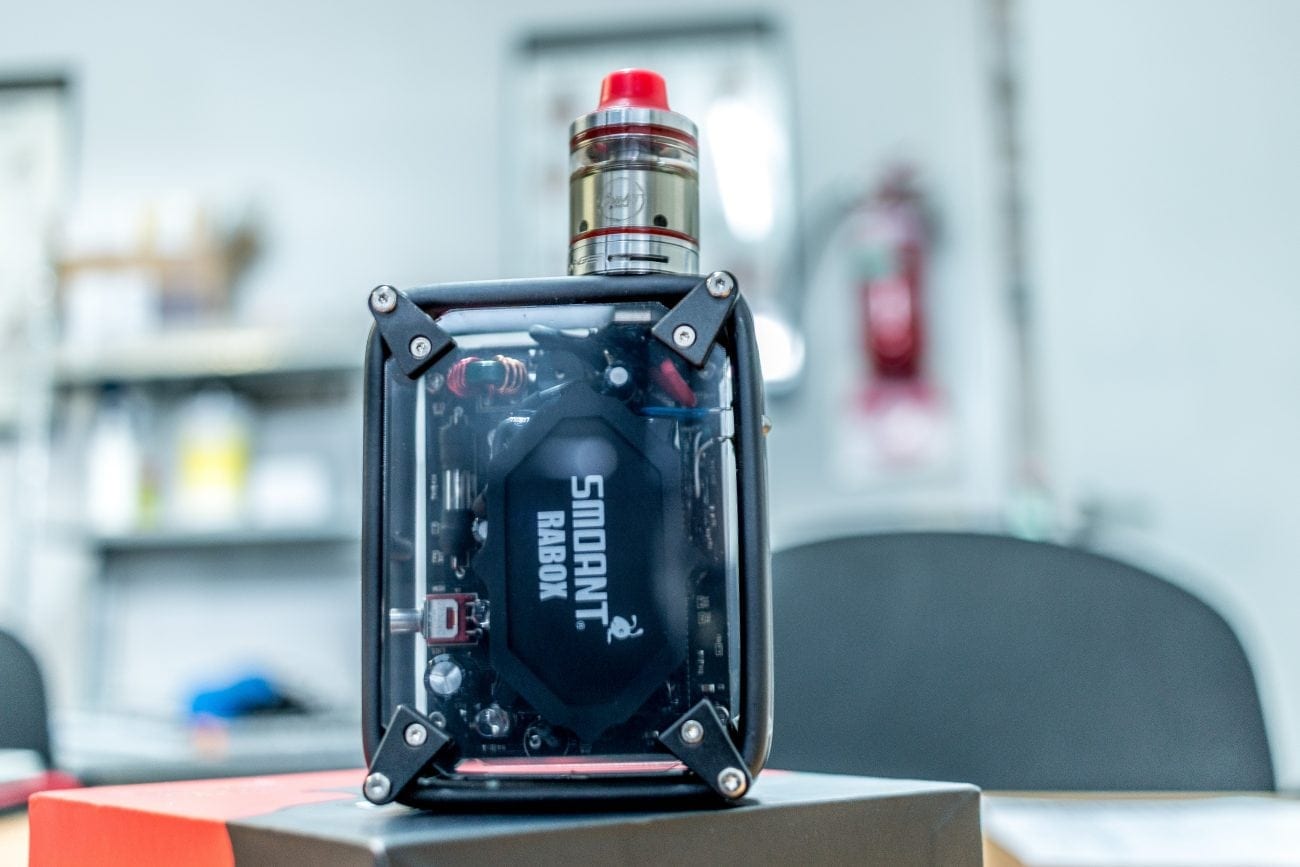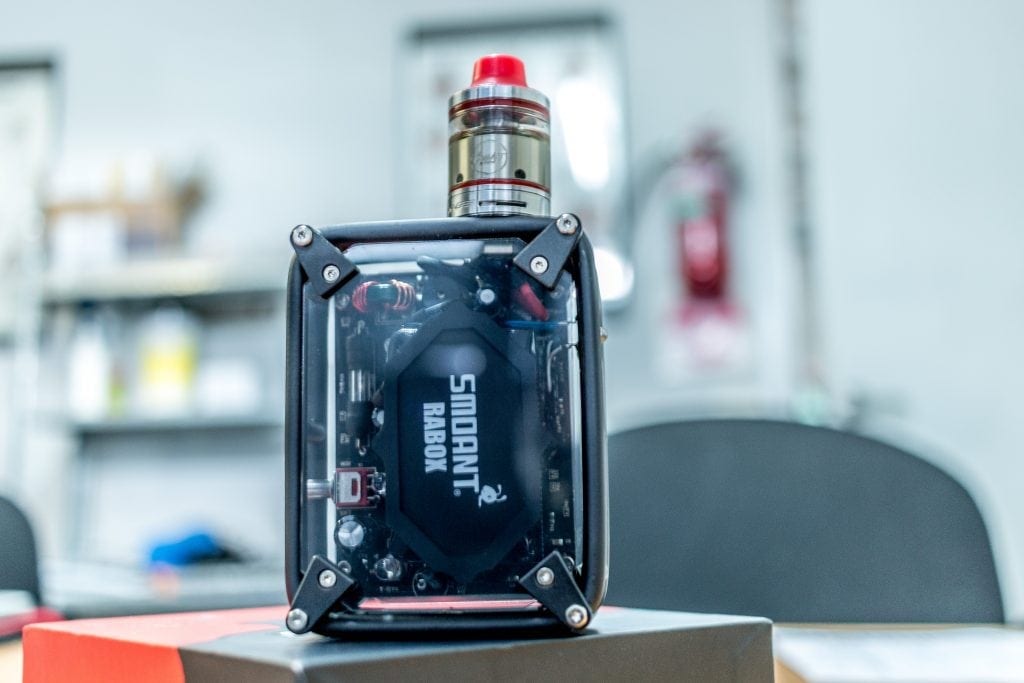 When first picking up and inspecting the RABOX, it looks unlike anything I have seen before in regards to vaping mods. It initially reminds me of a fancy gaming computer that has the internals exposed via see through side walls. You can see all of the internals and the PCB is exposed showing off every little detail inside. I am unsure if all the circuits and components on the inside actually contribute to the workings of the mod or if they are there for show.
The welded frame is really nice and feels super solid. The PMMA panels seem to be a little rattly with the nature of how they are secured in. The mod is a little wobbly when sitting on a flat surface, it's not going to tip over or anything, but just again the design doesn't allow it to sit fully flush. The fire button is small and super clicky, it feels really nice and therapeutic to use and it does not have any rattle or movement to it at all.
The 510 connection on top features a gold plated connector and it is spring loaded. It is of minimal design with no juice channels or air slots to be seen. On the other side there is a basic rocker switch, that swaps between the HIGH and SOFT modes. There are 3 internal LED lights that illuminate very brightly to indicate various states of the mod when in operation.
This is certainly a very, very unique looking mod. It looks great and appears to be very well designed and made. I don't think it is going to be a very practical mod for daily use, but I'm sure it's going to be a lot of fun to have a play around with!
Usage
Given the fact that the RABOX sports an internal battery, you do not have to install anything before use – just make sure it is charged. To do so, use the supplied USB cable and plug it into the port on the mod. While charging the LED will change colors incrementally until a full charge is reached. Once the battery is full, the green LED will be on and it will flash to indicate it is ready for use.
Fitting an atomizer to the RABOX is as straight forward as any other mod. Simply screw it down and the spring loaded pin will ensure that there are no gaps created. The width of the plate that houses the 510 connection point is about 24mm, so naturally 24mm attys are going to look the best. This mod however can support all sizes of atomizers and given the design of this thing, I don't see any issue with flush fitment. It's designed to be a fun mod to use, so why not have fun with the tanks or RDA's you run on it. The more ridiculous the better I say!
Click the fire button five times to turn the device on and off. Once successfully turned on the mod will confirm this by illuminating the Power LED and the green LED for two seconds. The mod will also emit one beep to confirm it's state of operation.
Be ready for the beep because it is loud! Very loud and I have not found a way to silence it or mute it yet. To engage the SOFT mode of the mod, turn the rocker switch to the lower position and the mod will beep once. The engage HIGH power mode, switch it to the up position and the mod will beep twice. If you fire the button with no atomizer connected and the power is on, the mod will beep once.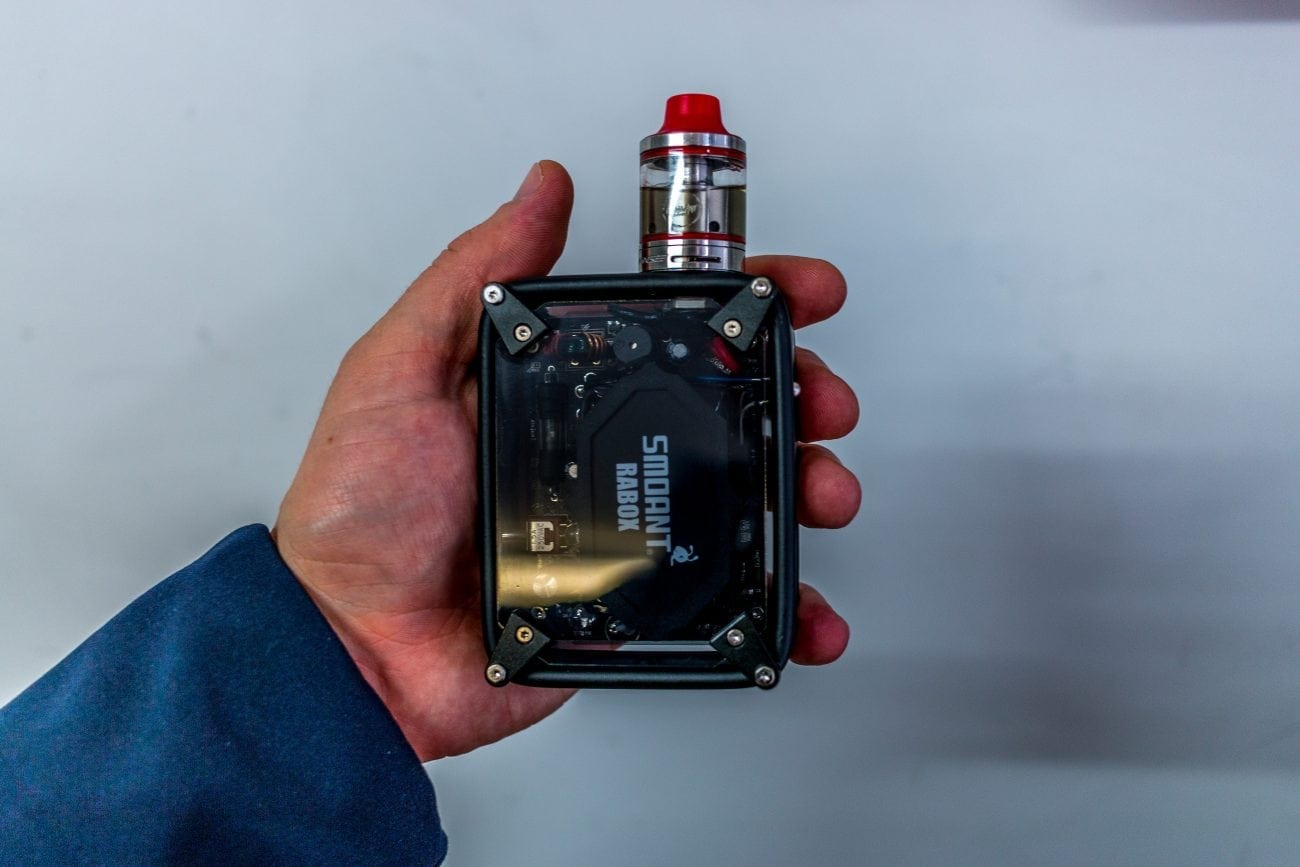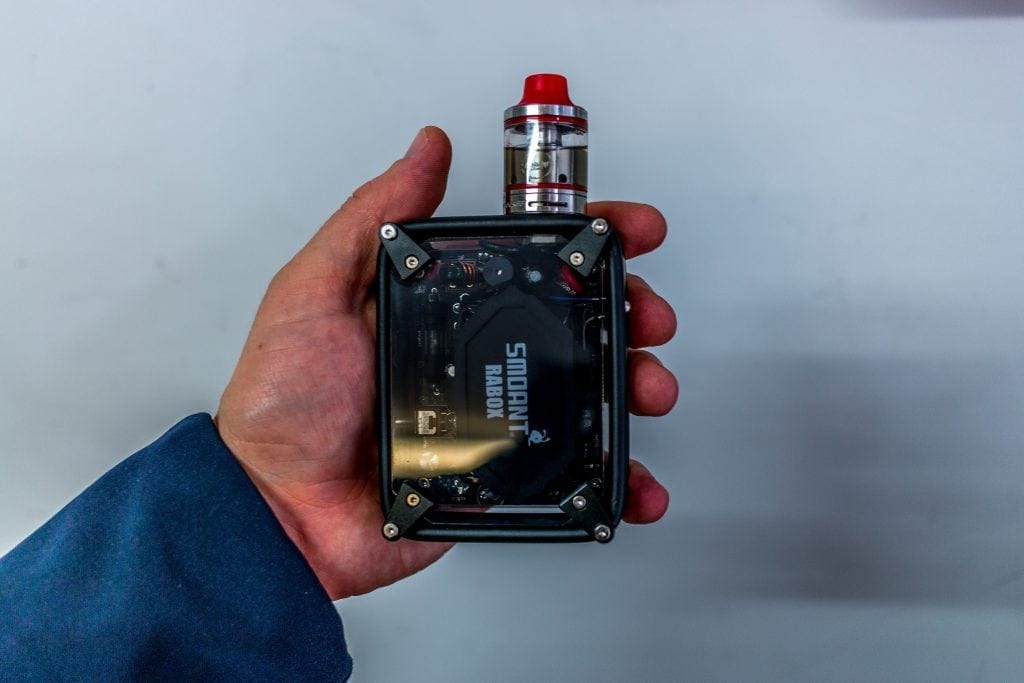 The RABOX will display it's power capacity while the device is on. When you click the fire button one of three colors will show. Red indicates you have 5%-30%, Blue indicates you have 31%-80% and Green indicates you have 81%-100%. When the battery level reaches below 5%, the green LED will flash 15 times and will emit three beeps before switching off automatically.
If the resistance is lower than 0.1 ohm it will engage short circuit mode and emit two beeps. If the resistance is greater than 5 ohm or the atomizer didn't connect, the power LED will flash three times and emit three beeps. When the PCB board temperature exceeds 60 degrees C, the device will go into temperature protection mode and the power LED will flash three times and emit three beeps.
If you try and engage the fire button for more than 10 seconds, the device will automatically cut out and the power LED will flash 3 times. The RABOX will enter power saving mode after 2 seconds of no use. A simple click of the fire button will wake it from this sleepy state.
The RABOX mod supports pass through vaping, so you can take a hit while the battery is charging. When firing, this thing lights up like a Christmas tree and believe me the LED are all very bright, so don't look at them directly. All in all a pretty simple and straight forward mod to use, with no menus or screens to navigate through.
Heaven Gifts Coupon Code: ACHEAP15 for 15% Off!
Performance
When the battery is fully charged this mod hits nice and hard with minimal delay in firing your coil. It is a very satisfying vape experience that is akin with mechanical mods past and present. The only difference I found between HIGH and SOFT modes was the time it took to fire the coil. The SOFT mode eventually gets to the same wattage as HIGH mode but with more of a ramp up time.
So essentially it's a longer draw to get the same net result. I found that I stuck to HIGH mode for the majority of the time and really only switched over when I tried a new build or atty. I found the most satisfying builds to be around 0.15 ohms to 0.30 ohms.
Although Smoant advertise that the PCB is coated in a moisture resistance material, I certainly have a hesitation in letting any juice what so ever leak down on to the board. I also was concerned enough to remove the tank from the mod when leaving it for an extended period of time, to ensure that there was zero chance of getting any e liquid on the internals of the device. This may have me being overly cautious, but that's just my OCD kicking in and not being able to trust any atty to stay leak proof all of the time.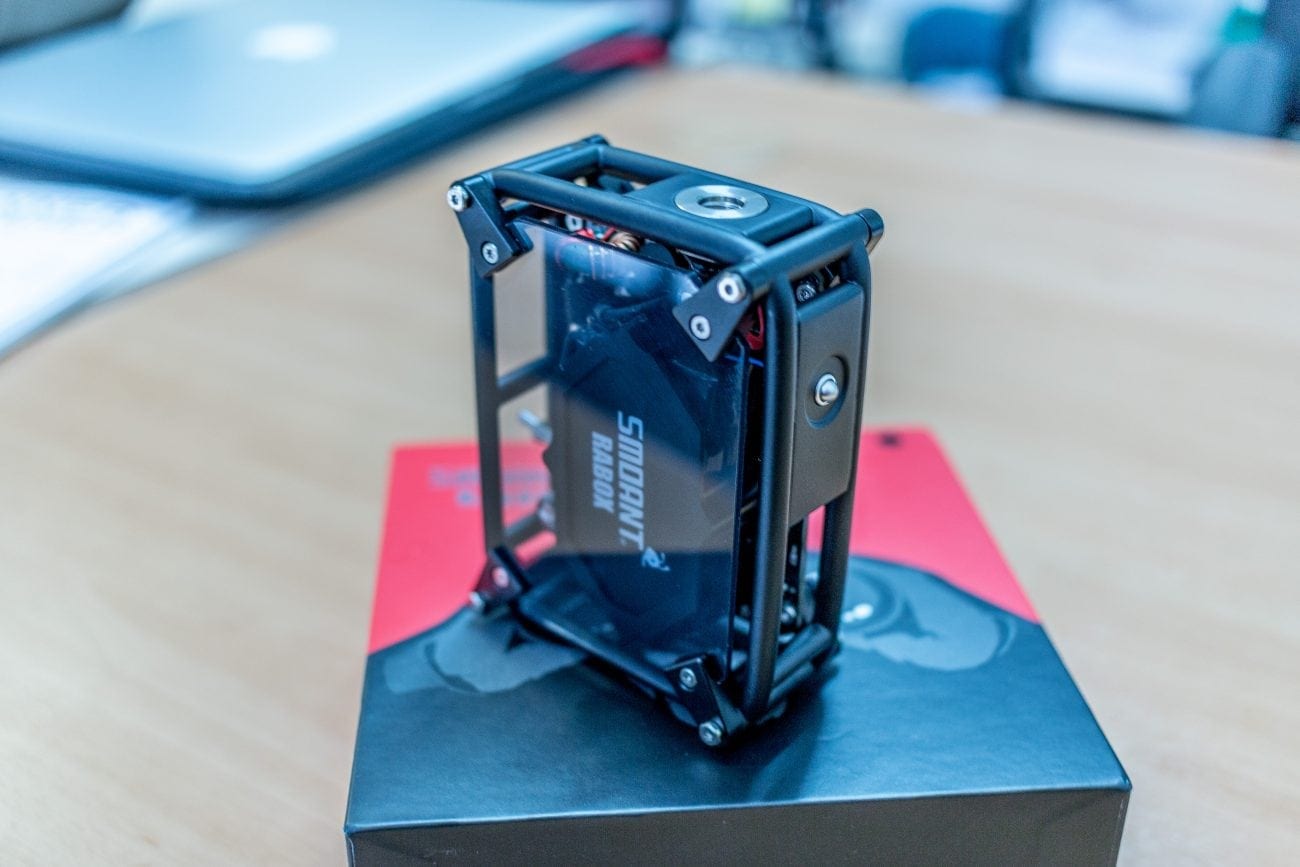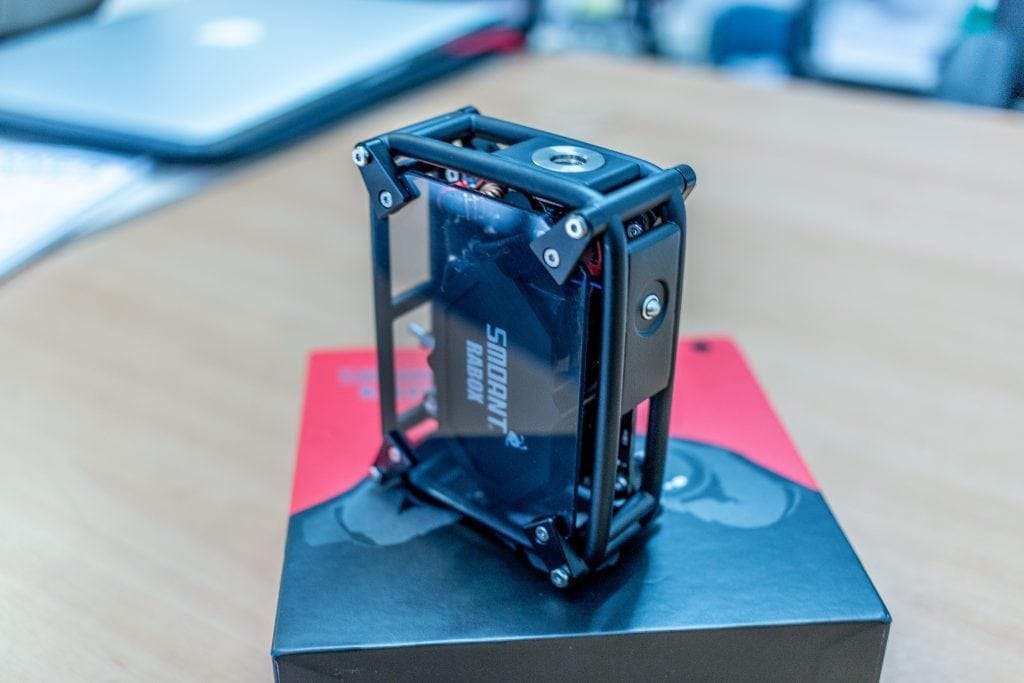 I've been burnt too many times before coming back to my mod and finding it covered in a pool of juice. This is certainly one mod that I couldn't let that happen to for obvious reasons.
Battery life decreases incrementally as per any mechanical or direct battery driven mod. It will depend on the ohms of your build and how much you vape on it. I found the battery to be quite good in terms of life and nothing out of the ordinary with the builds I ran on it. It's quite quick to charge, from empty a few hours will have it back in full swing. The RABOX only supports 1A charging.
I'm not going to talk about how comfortable or ergonomic this mod is to use as it is clearly not designed to be an everyday mod. Simply put, it's not a practical use mod that can be easily slipped in your pocket or bag and taken with you on your daily adventures. The RABOX is designed for fun and to stay at home on your desk or at your favorite vaping station. It performs very well and provides a satisfying vaping experience and will keep any sub-ohmer happy.
Specifications:
Size: 70mm (L)*31mm (W)*90mm (H)
Net Weight: 288g
Purely handmade welding stainless steel 304 frame
Minimum Firing Resistance: 0.10 ohm
Maximum Wattage Output: 100w
Adjustable High/Soft Mode
Built-In 3300 mAh Battery
Can be charged through Micro USB Port & provide charging indicator
Nano waterproof coated over PCB to greatly prevent water damage
Low battery protection/ Resistance protection/ Over-heating protection/ Over-use protection
Black, Red, White Colors Available
Pros
Unique Design
Performs Well
Cons
Rattly sides
Loud beep that cannot be turned off
Wobbly stance
Wrap Up
While definitely not the most functional or featured mod, the Smoant RABOX is unique, really different and I do get a kick out of using it. I wouldn't recommend the RABOX for something to replace what you currently use on the daily.
I can highly recommend it though if you are looking for something that is kind of ridiculous and super fun to use. Something to get your friends talking and help you stand out from the crowd a little. If this is something that is of interest, go for it and satisfy your urge for having some fun with your vaping hobby. If you have any questions or comments feel free to leave them below – we always love hearing what you have to say.
Heaven Gifts Coupon Code: ACHEAP15 for 15% Off!