Aspire BDC Review: Top Features, Ratings, Pros & Cons!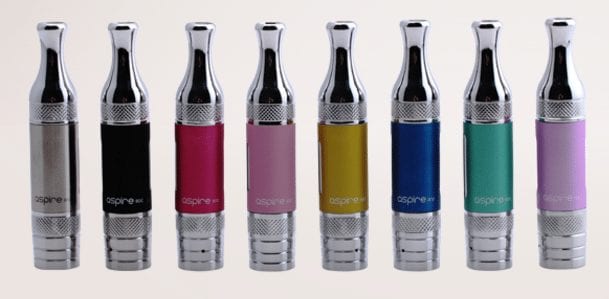 Good morning and welcome, my awesome vape-enthusiasts, to another rant and rave from yours truly…all in the name of making sure that when you go out and buy that next bit of vape gear, you don't end up disappointed.
This past weekend I had the pleasure of testing the Aspire BDC Clearomizer range, including the Aspire ET-S BDC, the latest addition to the Aspire range of clearomizers. Here follows a straight up, honest Aspire BDC Review for your benefit.
Those of you not familiar with the brand, Aspire is an offshoot of Eigate Technologies, who've been bringing seriously affordable, yet functionally decent vaping products to the market since 2010. There's been a great deal of buzz about the new BDC clearomizer range (that's Bottom Dual Coil, by the way), on the back of one or two rave initial Aspire BDC Tank Reviews and of course to do with the fact that the first model to come out of this new BDC range features pretty old fashioned, unique looks make it stand out like a sore thumb.
But I'm not one to go and purchase based on 2 awesome reviews and I don't expect you to do so either. That's why I undertook to do a review of my own.
Aspire BDC Ratings
After a weekend of vaping delicious Strawberry Cream Nog Clouds and some rigorous use, I scored the Aspire BDC and Aspire ET-S a combined and very well rounded 4.5 stars.
All kitted out with my Joytech eGo One and Strawberry Cream Nog from Fuggin E-juice I was ready to go! Read on to find out everything I learned during my Aspire BDC Clearomizer Review.
These new additions to the Aspire range feature dual coils, which make them, without a doubt, all formidable upgrades. The dual heating coils mean that twice as much liquid is atomized in a given time, provided you use the piece carefully. This means more bang for your buck, far more flavor and a much richer, thicker vape. Of course, there are things you'll need to keep in mind now that you're using a dual coil system…let's cover the pros and cons.
Pros
Looks: You needn't worry about those looks anymore, after the initial BDC Nova model, with the old fashioned, questionable looks, things started looking up for Aspire users. The tanks are neatly styled, with a metal sheath tank protector which comes in a full range of colors to suit any fashion sense. This is a good looking clearomizer system which, you'll soon see, delivers on more than just looks.
Glass Tank: The 2.0ml capacity glass tank is protected by a sheath, making this system more durable than most in that regard. A narrow window allows you to see what's happening inside the tank at all times ad check your juice level. The glass Pyrex tanks mean you needn't worry when vaping that acidic broth.
Construction Upgrades: Designed with a new airflow system to give you a draw that doesn't feel tight but definitely does feel less airy, as well as new coil head design to eliminate gurgling and leakage onto the battery. Twin holes in the coil heads allow liquid to pass through instead of sitting atop the battery.
This new system made a lot of promises and I'm glad to say that delivered on every one of them. A nice solid draw with minimal noise and when you use it right, little to no leakage.
Dual Coil System: Yes indeed, this is the crunch…the bottom filling tank with the dual coil system is what makes this a vaping experience to be remembered. Unbelievable quality of vape, flavorful, rich, slightly warm cloud formation but be warned: because this BDC system packs so much punch, you need to keep those tanks full or your coils will burn out, your wicks get damaged or your system spring a leak. Speaking of which, when your coils do burn out, they are now fully replaceable.
Cons
Compatibility: Okay, so this isn't really a con, so to speak. It features only Ego threading so vapers sporting a 510 mod will need to get a hold of an eGo to 510 adapter…which, considering the reward, shouldn't be too much of an ask. To purchase an eGo to 510 adapter click here!
Higher Maintenance: True, the BDC means more heat and more action and that means higher maintenance. keep your system clean and your tank full to avoid any burn out or leakage issues.
Special Brand Features
Aspire boasts a really decent range of vaping products to suit just about any budget and with their new BDC systems, you're pretty much guaranteed a quality vaping experience with full flavor and nice rich cloud formation. I'm also a fan of the color range in which these systems are available, specifically the rainbow version.
Conclusion
What can I say…serious kudos to Aspire on an outstanding upgrade. I'm impressed with the looks, sturdy feel and outstanding Vapor production of the new Aspire ET-S BDC range.
With the Aspire BDC, you're not only purchasing a great looking piece to add to your rapidly expanding vaping gear collection, your purchasing a tank system which delivers where it really counts: Full flavor delivery and a solid draw with minimal airflow noise mean that I was an instant fan of the system. With extended use I found that, provided the tank was kept full and I unscrewed and blew out the mouthpiece now and then, there was zero leakage and zero spitting and gurgling.
Whether you're a newbie in the vaping community or a schooled hand, I've no doubt you'll be impressed with the performance delivered by this baby. From my side, it's over and out...may the vaping gods be with you! For a little more info on your set up and maintenance, go ahead and check out this video. In conclusion to this Aspire ET-S BDC Review, it's a definite thumbs up, with little to no cons and the only con's being avoidable with a little know how, I'm thoroughly impressed.