Wotofo Conqueror Mini RTA Review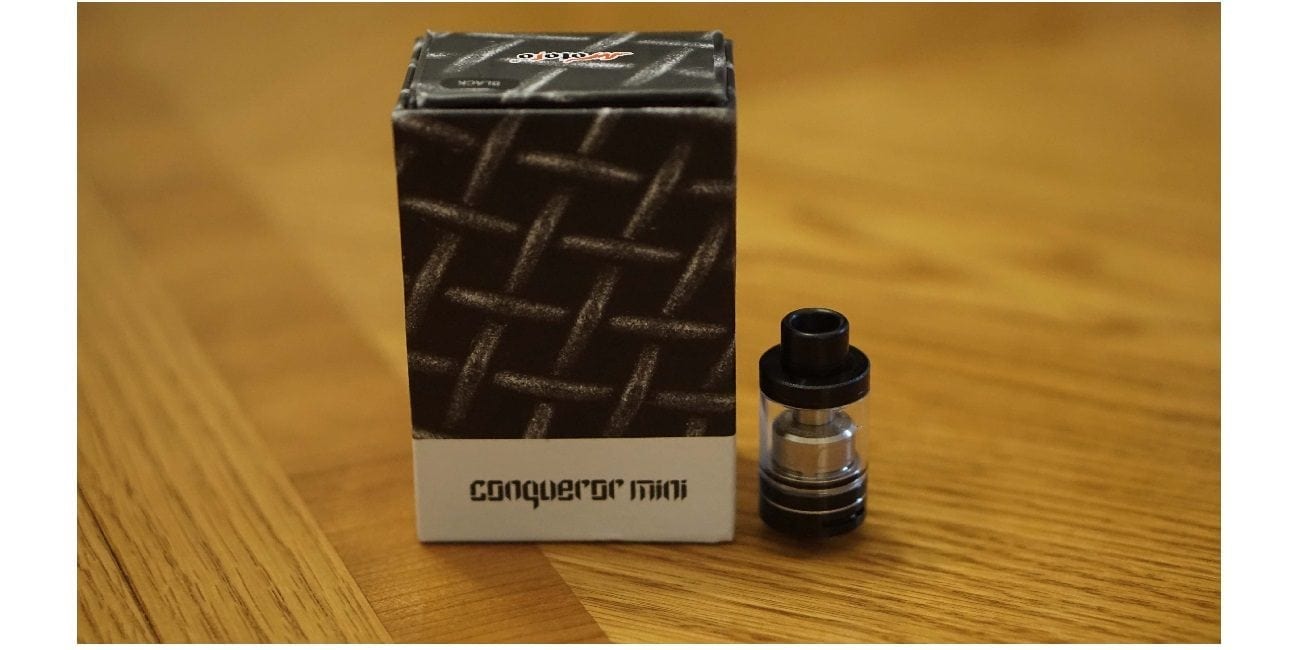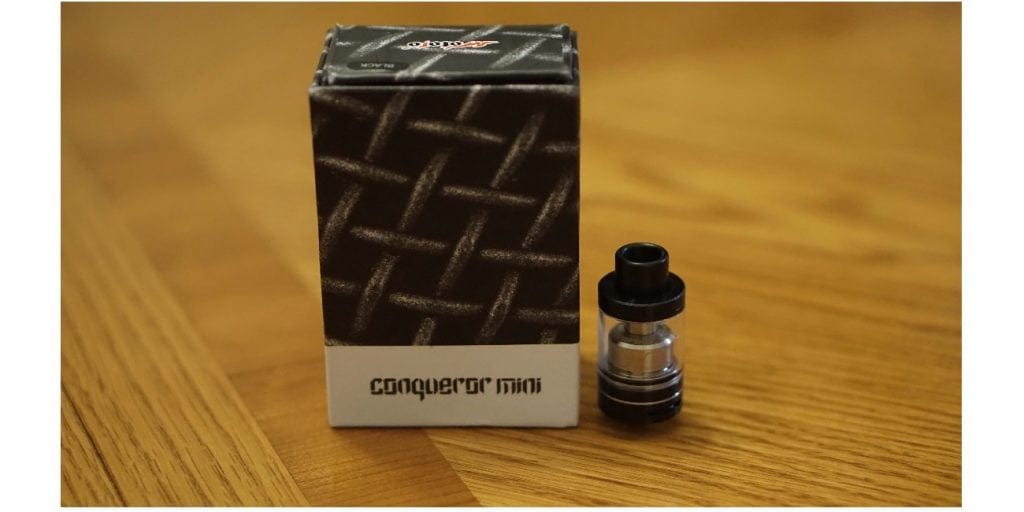 Wotofo Conqueror Mini RTA Review
Wotofo has released many products over the past couple of years, and most, if not all have been quite impressive especially considering their price points. The original Wotofo Conqueror RTA was fairly popular as it featured a postless build deck and a unique design. Now they have recently released the Wotofo Conqueror Mini RTA which keeps some features the same, but has many changes in its overall design.
Firstly, I would like to thank Heaven Gifts for sending me this product for the purposes of this review. I will go over my first impressions, building and wicking, performance, pros and cons and will conclude with whether or not I recommend this product!
Check out the Wotofo Conqueror Mini RTA Here! (SS) Check out the Wotofo Conqueror Mini RTA Here! (Black)
Use Coupon Code ACHEAP15 for 15% Off!
Out of the Box
Upon first receiving this Wotofo Conqueror Mini, the first thing I noticed was the familiar packaging. Most Wotofo products, especially newer products come in these style packaging. Personally, I like them since they're much different than the competition.
Sliding the packaging open, it reveals the Conqueror Mini RTA alongside a replacement glass tank section. This is already a pro, because if you lose or break one, you have an extra to go to. The Wotofo Conqueror Mini surely fits its name, because it's pretty small in size. This RTA does have a 22mm overall diameter, so right away you know it'll look good on almost any device you attach it to, especially mini mods!
Underneath the Wotofo Conqueror Mini is where all of your extras are located. Included in the packaging, you receive 2 prebuilt twisted coils, a coil building tool, a bag of spare parts, a user manual, Japanese cotton, a Wotofo giveaway card, and a multi functional tool. This is one thing I do love about Wotofo products, they always include a lot in their packaging which is definitely appreciated.
I did receive the black color for review, and there is a stainless steel version available as well. The black version does come with a delrin 510 drip tip, which is certainly comfortable. This is another pro, as I know many vapers prefer delrin over stainless steel, but this is subjective of course.
This RTA does feature a gold plated 510 pin, which is great for conductivity, and has fully adjustable bottom airflow. The tank does come apart fairly easy, and I do like the overall design of it, especially the design on the chimney, it just adds to the overall look of this RTA.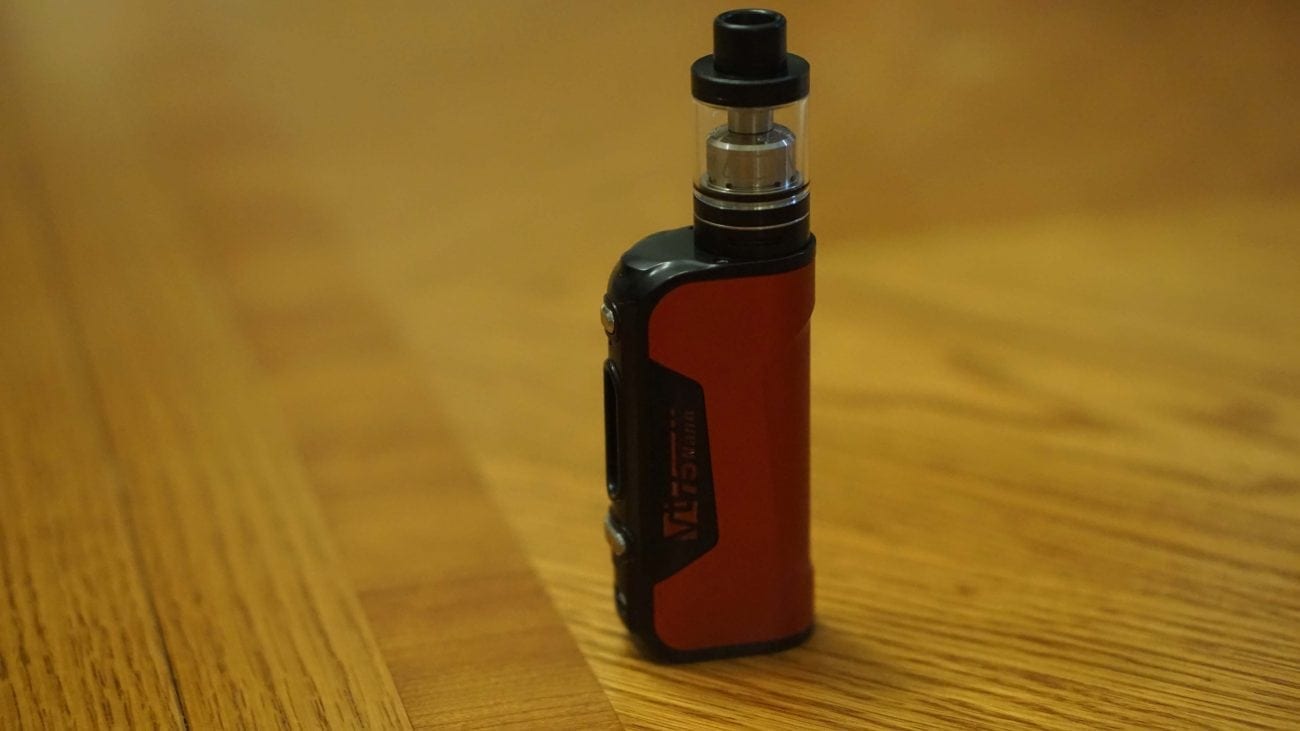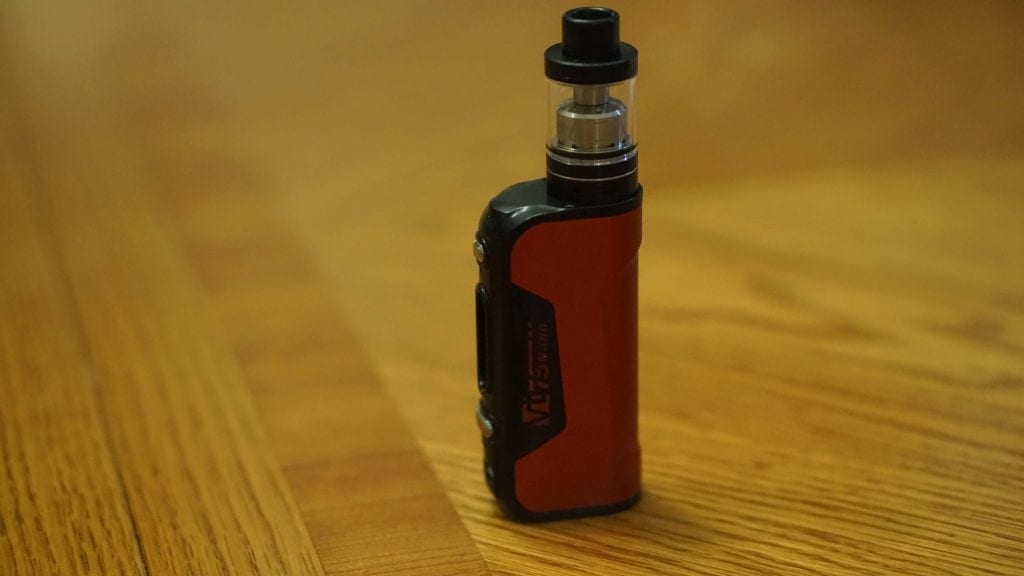 The Wotofo Conqueror Mini RTA is 39mm in height and it has a 2.5ml e-liquid capacity, which is fine considering its size. It does also feature a top fill design, and the top fill section does have a bit of knurling to it, but that certainly helps when taking the top fill section on and off.
This RTA does feature a postless deck design, which some people may love or hate. In addition, the screws are tiny, so be careful when taking it apart for a cleaning or building, because you can easily lose a screw. The post holes seem to be of a decent size as well, but honestly you probably wouldn't be putting giant builds in here due to its smaller size.
I do want to mention that the Wotofo Conqueror Mini came clean with no traces of machine oil. One rinse with warm water, and this RTA was good to go! This is definitely a pro in my opinion.
Overall, my first impressions of the Conqueror Mini were positive. This is a pretty small RTA, so it will certainly cater to people who love smaller devices or stealthy vape setups.
Building & Wicking
Like mentioned previously, the Wotofo Conqueror Mini RTA features a postless deck design, similar to that of the original Conqueror RTA. If you're familiar with that deck, then this deck will be familiar to you, and you will probably have no issues with building or wicking. However, if you are not familiar with postless decks, this may prove to be a bit tricky at first.
When you are building coils for this RTA, make sure that the leads for each leg for each coil match in height. This will help when installing the coils, as it will ensure both coils are of the same height when you install them. If you decide to install one coil, and then do the next coil, you might have an issue where they're not the same height, so to make the coil install process easier, it's recommended to do it this way.
Also, the screws are very small, so it's easy to lose them. The deck is pretty small in size as well, and it's to be expected since this is a small RTA, so don't expect large coils to fit. However, normal Clapton builds fit with no issues, but that's the most I would do, as I feel like a Fused Clapton may have issues fitting or just be too hot of a build for this tank.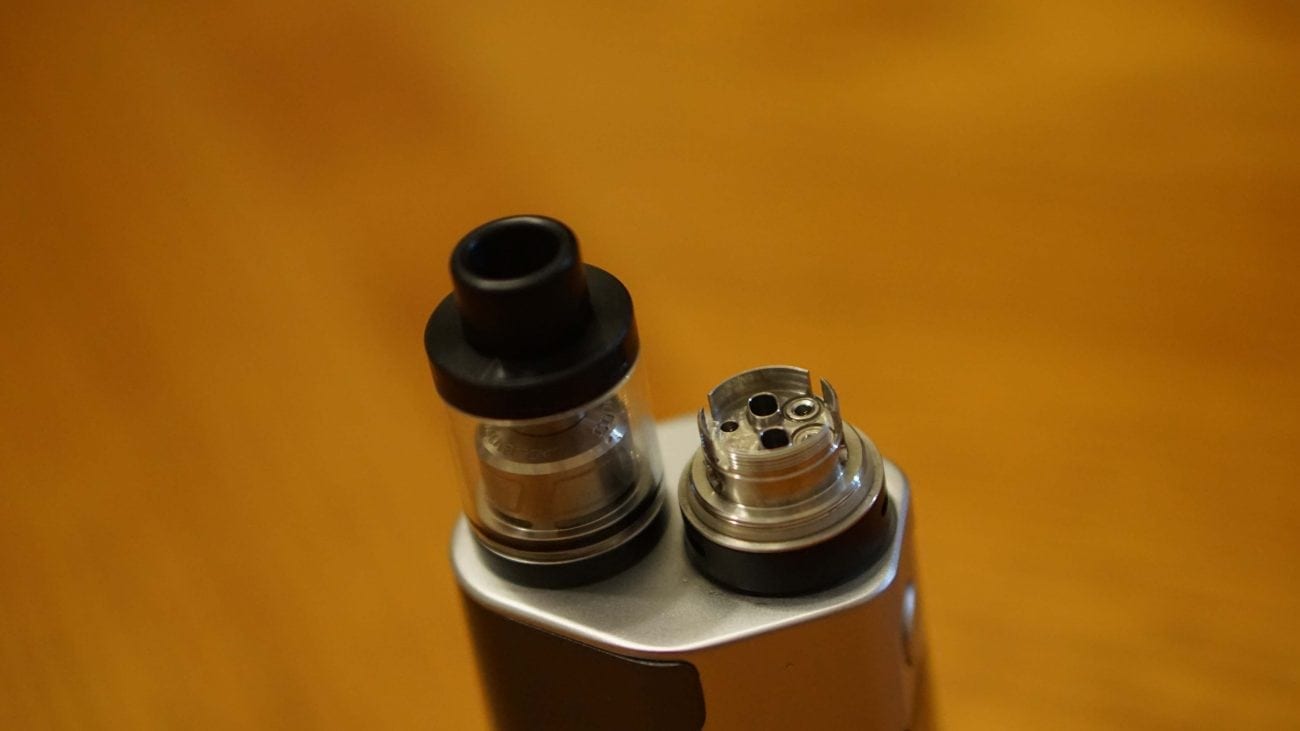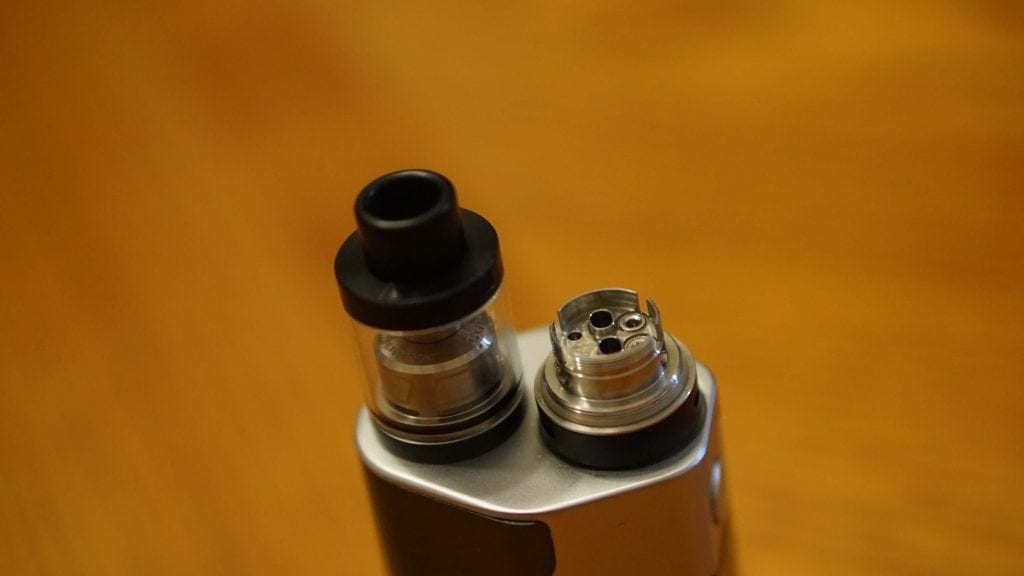 I do want to mention that this tank is primarily designed for dual coil builds, but you can do one longer single coil build. I personally prefer dual coil RTAs, so I didn't bother installing a single coil build.
Due to how it's designed, positioning and maneuvering your coils may be difficult, especially when using a screwdriver. The included tool does help with this situation, so I'm glad they included it. It's not terrible by any means, but not nearly as easy as a two post build deck or even a clamp styled build deck.
Wicking this RTA is easy though, all you have to do is fill the wicking channels with cotton. Your cotton will naturally sit in the wicking slot due to where the coils are positioned, but make sure not to overpack the wicking channels, as this could cause dry hit issues. Be sure to fluff your cotton, and gently place the cotton within the channels, and you're done!
Overall, building on this RTA is not the easiest, and I would say that beginners will probably have some issues with building on this RTA. However, with practice it'll become easier for the beginner. For the advanced user, you really won't have much issues with building this RTA. Wicking this RTA is pretty easy and straightforward. I do not think beginners or advanced users will have any issues with wicking.
Performance
The performance of the Wotofo Conqueror Mini RTA is excellent! My favorite coil build for this RTA was a dual Clapton build (28GA Ni80/36GA Kanthal) which had a resistance of around 0.55 ohm. I preferred to vape this specific coil build around 45w to 55w. At this wattage, I got a warm and flavorful vape.
I did try other dual coil builds with 24GA Kanthal wire, twisted Kanthal, and other Clapton builds, and they all performed well too. Honestly, regardless of what build I installed into this RTA it performed great, which is definitely a pro.
Of course with this small size, you can expect excellent flavor, and it does. The flavor off of this RTA is excellent, and you do get a warmer vape at slightly higher wattages since it is smaller. I do get very small amounts of spitback with the Clapton build I favored, but not to a point where I was annoyed or bothered by it. With normal round wire builds, I experienced zero spitback.
The drip tip that is included is extremely comfortable to use, and I had no need to change it whatsoever. Honestly, I like the drip tip so much that I will probably use it on other tanks that have 510 drip tips I don't like. Also, there is no heat transfer with this drip tip since it is delrin, which is a huge pro. Even when vaping at higher wattages, the tank itself never got too hot, only slightly warm.
The airflow is nice and smooth with this RTA. It is slightly restricted when wide open, but still plenty enough to give you solid vapor production. When you do close it off about half way, it is even more restrictive, the vape is warmer and the flavor does slightly get better. However, I much preferred this tank wide open, as the flavor was still fantastic, and it was just the right amount of restrictiveness. I do want to mention that you cannot do mouth to lung vaping with this RTA. Honestly, this atomizer wasn't designed for that style of vaping, and there's much better options available if you wanted a mouth to lung RTA. Direct lung vaping is where this tank truly shines.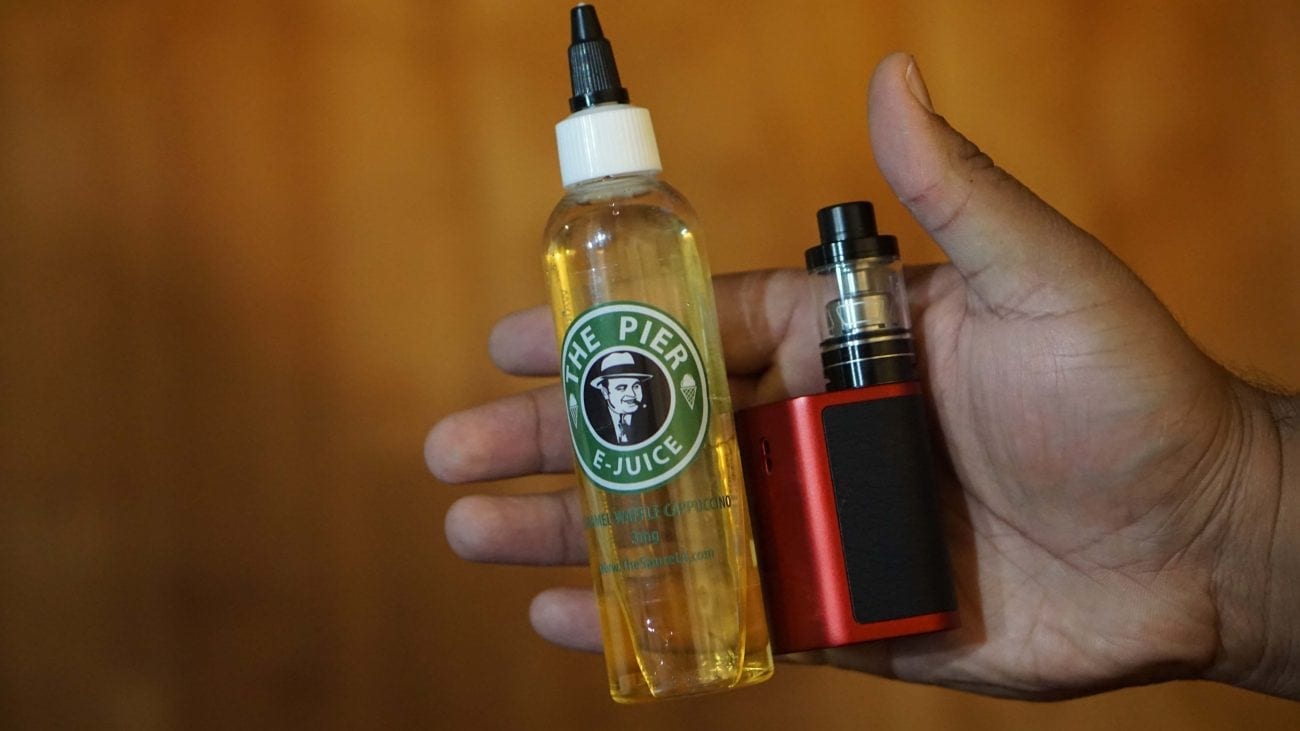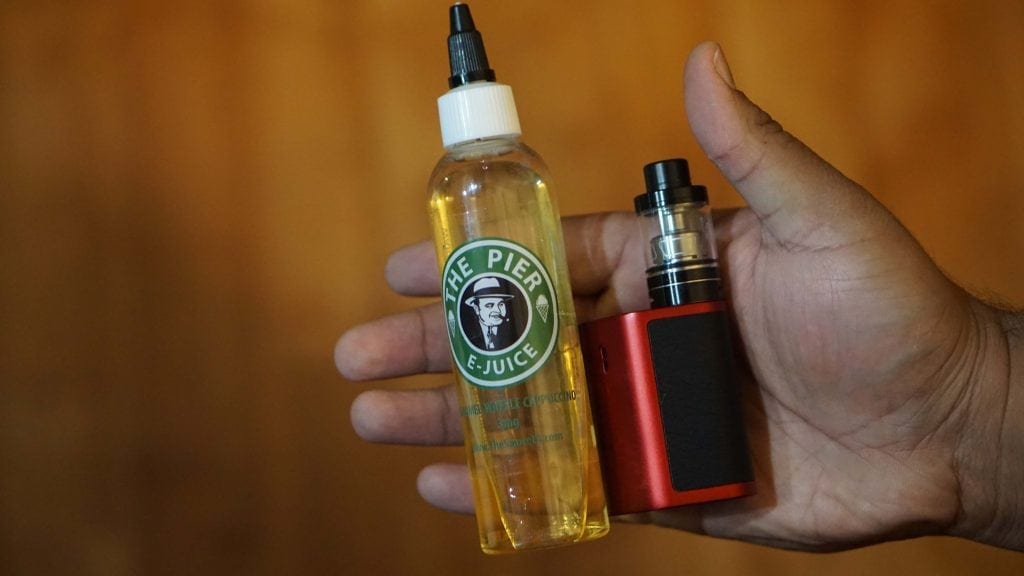 The e-liquid of choice for this tank was The Sauce LA Caramel Waffle Cappuccino in 3mg. If interested, you can check their e-liquid out right here or by clicking the link down below!
The vapor production is also very good off of this tank, especially considering its size and the limited amounts of builds you can install. You won't be cloud chasing with this by any means, but it still has excellent vapor production in my opinion.
Once this RTA is wicked properly, it keeps up extremely well. I had no hints of any dry hits, and I experienced a flavorful vape every time. I can literally chain vape this tank dry with no issues at all, as it just keeps up.
Like mentioned previously in this review, the Wotofo Conqueror Mini RTA has a 2.5ml e-liquid capacity, which is great considering its size. However, I can easily go through this amount of e-liquid in about an hour or so while chain vaping, especially with a Clapton build. When not chain vaping, this tank could last me for a couple hours.
Filling this tank is incredibly easy, especially with this top fill design. It is a threaded top fill, but it does have a small amount of knurling on it. The knurling helps with unscrewing, and I never had an issue with the top fill, so this is definitely a pro. This tank does feature large fill holes, so you can use any type of e-liquid bottle to fill this tank.
Something worth mentioning is that I'm not sure if this tank is supposed to have juice flow control or not. It looks like it does, but whenever you do adjust it, there is always a juice flow port open, so this would be a con, since I know some vapers want juice flow control. Not the biggest con, but still worth mentioning.
All in all, the performance of the Wotofo Conqueror Mini is fantastic. This RTA has incredible flavor, and has plenty of airflow for most vapers.
Check out the Wotofo Conqueror Mini RTA Here! (SS) Check out the Wotofo Conqueror Mini RTA Here! (Black)
Use Coupon Code ACHEAP15 for 15% Off!
Pros
Excellent build quality
Incredible flavor
Comfortable Delrin Drip Tip
Compatible with 510 Drip Tips
Compact Design
Knurling on the top fill section
Came clean with no machine oil
Includes many extras and a replacement glass tank section
Cons
Not the easiest build deck to work with
Only 2.5ml e-liquid capacity (to be expected due to its size)
Can go through e-liquid quickly
22mm Diameter (subjective)
No juice flow control
Conclusion
In conclusion, the Wotofo Conqueror Mini RTA is an excellent compact RTA. Vapers who love these smaller tanks will absolutely love this tank. The flavor I get off of this tank is fantastic, and the vapor production is not lacking either! Not to mention, they include a ton of extras such as the coil building tool, a set of prebuilt twisted coils, a multi functional tool and more! Also, the drip tip is extremely comfortable to use, and honestly they should include this with every RTA or sub ohm tank they offer.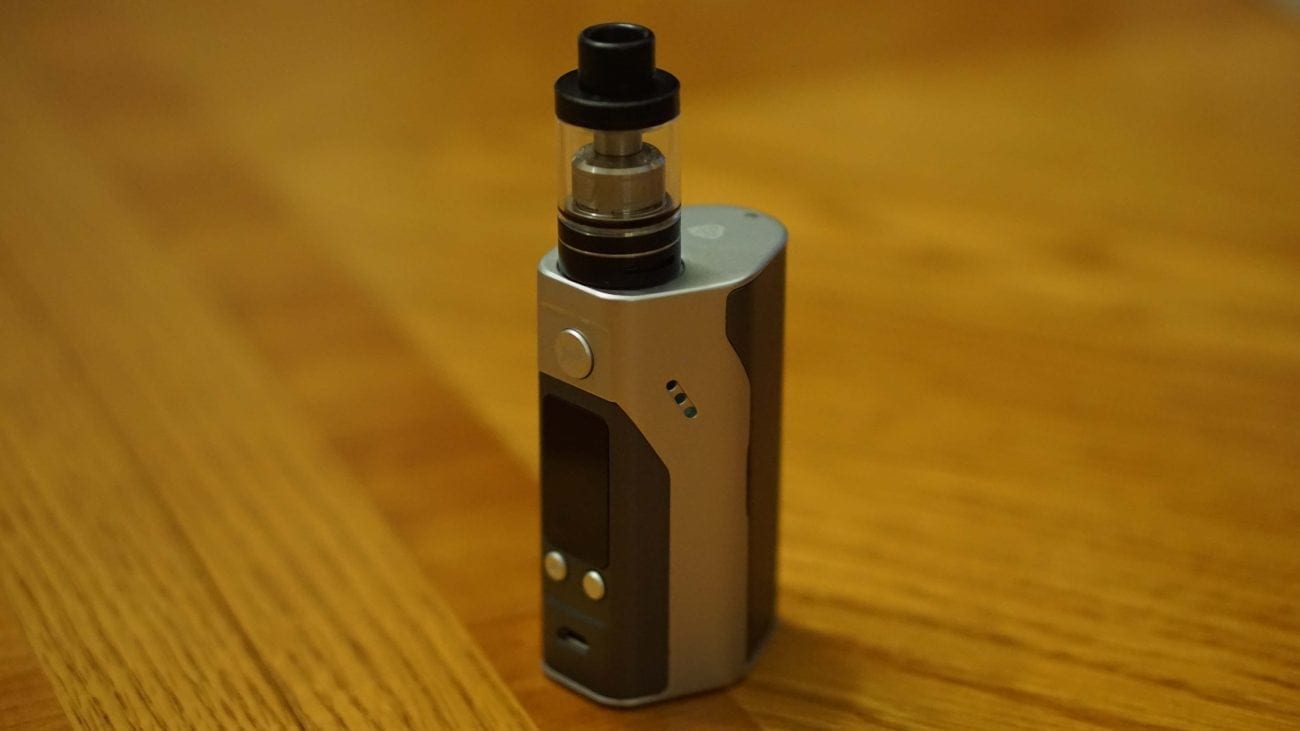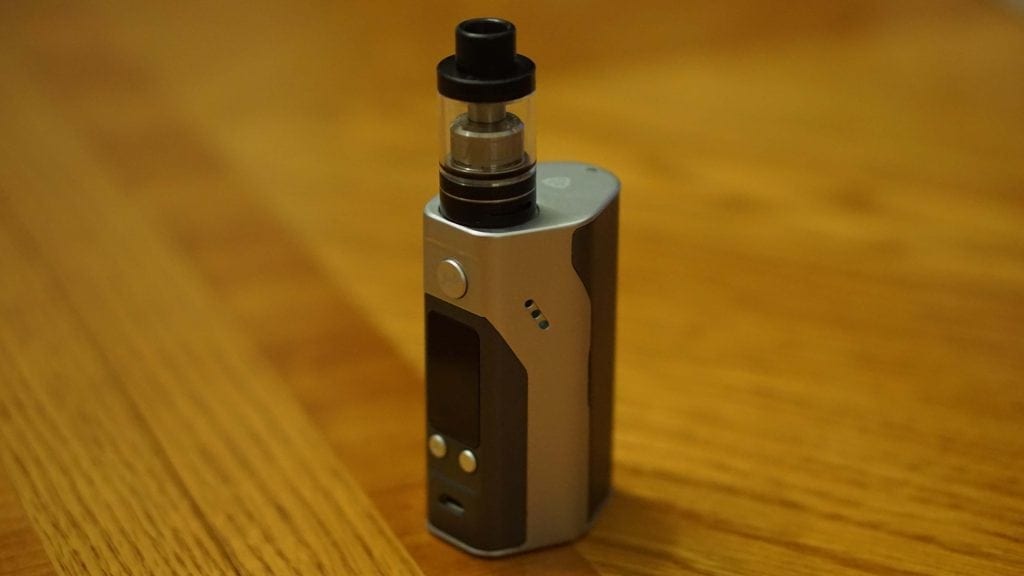 Even though there are a few minor cons to this tank, none of them are deal breaking in my opinion. Wotofo has certainly hit another home run with this RTA, as it just performs well with any build I put it in. I actually prefer this over the Wotofo Serpent Mini RTA, and I know many vapers love that RTA. So, if you're a fan of the Serpent Mini and prefer dual coil builds, then the Conqueror Mini is a great choice.
All in all, the Wotofo Conqueror Mini RTA is a fantastic atomizer. I can easily recommend this tank to any vaper, especially those who are looking for a new compact RTA.
I hope this review helps you with choosing the best atomizer to fit your vaping needs! If you have any questions or comments, feel free to leave them down below! Thanks for reading!
Check out the Wotofo Conqueror Mini RTA Here! (SS) Check out the Wotofo Conqueror Mini RTA Here! (Black)
Use Coupon Code ACHEAP15 for 15% Off!
Product Features:
22mm Diameter
304 Stainless Steel & Pyrex Glass Construction
2.5ml E-Liquid Capacity
Top Fill Design
Adjustable Bottom Airflow
Gold Plated 510 Pin
Postless Build Deck Design
Easy Wicking
Compact Design
Includes Delrin Wide Bore 510 Drip Tip
Compatible with 510 Drip Tips
Includes 2x Prebuilt Twisted Coils, Coil Building Tool & Multi Functional Tool
Includes Bag of Extras & Japanese Cotton
Colors Available: Stainless Steel & Black