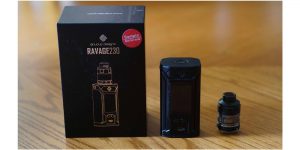 Wismec Sinuous Ravage230 Kit Review
Wismec and Sinuous is back with another new vape starter kit, the Ravage230 Kit which includes a brand new device and the updated Gnome Evo sub ohm tank. Following the recent trend, the Ravage230 features a large 1.45 inch color display screen and offers a ton of different features we've seen from past Wismec vape mods. The updated Gnome Evo tank is slightly shorter this time around and features a newly updated WM01 coil head.
Before getting any further, we'd like to thank VapeSourcing for sending this vape kit our way for the purposes of this review. We'll cover our first impressions, usage, performance, pros and cons, and conclude with whether or not we recommend the Wismec Sinuous Ravage230 with Gnome Evo Kit!
[button color="red" size="big" link="https://vapingcheap.com/likes/VapeSourcing/Wismec-Sinuous-Ravage230-Kit-Review" ]Purchase Here! [/button]
First Impressions
The Wismec Sinuous Ravage230 Kit comes in pretty much the same packaging we've seen before with past Wismec devices and vape starter kits. This isn't a bad thing or anything, but I think this packaging could use somewhat of an update since it's rather bland. However, this is the sample packaging that I received, so the retail version might look a bit different.
On the front of the packaging, you see a picture that shows the entire kit alongside the name up at the top. On the back, you'll find some more information about what's included. I did receive the full black color, but there are other color options available such as Black and Red, Black and Blue and Black and Silver. Included in the packaging, you do receive the Sinuous Ravage230 box mod, the Gnome Evo vape tank, two 0.4 ohm WM01 coil heads, 2 user manuals, 2 warning cards, a replacement glass tank section, an additional drip tip and a bag of spare parts.
Once you slide open the box, you're immediately greeted with the Ravage230 and my first thoughts were that it's smaller that I thought it'd be. When looking at pictures of it, it looks a bit on the larger size, but this device is more in the middle, not too large or too small. I also first noticed it's incredibly large display screen, coming in at 1.45 inches. Underneath the Wismec Sinuous Ravage230 is where you'll find everything else including the Gnome Evo tank.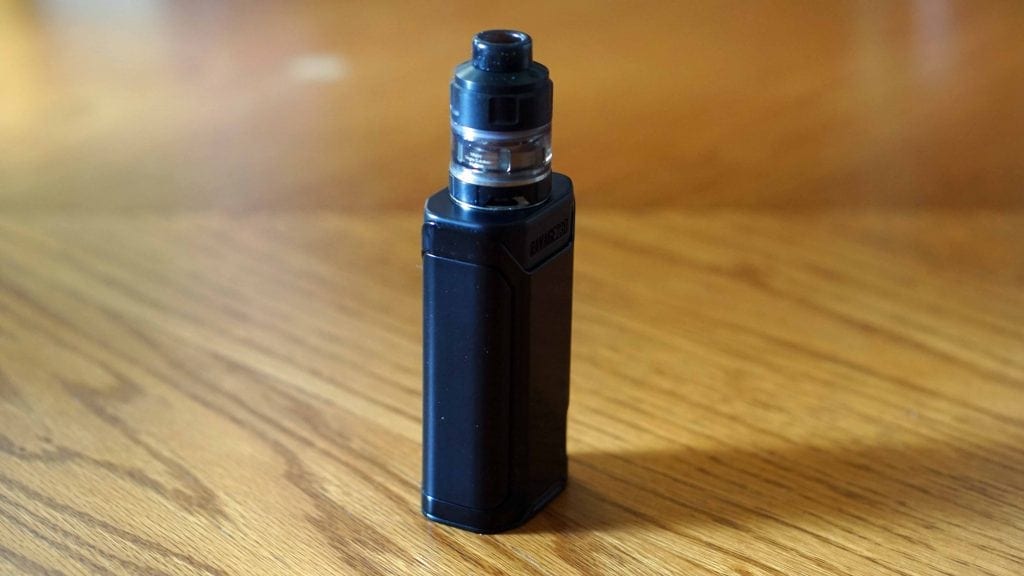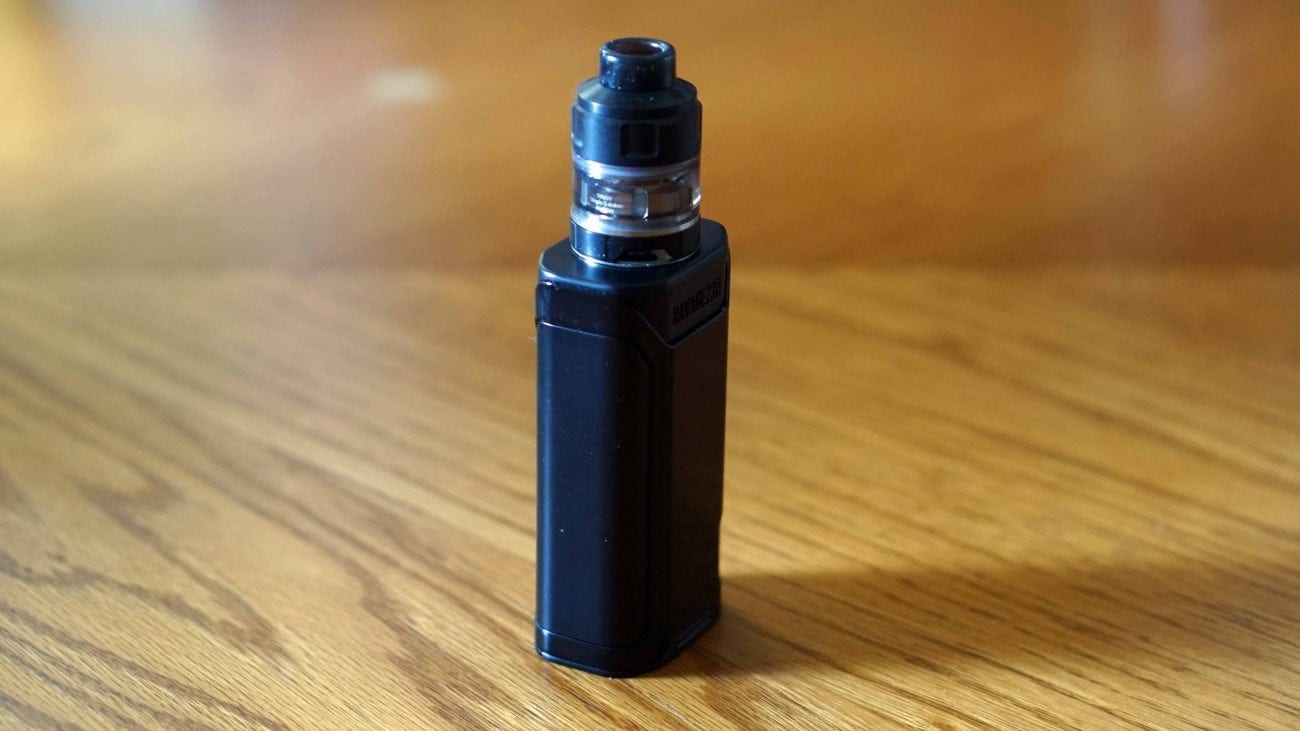 When first inspecting the Gnome Evo, you can't really spot much differences when comparing it to the original Gnome tank aside from the shortened height. I honestly don't think there's much different aside from that and the updated coil heads. It certainly is a good looking tank in my opinion and matches the Ravage230 quite well. Instead of an Ultem drip tip, the Gnome Evo comes pre-installed with a smoked wide bore drip tip and replacement glass tank section.
The Wismec Sinuous Ravage230 does feel really good in the hands, and it does feature a firing bar, similar to Smok box mods. There is also a function button right above the firing bar, which I'll cover what it's used for later. This device also has a centered 510 connection, which is a huge pro in my book. The wattage adjustment buttons and micro USB port used for charging and firmware updates are located right under the display screen.
Overall, my first impressions of the Wismec Sinuous Ravage230 Kit was great! I had no cons whatsoever to be mentioned in my first impressions.
Usage
The Ravage230 box mod does require 2 high drain 18650 batteries for operation, and features a sliding battery door that's pretty similar to various box mods we've reviewed in the past. However, this one is a bit more solid and has very little play in comparison to some others. Once you insert your batteries, it does stay in place firmly and takes a decent amount of pressure to get it open, so it won't open accidentally in your pocket or bag.
As mentioned previously, the Ravage230 does feel comfortable in the hands. It has no sharp edges whatsoever, which is always a good thing. All of the buttons, including the firing bar are nice and clicky. In addition, there's no rattling or anything going on with this device, so I can surely say it's constructed quite well. The display screen is nice and bright, so it's easy to see and certainly eye appealing, which is pro for me.
Since this device does have a new board or chipset inside, it is a bit different to navigate when comparing it to past Wismec devices. Firstly, just like most other regulated vape mods, 5 clicks will turn this device on and off. Three clicks of the firing bar will enter the menu where you can choose from Mode, Settings, Info and Exit. When highlighting which you want to enter, simply click the fire button and you will enter what you highlighted.
When selecting "Mode", that's where you can select your different TC options (Ni200, Ti, SS), the TCR mode, and the RTC mode. In the "settings" option, you can lock the resistance of your attached atomizer, adjust the clock and date, turn preheat on and off, set the power, adjust the timeout settings and more. In the "info" section, you can check on your batteries and the current firmware.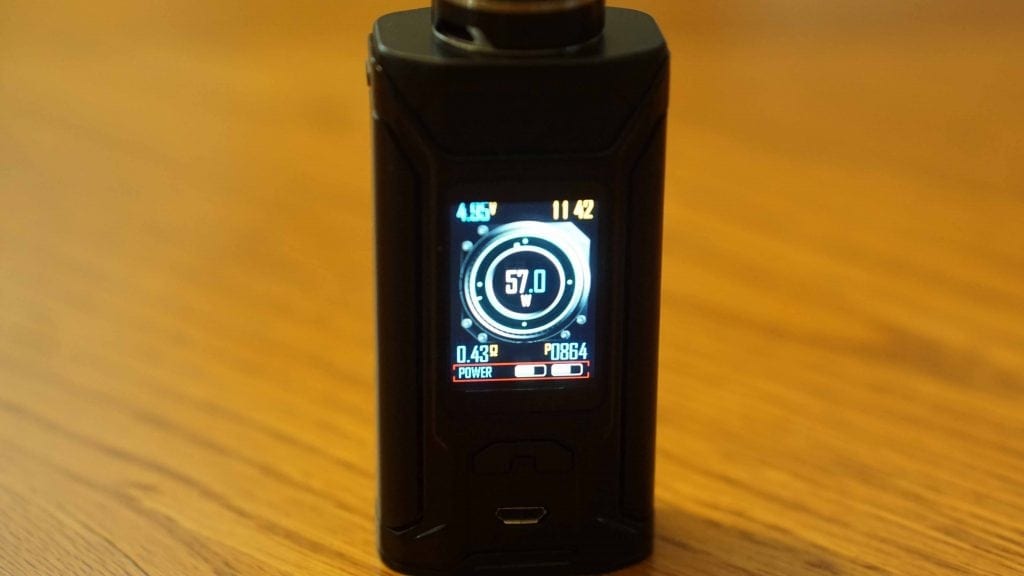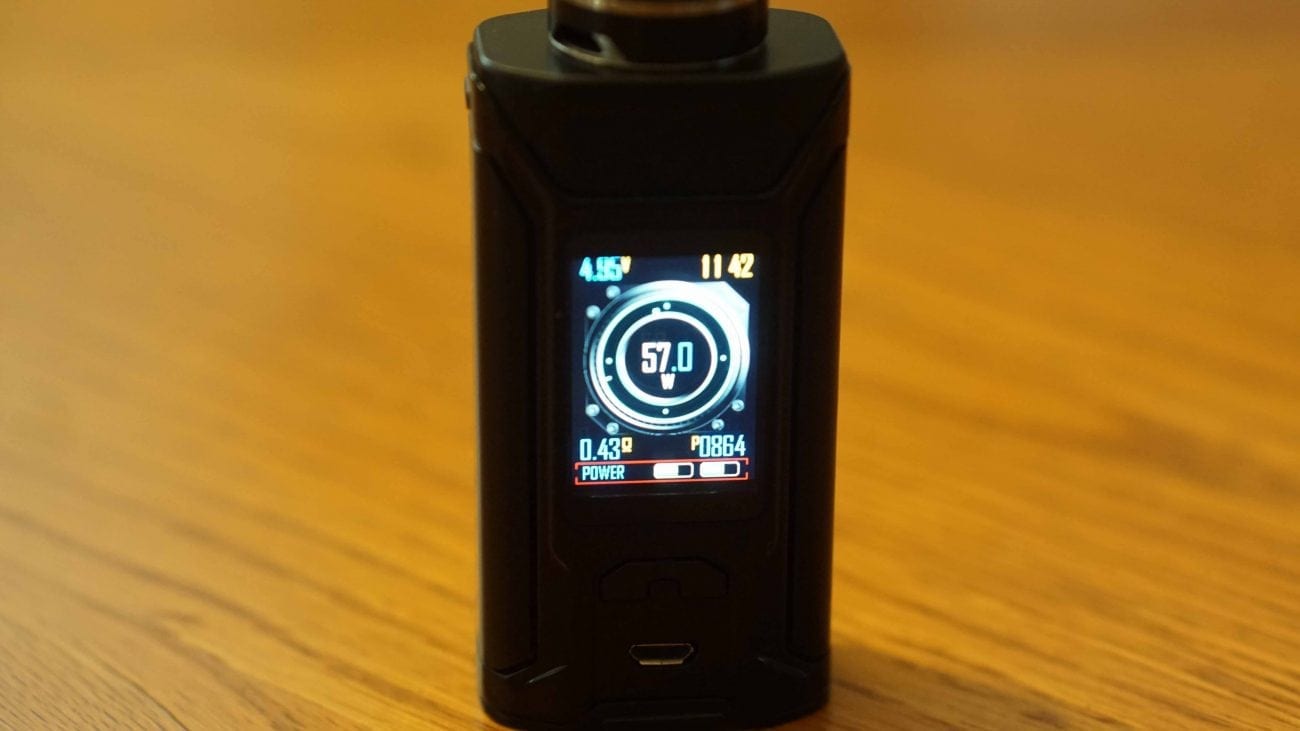 Utilizing the function button when in the menu will take you back one step or turn the screen on or off. Lastly, if you hold the function button, you can scroll through the different modes without having to enter the menu, which is a nice touch for sure. It's fairly easy to navigate the menu system, so it shouldn't take a vaper much time to get used to it in my opinion.
The watatge up and down buttons are on the small side, and sometimes I'll find myself not pressing them when wanting to adjust the wattage since they're small and rather flush to the device. I do wish the buttons were either slightly larger or elevated so they're a bit easier to find without looking.
I do want to mention that since the Ravage230 does feature a centered 510 connection, atomizers up to 28mm will sit flush with no overhang. This is definitely a pro in my opinion, and I do hope we see more new mods feature this. Also, something else worth mentioning is that I've had no issues with the 510 connection.
Using the Gnome Evo tank is simple as well, and it's a fairly standard sub ohm tank. It features a sliding top fill design, but the drip tip itself acts as a locking feature; therefore in order to fill this tank you need to lift the drip tip or take it out. For me, this is a con and I would've much preferred that you didn't have to mess with the drip tip in order to fill it. Its just an annoyance really, not a major con.
The airflow is fully adjustable and you can easily adjust it while it's on the device. The glass tank section is smoked, but you can see how much e-liquid you how left. When you do fill this tank, you will fill it past the glass tank section, so you do have to keep an eye on it while filling as you don't want to overfill it and have e-liquid spill all over your tank and mod. This may be seen as con to some, but I never really had any issue with filling.
All in all, using the Wismec Sinuous Ravage230 Kit has been a pleasure. There were minor gripes with the included sub ohm tank and wattage buttons, but none that were deal breakers.
[button color="red" size="big" link="https://vapingcheap.com/likes/VapeSourcing/Wismec-Sinuous-Ravage230-Kit-Review" ]Purchase Here! [/button]
Performance
The Ravage230 by Wismec and Sinuous does have a maximum wattage output of 230w. I don't have the necessary equipment to actually test if it does hit this wattage, but I can surely say it can deliver around the 180w or 200w wattage range. I do recommend if you are vaping at this high of a wattage that you do use good high drain 18650 batteries such as the Sony VTC5A. Honestly, if you do require this high of a wattage, you might as well look for a triple or quad 18650 battery or even a dual 20700 box mod.
I personally vape between 50w and 100w most of the time, so I wasn't too concerned if it could actually hit 230w. Just like other Wismec devices, the temperature control does work well. I've only tested this device in stainless steel temperature control mode as I no longer vape Ni200 or Ti wire, but going by how it performed, I'd say it would work just fine. It is slightly on the conservative side, especially when comparing it to something more accurate like a DNA box mod, but it does prevent dry hits.
The battery life on the Ravage230 is actually a bit better than some other dual 18650 box mods we've reviewed in the past. I could easily get through all day without needing a charge while vaping the Gnome Evo tank at 60w. Of course, if you're vaping at higher wattages you'd probably need to replace the 18650 batteries mid-way through the day. This device does feature 2A charging, but I do recommend to always charge your batteries externally.
As mentioned earlier, this vape kit does include the updated WM01 coil, which has a resistance of 0.4 ohm. I actually enjoyed the previous coils offered for the original Gnome tank, so I was pretty excited to see how these new coils vaped. This coil is rated between 40w and 70w, but is best vaped between 50w and 60w, and I can surely say that this is accurate.
I do want to mention first that these coils do have a break in period of about one tank full before getting full on flavor. This is about average in my opinion and expected. When you're down to about half way is when you'll really start to notice the flavor kicking in and it'll break in fully after your first tank full.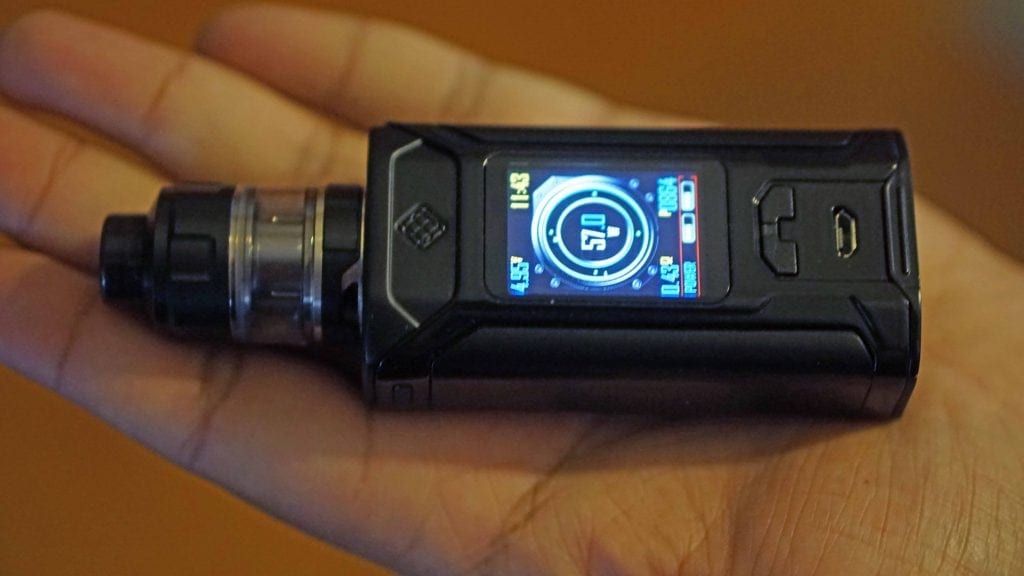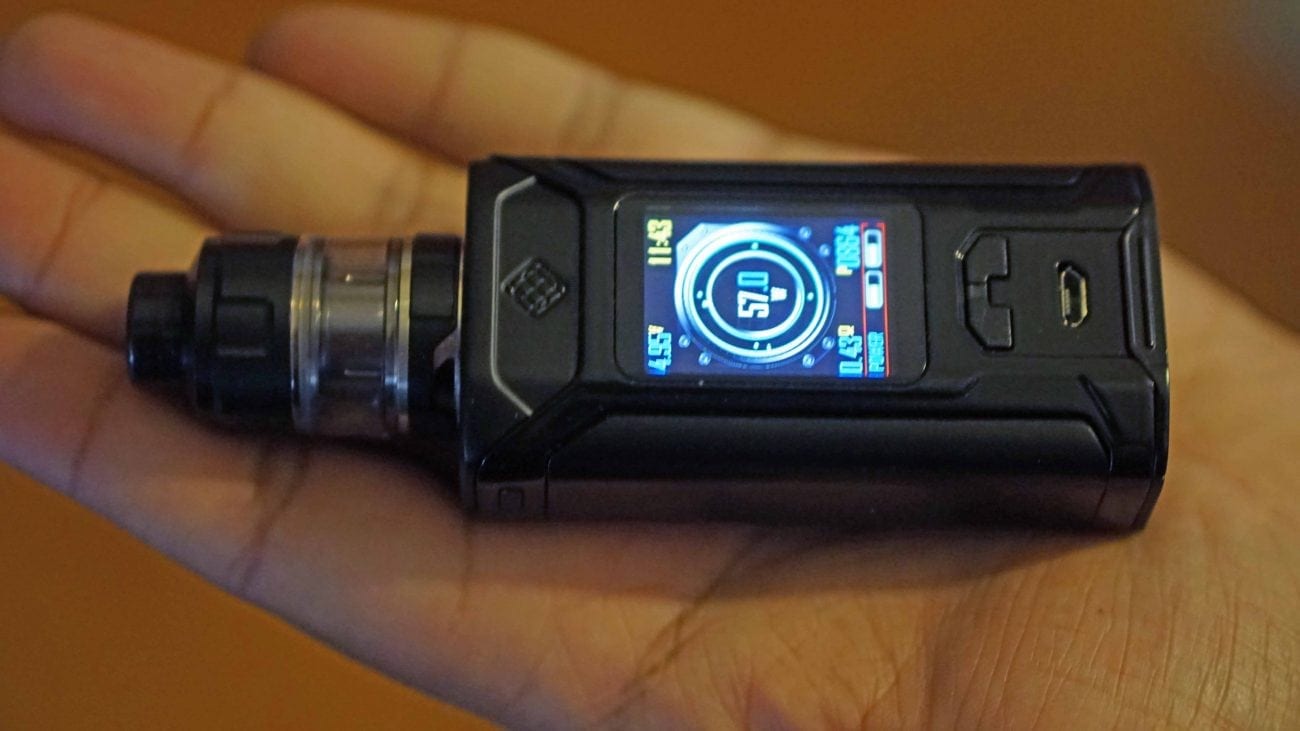 I preferred to vape the updated WM01 coil between 55w and 60w. This is where I would get a nice warm and flavorful vape experience. I was actually surprised to how well these coils performed, and was impressed by the flavor it was putting out. Now, it's not dripper or RTA level, but it's really good considering it's from a sub ohm tank. The vapor production from these coils are also great. Overall, I must say these updated coils are top notch.
I would vape this tank with the airflow fully open, and sometimes I'd close it off just a bit when wanting a bit more of a restriction to the draw. Fully open, there is a slight restriction, which is something I do prefer. Don't expect massive amounts of airflow with this tank though, and honestly, I didn't expect that since it's more of a mid-range sub ohm tank. The drip tip is comfortable and I felt no need to replace it.
One coil would last me about a week before I started to notice the flavor diminishing. This was with e-liquid that is known for quite a bit of sweetener, so I wasn't expecting it to last very long. I'd say a week is not that bad considering the e-liquid I was vaping on. I do want to mention that I experienced no leaking whatsoever with the Gnome Evo sub ohm tank, which is always a pro in my book!
Filling this tank is easy, but liked mentioned before, it was a bit annoying to constantly lift or take off the drip tip in order to fill. I found it easier just to completely take off the drip tip when ready to fill this tank. Thankfully, the Gnome Evo didn't guzzle juice too fast, so I wasn't filling too often.
Overall, the performance of the Wismec Sinuous Ravage230 was excellent! I was quite surprised by the performance of the updated coil heads, and the mod performed just as expected, if not better.
Pros
Solid build quality
Excellent performing coil heads
Large 1.45 inch display screen
Firmware upgradeable
Centered 510 connection
Ergonomic design
Experienced no leaking
Cons
Have to lift or take off drip tip to fill Gnome Evo Tank
Small Wattage Adjustment Buttons
Conclusion
In conclusion, the Wismec Sinuous Ravage230 Kit is an excellent vape starter kit that offer great performance and tons of features. Honestly, I enjoyed this starter kit much more than I originally expected. It pretty much offers the vaper everything they need such as various TC modes, a bright and large display screen, comfort of use and more. Not to mention, these updated coils for the Wismec Gnome Sub Ohm Tank were quite impressive and provided an excellent vape.
There were cons that were mentioned, but none that were deal breakers in my opinion. The first con was the fact that you have to take off or lift the drip tip in order to fill the tank. I simply don't like this fill method as I just rather not have to touch my drip tip in order to fill. The small wattage up and down buttons is also more of an annoyance as well and it doesn't effect this kit's overall performance.
So, if you're in the market for a new dual 18650 starter kit that offers various features and top notch performance, I can easily recommend the Wismec Sinuous Ravage230 with Gnome Evo Kit. At around only $50, I think it's a great deal.
We hope you find this review helpful in finding the right vape starter kit to fit all of your vaping needs! Feel free to leave any questions or comments down below! Thanks for reading!
[button color="red" size="big" link="https://vapingcheap.com/likes/VapeSourcing/Wismec-Sinuous-Ravage230-Kit-Review" ]Purchase Here! [/button]
Product Features:
Wismec Sinuous Ravage230

Maximum Wattage Output: 230w
Maximum Voltage Output: 9v
Requires 2 High Drain 18650 Batteries (Not Included)
Temperature Control (Ni200, Ti, SS, TCR)
PreHeat Function
Large 1.45 Inch Display Screen
Centered 510 Connection (Spring Loaded)
Minimum Firing Resistance: 0.1 ohm (VW), 0.05 ohm (TC)
Maximum Charging Current: 2A
Colors Available: Full Black, Black/Red, Black/Blue, Black/Silver

Wismec Gnome Evo Sub Ohm Tank

25mm Base Diameter
44.2mm Height
2ml/4ml E-Liquid Capacity
Sliding Top Fill Design
Smoked Wide Bore Drip Tip
Fully Adjustable Bottom Airflow
Stainless Steel & Glass Construction
Includes 2x Updated WM01 0.4 ohm coil head