Yami Vapor Milkgat Review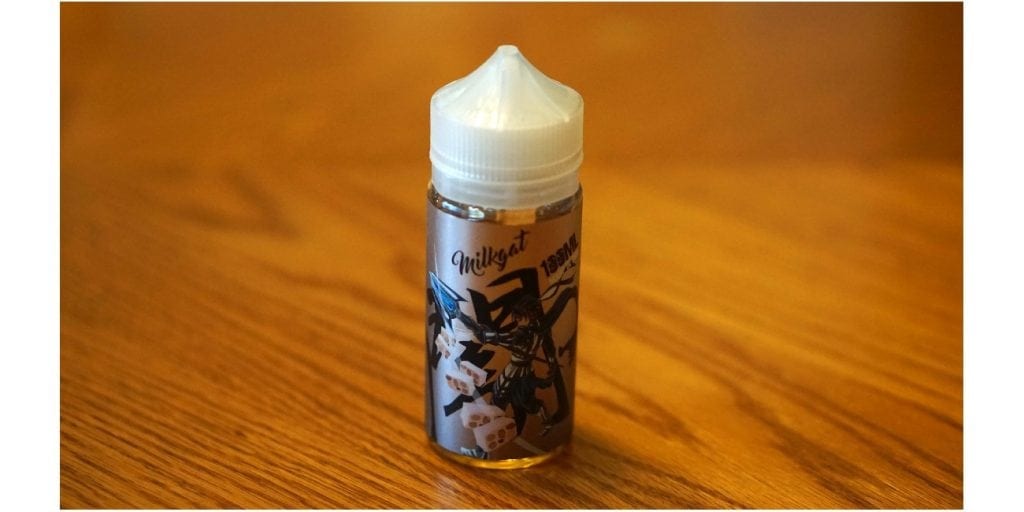 Yami Vapor Milkgat Review
In this e-juice review, we'll be covering the newest flavor from Yami Vapor, Milkgat! This e-juice is available in a 100ml bottle size, and it does come in a Chubby Gorilla Bottle, making it easy to carry with you! Not to mention, unlike glass bottles, these bottles won't break if you drop them! Milkgat by Yami Vapor is available in 0mg, 3mg and 6mg nicotine strengths. In addition, this vape juice does have a VG/PG ratio of 70VG/30PG, which is a perfect blend for both sub ohm tanks and drippers!
Before getting into the review, we'd like to thank EJuice Connect for sending this e-liquid our way for the purposes of this review. They currently have this flavor on sale for only $12.99, which is an excellent deal for a 100ml bottle of premium e-juice! We'll cover our overall thoughts on Yami Vapor Milkgat, and conclude with whether or not we recommend it! Remember, taste is subjective so what we may like you may not like and what you like we may not like. Next, we will go over the specific atomizers and mods used to test this e-juice.
Mods & Atomizers
First Setup
Lost Vape Triade DNA250 with Vandy Vape Kensei RTA
Coil Build: Dual Fused Clapton (26GA Ni80/36GA Ni80)
Resistance: 0.22 ohm
Second Setup
Vandy Vape Pulse BF Box Mod with Vandy Vape Pulse 24 BF RDA
Coil Build: Dual Stainless Steel Fused Claptons
Resistance: 0.18 ohm
Flavor Review
Flavor Description: Yami Vapor hits it our of the park again. Milkgat is 100mL of sweet and savory Milk Nougat. This mouthwatering Milk Nougat vape juice possesses the same intense flavor of your favorite irresistible Milk Chocolate and creamy nougat candy snacks. If you just can't get enough Yami Vapor, You have to try this one. It promises not to disappoint. Every flavor in the lineup is on point..
Nicotine Strength: 3mg
VG/PG Ratio: 70VG/30PG
Inhale: Chocolate flavor with hints of nougat
Exhale: Creamy chocolate followed by creamy nougat
Throat Hit: Smooth
Overall Thoughts
Yami Vapor is a pretty popular premium e-juice brand and they gained a lot of fans with their original release Taruto. This new flavor is completely different and probably one of the most unique vapes I've ever had. I don't think there's many, if any at all, nougat flavors on the market. In addition, a lot of chocolate flavors I've tasted in the past has that dry or powdered chocolate taste. Thankfully, this one does not fall into that category.
On the inhale, you get a smooth and tasty chocolate flavor with faint hints of nougat. On the exhale, you get a creamy chocolate flavor up front followed by the nougat. The overall vape experience is incredibly creamy, and this is what makes this e-liquid shine in my opinion. The chocolate is not overpowering, and I would say it's barely more noticeable than the nougat flavor. With that being said, Milkgat is very well balanced and you can taste pretty much what it says in the flavor description.
On the exhale, you also get that nutty flavor in the background from the nougat, and I do pick up some caramel in the background as well. This e-juice is on the sweeter side for sure, but not overly sweet where you get sick of vaping it after a tank full. The throat hit is smooth at 3mg and the vapor production is as you'd expect with a 70VG/30PG blend.
Overall, I'm very impressed by Yami Vapor Milkgat and it's certainly one of the most unique flavors I've ever tried. This is definitely considered an all day vape at Vaping Cheap! If you're a fan of chocolate flavors or looking for something different, then definitely give Milkgat a shot! You won't regret picking up a bottle!
We hope this review helps you find your next all day vape! Feel free to leave any questions or comments below! Thanks for reading!