Innokin GoMax Disposable Tank $3.49 (USA)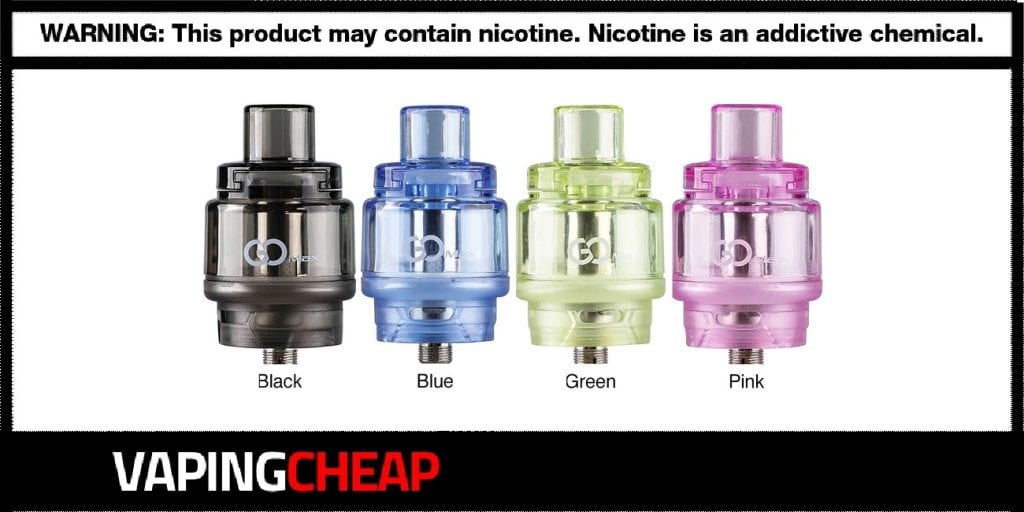 Here's a great deal on the Innokin GoMax Disposable Tank! Buy yours from a USA store for only $3.49. No coupon required, and free shipping is included over $88. There's currently four different colors available which include Black, Blue, Green and Pink.
Innokin's GoMax Disposable Sub Ohm Tank sports a massive overall diameter of 29mm, so it'll definitely be a good fit for your larger vape mods. At the top, you'll get a matching colored wide bore drip tip, and from the bottom is where the airflow is located.
The GoMax bottom airflow design is fully adjustable from a wide open direct lung vape to a more restrictive direct lung hit. As expected with any disposable tank, it features a non-replaceable coil head.
However, what makes this coil special is the design, and wicking material. It's a Plex-3D matrix mesh coil with wood pulp cotton wicking material. This is the same type of design we've seen in coils that come with the best sub ohm tanks, so you know you're gonna get some killer flavor production. With its massive size, you'd expect a large e-liquid capacity too, and that is certainly the case with this one. It can house 5.5ml of e-liquid, and features an easy to use sliding top fill system. Another great feature to the GoMax Disposable Sub Ohm Tank by Innokin is that you can fill it up to 15 times before needing to replace it, for a total of 82.5ml of e-juice that'll be vaped through it.
If you're looking for a cheap disposable vape tank that features a mesh coil design, and can hold a large amount of vape juice, then definitely check out the Innokin GoMax Disposable Tank. For under $4, it's a helluva deal.
Innokin GoMax Disposable Vape Tank Features:
Overall Diameter: 29mm
Height: 45.5mm
Maximum E-Liquid Capacity: 5.5ml
Easy to Use Sliding Top Fill System
Fully Adjustable Bottom Airflow
Wide Bore Drip Tip
High Quality PCTG Plastic Construction
Plex-3D Matrix Mesh Coil

0.19 ohm Resistance
Wattage Range: 60w - 80w
Wood Pulp & Cotton Wicking

Can be filled up to 15 times (82.5ml e-juice total)
4 Transparent Color Options
What's Included
1x Innokin GoMax Disposable Sub Ohm Tank
Innokin GoMax Disposable Mesh Tank Review