Wellon Beyond AIO Pod System $16.15 (USA)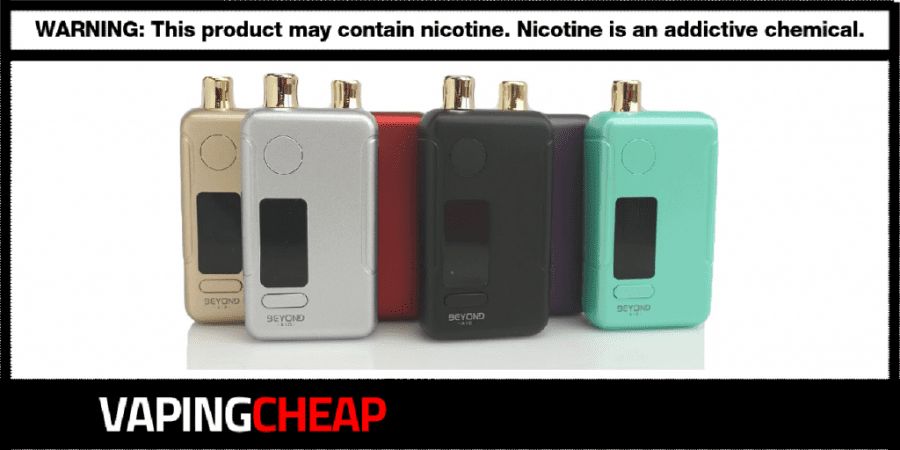 The Wellon Beyond AIO Pod System is now in stock and on sale. Get yours on sale from a USA based store for just $16.15 using code "NEW5". Free shipping applies to orders over $50. It's also available from a China based store for only $20.67 using coupon code "vapingcheap"! There's six color options available for purchase including Mint Green, Red, Gold and more.
The Wellon Beyond AIO Pod Mod is a new single 18650 device that provides the vaper between 5w and 35w. In addition, it has a large 0.96 inch display screen right on the front, probably one of the largest we've seen on any pod vape.
The firing button is located right above the screen, and the wattage adjustments buttons are below. It's overall size is quite compact too, so it can be taken with you on the go with ease.
Similar to the dotMod dotAIO, it has a refillable pod cartridge on the inside, and uses replaceable coils. However, it's quite different, especially when looking at the coils its compatible with. Included, you'll get the 0.3 ohm SS316 mesh coils, which not only provide stellar flavor, but the Wellon Beyond AIO will assist with preventing dry hits from occurring. The airflow is adjustable as well, so you can fine tune the draw to your exact preference. The actual pod cartridge does hold about 2ml of e-juice, and features a simple fill system with a silicone stopper.
If you're a fan of all in one kits, and looking for a new one to add to your collection for a cheap price, then definitely check out this sale. The Wellon Beyond AIO Pod System Kit will definitely provide you with a solid vape.
Wellon Beyond 35w AIO Kit Features:
Powered By Single High Drain 18650 Battery (Not Included)
Wattage Output Range: 5w - 35w
Large 0.96 Inch Display Screen
Pocket Friendly Size
Gold Colored Drip Tip
Refillable Pod Cartridge

2ml E-Juice Capacity
Easy to Fill with Silicone Stopper

Replaceable Coils
Adjustable Airflow
Many Color Options
What's Included:
Wellon Beyond AIO Pod Kit
2x 0.3 ohm SS316 Mesh Coil Heads
USB Type-C Charging Cable
Spare O-Rings
Warranty Card
User Manual
Check Out The Wellon Beyond AIO Kit Review
More Great Vape Deals...
---
Asmodus Lustro Box Mod $23.84
Temperature Control Box Mod The Asmodus Lustro Box Mod is now in stock and on sale right here for only $36.00 using coupon[...]
Vapefly Holic MTL RDA $6.99
For a limited time only, the Vapefly Holic MTl RDA in silver is now available for pre-order right here for only $14.31 using coupon code "vapingcheap10"![...]
Smok TF2019 Sub Ohm Tank $13.64
For a limited time only, Cookie Twist Strawberry Honey Graham 2 Pack bundle is now on sale right here for only $15.95! No coupon[...]