Vapelustion Hannya Nano Pod System $29.74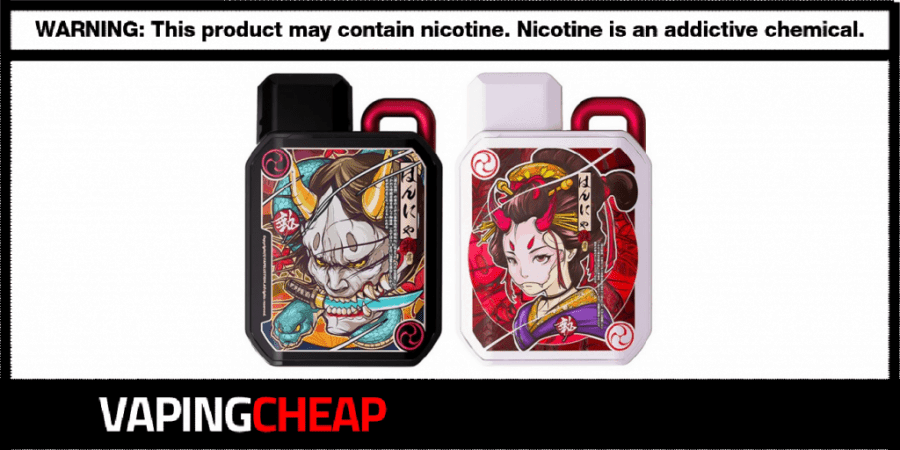 Here are cheap deals for the Vapelustion Hannya Nano Pod System. Get yours for just $29.74 plus free worldwide shipping when spending over $30. To get this discount, simply log into your account and apply code "SFH15". There are two different color options available which include Black, and White.
This pod system shares the same name as Vapelustion's original Hannya Mini Mod, but is completely different. The Hannya Pod System Kit by Vapelustion features a built in 600mAh battery, and charges within only 30 minutes. This is thanks to its fast charging, and USB type-c port, which is definitely a trend we're seeing with a lot of pod vapes that enter the market.
It is constructed of both metal, and plastic. However, it features interchangeable panels, which allow you to customize the look of the device.
Included in the packaging, you will receive two pairs of panels. One is already pre-installed onto the Vapelustion Hannya Nano, and the other set is a spare. When it comes to the Hannya Nano pod cartridge, it holds a maximum of 2ml of vape juice.
Although it's not the most we've seen, you won't be plowing through e-liquid with its 1.2 ohm resistance coil head. It's designed more for mouth to lung vaping, and higher nicotine e-liquids. Filling it can be done from the side, and it's recommended usage is between 5 to 6 refills before needing a new cartridge.
Overall, the Vapelustion Hannya Nano Pod System is definitely a unique looking, and compact pod starter kit. It charges incredibly quickly, and can be customized to your liking with its interchangeable panels. If that's something you're looking for, then we'd recommend checking out this pod device kit.
Vapelustion Hannya Nano Vape Pod Features:
Internal 600mAh battery
Charges within 30 minutes (USB type-c)
Plastic + Metal Construction
Compact Size
Interchangeable Panels
Can be used with lanyards
Vapelustion Hannya Nano Pod Cartridge

2ml E-Juice Capacity
Side Fill Port
1.2 ohm Resistance coil
Recommended usage: 5-6 refills

Color options: Black, White
What's Included
Vapelustion Hannya Nano Pod Vape
Refillable Pod Cartridge (2ml)
2 Pairs of Panels (One Pre-Installed)
Charging Cable (Type-C)
Lanyard
User Manual