Thr33 Monkeyz EJuice Sale 2x60ml $14.88 (USA)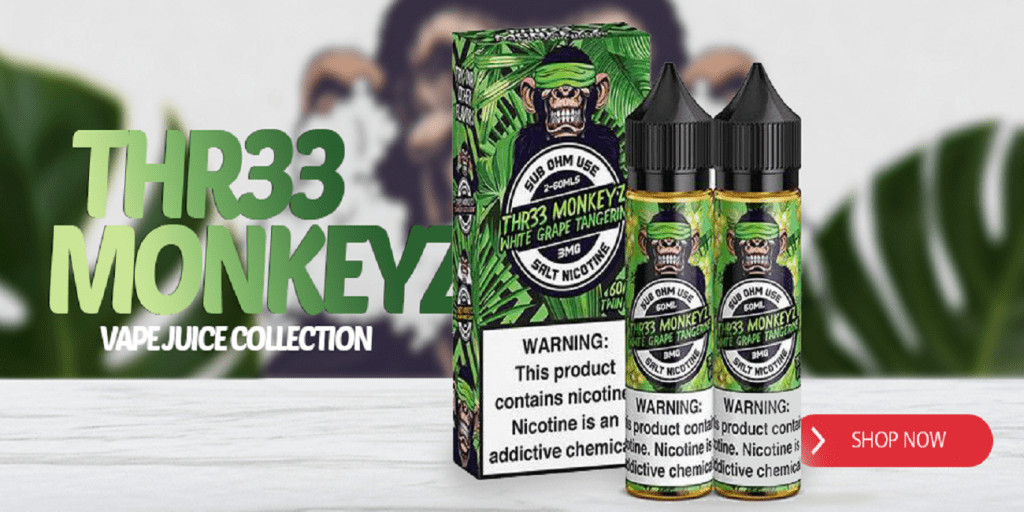 Here's a great deal on the Thr33 Monkeyz EJuice line! Grab a twin pack 2x60ml (120ml total) for only $14.88! No code needed to get this price.
The Thr33 Monkeyz vape juice line consists of three different flavors which are White Grape Tangerine, Strawberry Cactus Coconut and Banana Mango Slush. In addition, with each flavor, you'll get two 60ml chubby gorilla bottles, making it for a total of 120ml of e-juice.
For you vapers who prefer smaller bottles in comparison to those larger chubby gorillas will definitely like this twin pack option. Each Thr33 Monkeyz flavor has a 70VG/30PG blend.
Onto the flavor profiles for each, White Grape Tangerine is described as the sweetness of white grapes mixed with the tangy citrus flavor of tangerine, bringing together two opposite flavors, but makes for a unique vape experience. Strawberry Cactus Coconut by Thr33 Monkeyz E-Juice is described as sweet strawberries blended with coconut finished with hint of cactus pear. Last, but not least, Banana Mango Slush is a delicious blend of sweet and tarty mangoes mixed with bananas, and finished off with a tasty slushy flavor.
If you're looking for some unique flavors, then you'll definitely want to check out this e-juice deal on the Thr33 Monkeyz line of flavors. At under 15 bucks for some premium e-liquid, you'll not get just one 60ml bottle, but two in this twin pack!
Thr33 Monkeyz Vape Juice Sale Details:
Twin Pack (2x60ml)
70VG/30PG Blends
Nicotine Strength Options: 0mg, 3mg, 6mg
Flavor Options

White Grape Tangerine
Mango Banana Slush
Strawberry Cactus Coconut