VooPoo Drag Nano Pod System + Free Pods $6.99 (USA)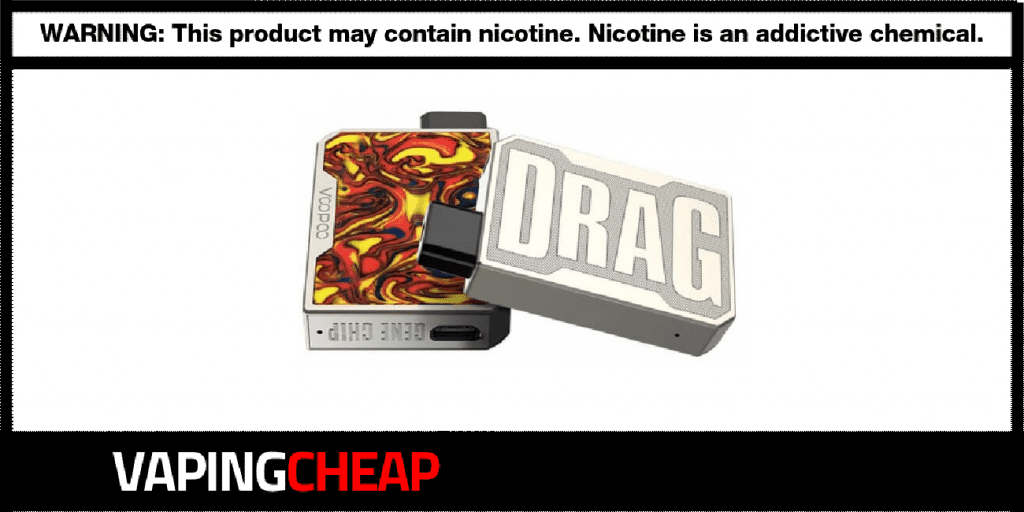 The new VooPoo Drag Nano Pod System is now in stock and on sale for only $6.99! No code required. What's even better is that you'll get a free pack of pods! Simply add the cartridges to your cart, and the discount will apply. It's also available at China based vendor for only $16.83 using the code "vapingcheap"! There are many different color options for you to choose from.
The Drag series by VooPoo is another popular line of devices, and they've finally entered the pod market with their latest addition, the Drag Nano. This unique pod system carries similar traits such as the "DRAG" logo on on side, and resin panel on the other. In addition, it's also powered by VooPoo's chipset, the Gene.Pod chip. If you've used their devices before, then you know their chipsets are some of the best on the market when it comes to performance and reliability.
VooPoo's Drag Nano Pod System Kit features an internal 750mAh battery, and can be fully charged within one hour at a 1A charging rate. You can get around 350 puffs before needing to recharge the battery, so it'll easily last through most of the work day on a single charge.
Included in the packaging, you do receive 1 voopoo drag replacement nano pod, which does have an e-liquid capacity of 1ml. It does feature a top fill design, so filling can be done quickly. The coil inside of the pod has a resistance of 1.8 ohm, so it's ideal for higher nicotine e-liquids and nicotine salt vape juices. As you'd expect with any VooPoo device, it has many safety features built. Lastly, there's a three color LED light indicator which lets you know the current battery life while vaping. You'll exactly know when this pod mod needs to be charged with just a quick look.
All in all, this looks to be like another excellent pod vape to enter the market. It does sport a familiar design, and vapers who are fans of the Drag box mods will surely enjoy its aesthetics. Also, for the vapers wanting something super small will enjoy this pod kit as it's definitely one of the smaller devices available today.
VooPoo Drag Nano Features:
Powered by GENE.Pod Chipset
Internal 750mAh Battery
Fully Charged within 1 Hour
Ultra Compact Size
Draw Activated Firing System
LED Light Indicator (3 Color)
Zinc Alloy & Aluminum Alloy Construction
Refillable Pod Cartridges

1ml E-Juice Capacity
Top Fill Design
Coil Resistance: 1.8 ohm

7 Unique Color Options with Resin Panels
What's Included
​

​

VooPoo Drag Nano Pod Mod Device

1 Refillable Pod Cartridge

Micro USB Charging Cable

User Manual
Check Out The Voopoo Drag Nano Review