Horizon Magico Kit $14.69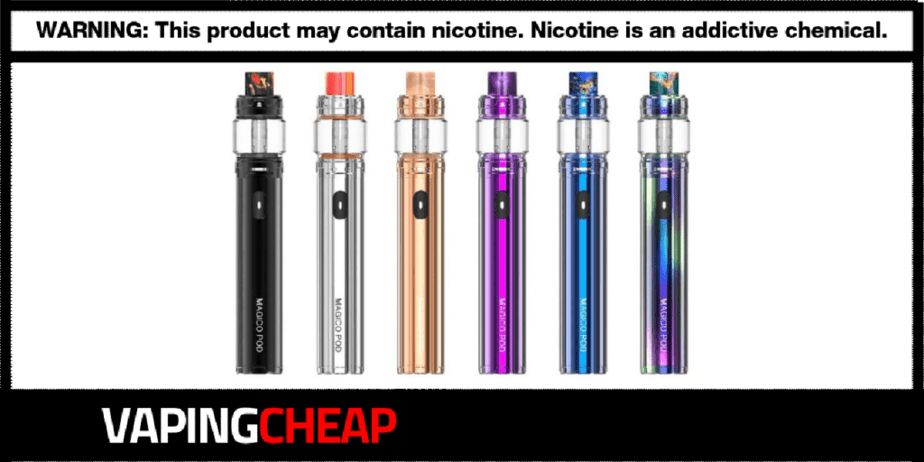 For a limited time only, the new Horizon Magico Kit is now in stock and on sale for only $14.69! No discount code required. It's also available from a USA based store for only $19.80 using discount code "vapingcheap10". The color options that are currently available are Carbon Black, Stainless Steel, Blue, Purple, 7-Color and Rose Gold.
Horizon's new Magico vape starter kit comes with both a battery and tank atomizer. The included Magico device sports an internal 2,000mAh battery, which can be charged using the USB cable that is included. It also features an advanced micro chip with resistance control, but it fits both vaping styles, mouth to lung and direct ling. There are multiple safety protection as well, and a simple one button operation. Lastly, its overall design is similar to a vape pen, so it's very comfortable to hold and use.
In this kit, you also receive the Magico Pod Tank which has a large e-liquid capacity of 5.5ml. To fill this tank, you can simply slide the top cap open. Another great feature of this tank is that it provides both a MTL and DL vape experience with the two included coils. One is a MTL 1.8 ohm coil, and the other is a 0.12 ohm mesh coil. A mouth to lung style drip tip is included as well. Last, but not least, the Magico Tank features a bottom airflow design.
If you're a fan of pod vapes, but prefer a kit that's a bit larger and has more e-liquid capacity, then this is a deal definitely worth checking out. For under $15, it's an excellent pickup for both the beginner and advanced vaper. Now, if you simply enjoy regular pod devices more, check out their Magico Pod System.
Horizon Magico Pod Stick Kit Features:
Magico Battery

Capacity: 2,000mAh
Charged via USB Cable (Included)
Advanced Micro Chip

Resistance Control
Suitable for MTL & DL Vaping

Multiple Safety Features
Single Button Operation
25mm Diameter

Magico Pod Tank

Maximum E-Liquid Capacity: 5.5ml
Top Fill Design
Compatible with both Regular & Nicotine Salt E-Liquids
Bottom Airflow (Adjustable)
MTL Drip Tip Included
Includes 1.8 ohm MTL Coil & 0.12 ohm Mesh DL Coil
Check Out The Horizon Magico Kit Review
More Great Vape Deals...
---
Vandy Vape Mato RDTA $22.40
Here are cheap deals and discounts on the new Vandy Vape Mato RDTA. Get this atomizer from only $30.36plus free[...]