VooPoo Drag Box Mod Review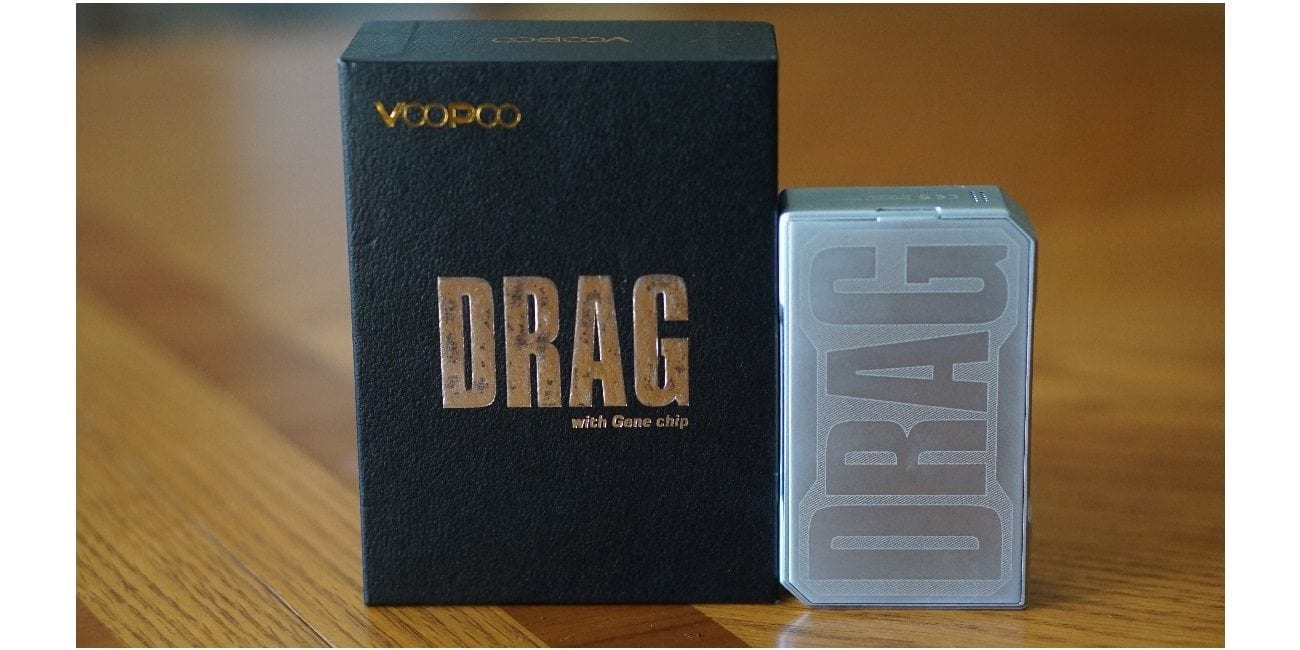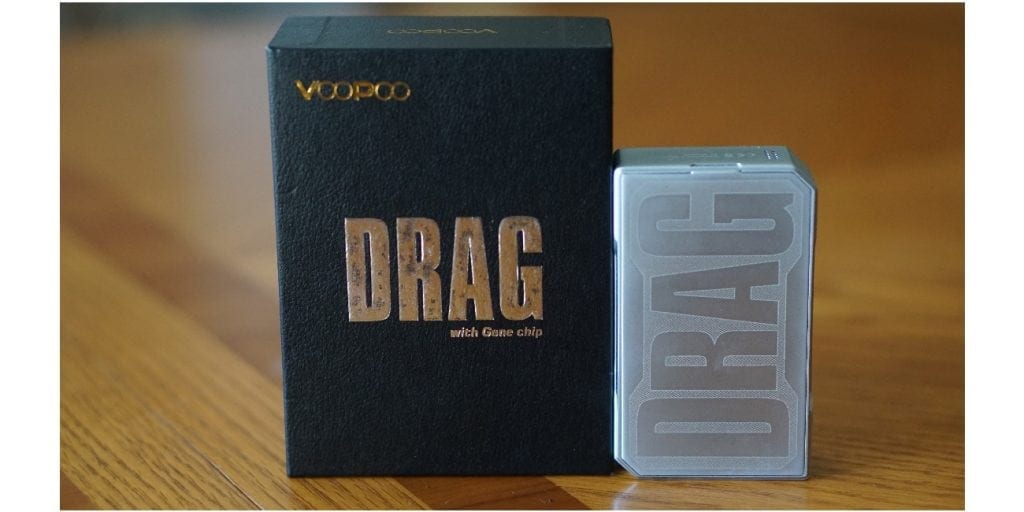 VooPoo Drag Box Mod Review
VooPoo is a relatively new company and they have released their first device to the vape market, the VooPoo Drag. While there are tons of dual 18650 box mods on the market today, this one differs itself by featuring the Gene Chip, which provides this device with tons of different features and customization options. How does the VooPoo Drag compare to the many dual 18650 box mods on the market today? We'll find out in this review!
Before getting any further, I would like to thank Heaven Gifts for sending this device our way for the purposes of this review. I will go over my first impressions, usage, performance, pros and cons, and conclude with whether or not I recommend the VooPoo Drag Box Mod!
Use Coupon Code ACHEAP15 for 15% Off!
Out of the box
The VooPoo Drag Box Mod comes in a fairly standard packaging with branding right on the front, so you immediately know what's inside. In addition, it does not fail to mention the chip that's within this device, the Gene Chip. Once you slide open the packaging, you are greeted with the VooPoo Drag right away. It does come sealed in a plastic bag, which is a nice touch as it just provides an extra layer of protection. Overall, this device is protected quite well in the packaging, which is definitely a good thing.
Once I saw the box mod, I immediately noticed the bulky size. The size and design reminds me of the older Sigelei box mods such as the Sigelei 150 and others. This style of box mods was wildly popular back then. However, in 2017 most dual 18650 devices are much more compact, so it was interesting to see they went with this design rather than something else. By no means is this a con to me, but I can see some vapers not liking its bulkiness.
When I first held the VooPoo Drag Box Mod in my hand it did feel substantial and certainly felt of quality. Like mentioned previously, it reminded me of the older Sigelei box mods, and that was made even more true once I held it. However, the edges of this device is all rounded, so it's not uncomfortable to hold. It is larger than a lot of the dual 18650 devices on the market, especially a lot of the newer mods. I do think this is a subjective con as many vapers do prefer a much more compact device.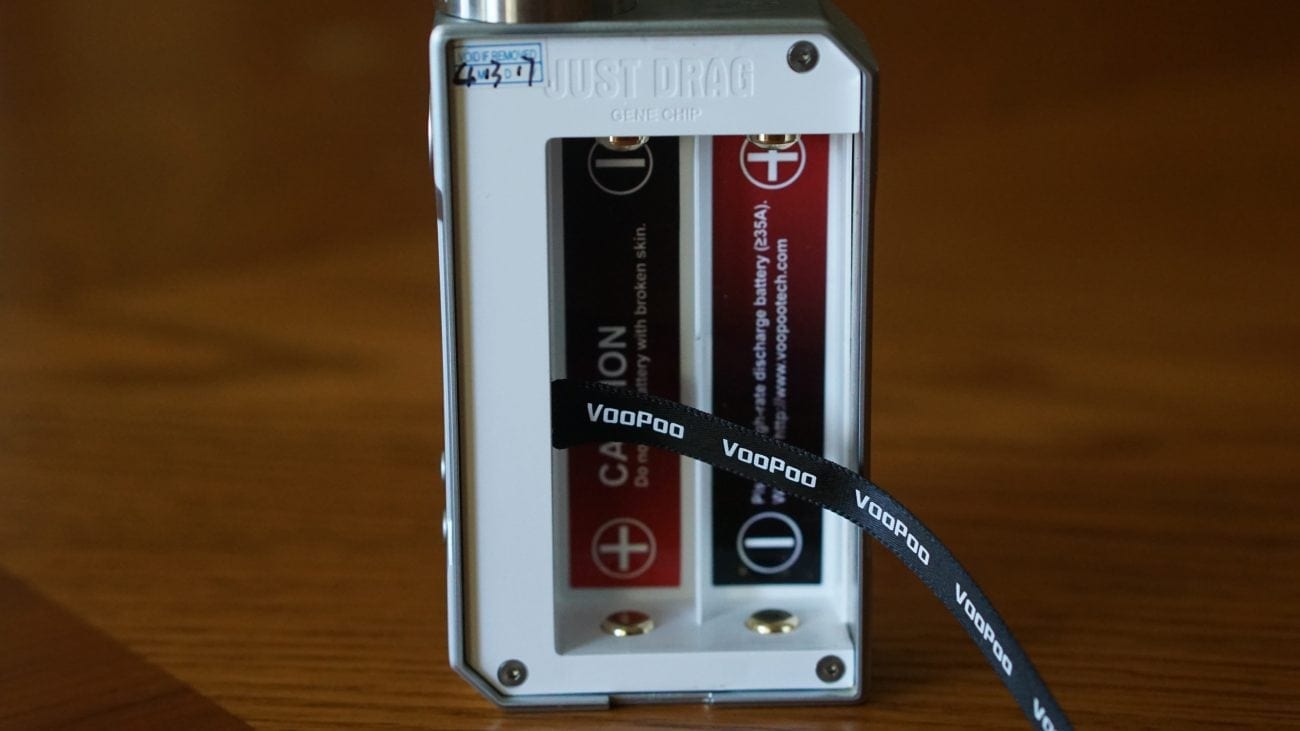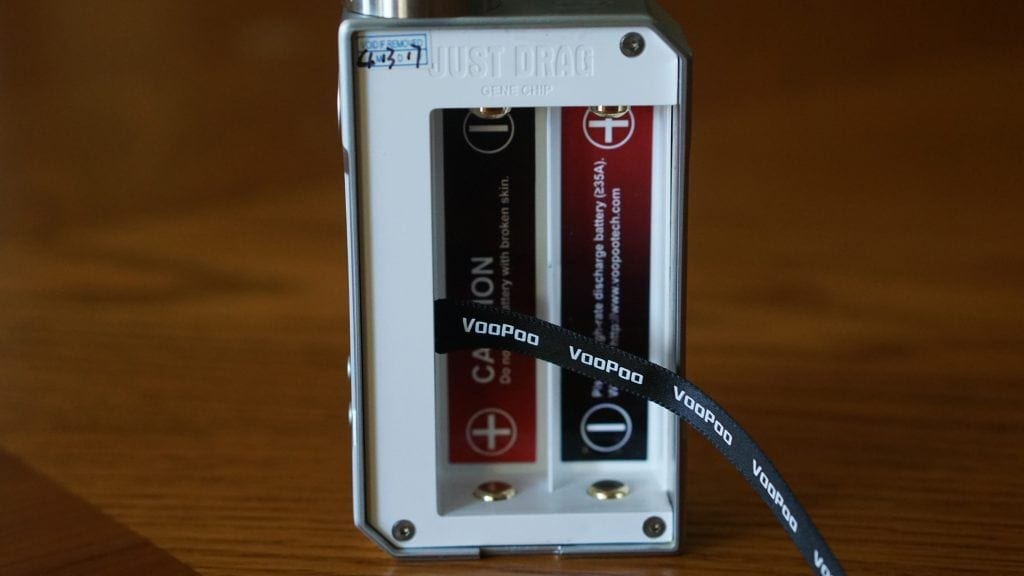 On one side of the device it says "DRAG" and on the other there is somewhat of a carbon fiber designed sticker. I know for sure some vapers will dislike the large "DRAG" branding on the device, but I personally liked it more than the carbon fiber design. Of course, this is subjective. Inside of the packaging, you also receive a micro USB cable that you can use for charging or firmware updating and a user manual.
The battery door of this device is held by magnets and you can easily take it off. However, I do want to mention that these magnets do keep the battery door on quite well with no play whatsoever, which is a huge pro in my opinion. Inside of the battery door, you can clearly see how to insert your batteries, and there is a caution labeled there as well. I do like this as well, as it shows they took safety very serious when designing this mod. Again, this is another pro in my opinion. There is also a battery strap, which sports the "VooPoo" branding, which is a nice touch.
All in all, my first impressions of the VooPoo Drag Box Mod were positive. This is a well constructed device and even though it is on the bulky side, it still feels comfortable in the hands.
Usage
Using this device for quite some time has been a great vaping experience. Like mentioned previously, this device does require 2 high drain 18650 batteries for operation, and it is extremely easy to insert your batteries and take them out. I always worry with box mods and their battery trays as some tend to rip or tear your battery wraps. Thankfully, this device does not fall into that category.
The VooPoo Drag Box Mod is a bit on the heavy side with two 18650 batteries inserted, but not too heavy. I do like the weight of this device, because it makes it feel like something of value rather than a paperweight. Of course, many vapers do like a lightweight device, so if you prefer something compact and light, then this device is probably not for sure. However, if you like a device that feels substantial in the hands, then you'll love it.
Carrying this device in my pocket isn't too bad, but it is on the bulky side, so it's not the most comfortable device to put in my pocket. If you were to put this device in a purse of book bag, then you'll have no issues with it of course.
The screen of this mod is very bright and easy to see. The screen itself shows basic information, which is something a vaper can like or dislike. I do like the simplicity of it. In addition, it does remind me quite a bit of the Evolv DNA250 or DNA200 board, but it's a bit different as well. Five clicks will turn the VooPoo Drag on and off. You can then click the fire button 3 times to change into different temperature control modes such as Ni200, Ti and Stainless Steel. Holding down the wattage up and wattage down button will access the menu. Within the menu, you can scroll to wattage, the memory bank (5 different memory settings), serial number and download firmware update.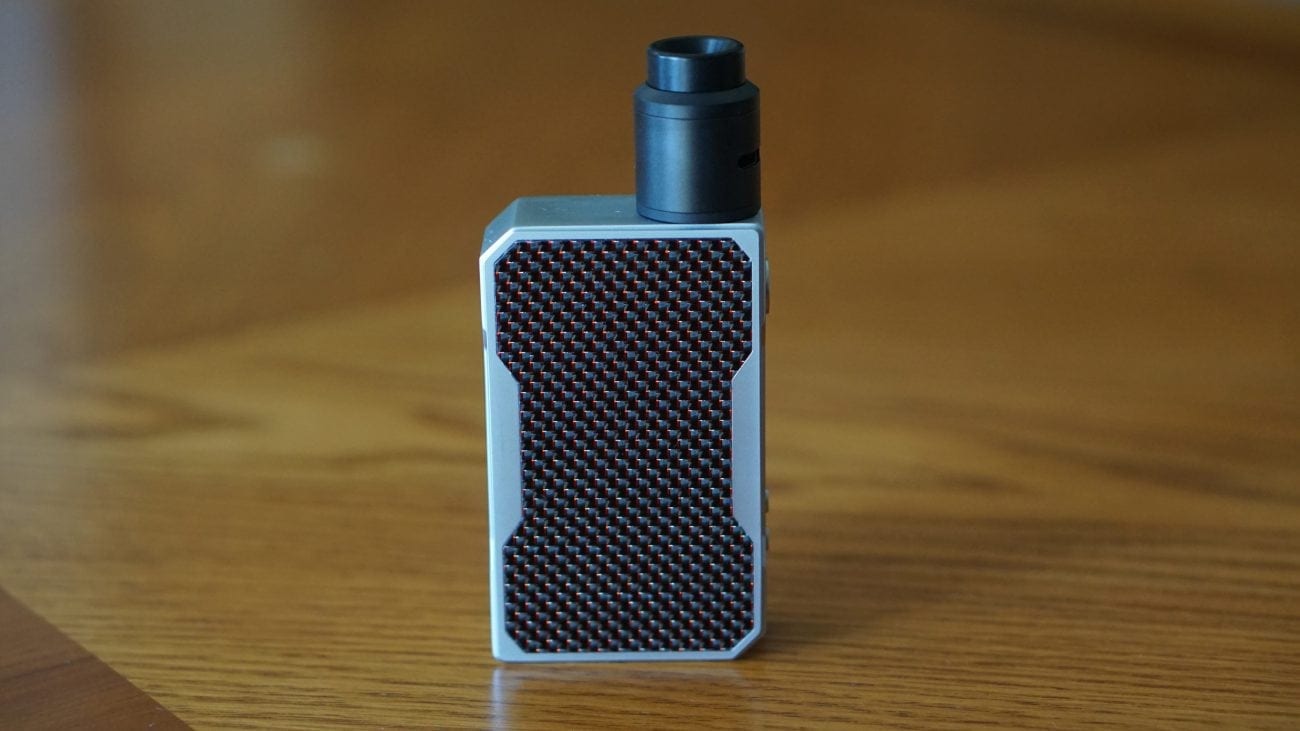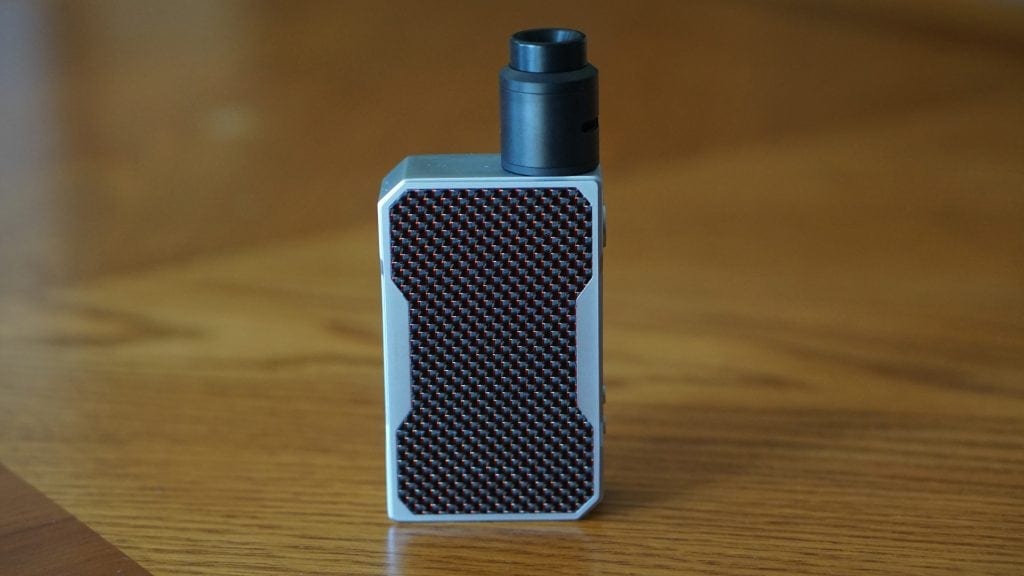 Once your in temperature control mode, you can change the wattage by pressing the wattage button 4 times. However, you can only fire up to 80w in temperature control mode, which I do find as a con. Hopefully a future firmware upgrade will allow you to fire at the full 157w.
Atomizers up to 24mm will sit flush with no overhang. However, if you put a 25mm diameter atomizer or higher there will be an overhang. 25mm atomizers don't have a terrible overhang by any means, and honestly it's barely noticeable. If you're the type of vaper where you want no overhang whatsoever, then this might bother you. This really didn't bother me since the overhang wasn't too noticeable, but still something worth mentioning. Also, all of my atomizers did sit flush with no gaps, even atomizers with longer 510 pins such as the Kennedy 24 RDA.
All in all, using the VooPoo Drag Box Mod over a few weeks has been great! The menu system is extremely easy to use, and all the atomizers I used with it worked flawlessly.
Use Coupon Code ACHEAP15 for 15% Off!
Performance
Now the biggest question of this review is how does the VooPoo Drag performs? Well, I can easily say it has excellent performance! Like mentioned previously, this device has a maximum wattage output of 157w, which is more than enough for the majority of vapers. In addition, it has a maximum voltage output of 7.5v. Between 130w and 157w, it does go into "SUPER Mode". I'm not 100% sure what SUPER Mode does exactly, but I can tell you when it's at these higher wattages it certainly feels like it.
Speaking about that, once you hit the fire button there is literally almost no delay whatsoever. I was very impressed by how fast this device fires, and I've never come across any other regulated device that's as responsive as this one. This is a big pro in my opinion, and this does set it apart from the competition in my opinion. I do hate when there is a delay when hitting the fire button, so seeing how responsive this was really surprised me.
I do want to mention that there is a software available that looks fairly similar to the Evolv EScribe Software which allows you to customize this device. The VooPoo Drag is also firmware upgradeable, so you'll always be up to date! There was an update already available which added a voltage mode (which allows you to adjust by voltage rather than wattage) and added a key lock function.
I did test this box mod in Stainless Steel temperature control and it worked flawlessly. I don't really vape Ni200 or Ti wire much anymore, but with how Stainless Steel temperature control mode worked, I can easily say it'll work just fine. Going by the performance of this device, I can honestly say the Gene chip that's in this device is fantastic!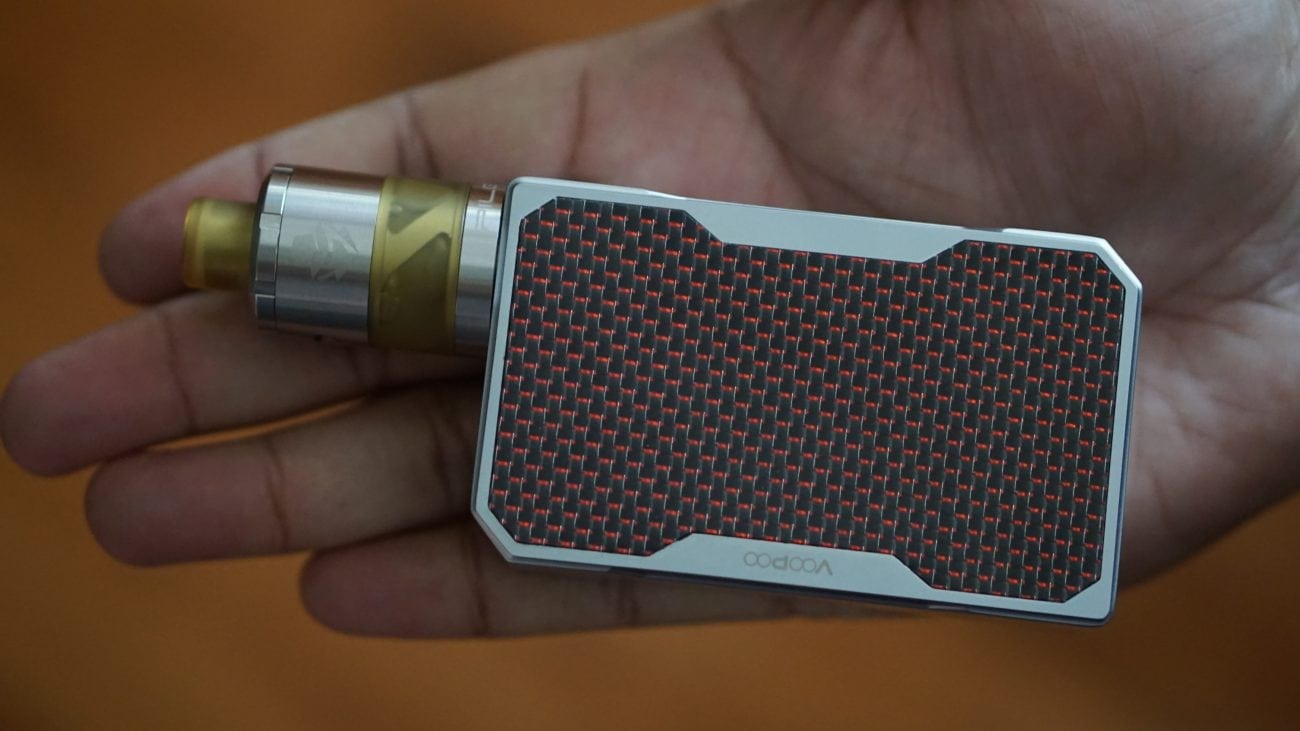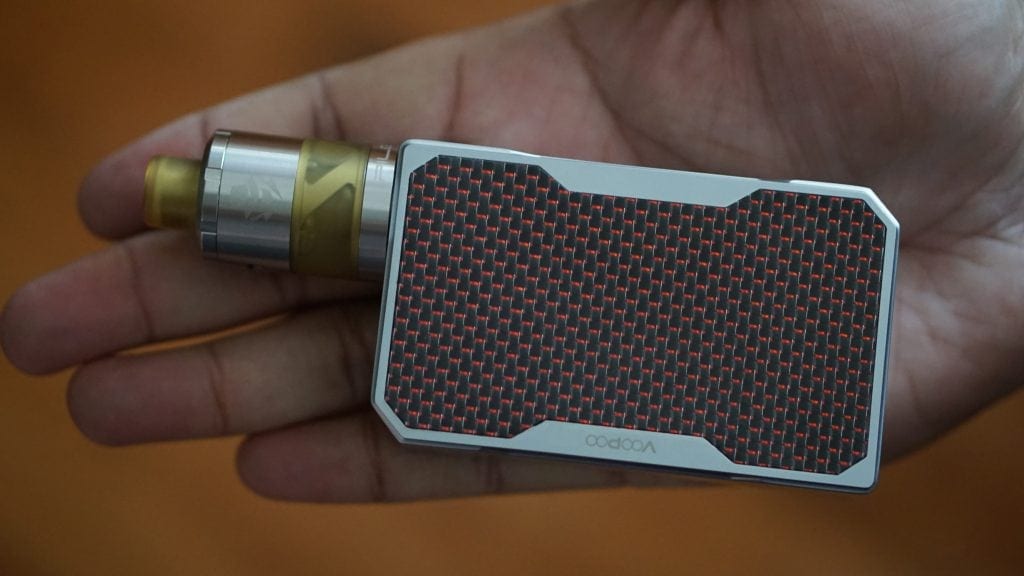 Something else to mention is that the minimum firing resistance of this device in both temperature control mode and wattage mode is 0.05 ohm. Not many devices can fire that low in regular wattage mode, so it was great to see that this device can fire that low.
The VooPoo Drag also features a Smart VW mode which automatically recommends a wattage based upon the resistance of your attached atomizer. Honestly, I didn't really care too much for this feature as I always adjust to my preferred wattage for a specific build, but it's still great that it's there and some vapers might find it more useful than myself. There are a ton of features as well such as low voltage protection, output short circuit, low resistance, overheating and much more.
The battery life of this box mod was as to be expected with 2 high drain 18650 batteries. If you do vape more than 100w, you'll probably need to change batteries in a few hours of continuous vaping, but if you vape between 60w and 80w, it could easily last you throughout most of the day.
All in all, the performance of the VooPoo Drag Box Mod was stellar! I have no complaints whatsoever when it comes to the performance of this mod!
Pros
Fantastic build quality
Easy to see display screen
Software available to customize this device
Firmware upgradeable
Temperature Control worked great
Instantaneous fire
Excellent battery door
Cons
Size (Subjective)
Large Drag Logo & Sticker (Subjective)
25mm atomizers have a slight overhang
No Mac Support for Software
Only 80w in Temperature Control Mode
Conclusion
In conclusion, the VooPoo Drag Box Mod is an excellent performing dual 18650 device! The performance of this device is truly outstanding and probably one of the best in its price range. There were a few cons to be mentioned, but most were subjective. I do think a firmware upgrade will allow this device to go past 80w in TC mode, so that's not a major con by any means. However, I do wish they made this box mod just a bit thicker so that 25mm atomizers would sit flush with no overhang.
The overhang you do get with 25mm atomizers is very minimal, so if that doesn't bother you then it's not a con really. In addition, I can see some vapers not liking its size or design. I actually got used to its size quite quickly and appreciated its substantial feel. The VooPoo Drag does feel of excellent quality, and makes it feel like it's worth much more than what it actually costs.
Overall, the VooPoo Drag Box Mod is an excellent device, and I can see many vapers being interested in it as something they can carry around and have it withstand quite a lot of usage. The performance of this device is pretty similar to a DNA device, and when you factor in the software that's available which allows you to customize it, you're really getting a bang for your buck. So if that's something you're looking for, I can highly recommend the VooPoo Drag Box Mod!
We hope you find this review helpful in finding the right device to fit all of your vaping needs! Feel free to leave any questions or comments down below! Thanks for reading!
Use Coupon Code ACHEAP15 for 15% Off!
Product Features:
Requires 2 High Drain 18650 Batteries (Not Included)
Powered By Gene Chip
Maximum Wattage Output: 157w
SUPER Mode (130w-157w)
Smart VW (Automatically adjusts wattage based upon resistance of attached atomizer)
Minimum Firing Resistance: 0.05 ohm
5 Bank Memory
Temperature Control (Ni200, Ti, SS)
Firmware Upgradable
Software available allows you to customize this device
Magnetic Battery Door
Spring Loaded 510 Connection
Many Safety Features