Hellvape GRIMM Pod System $6.99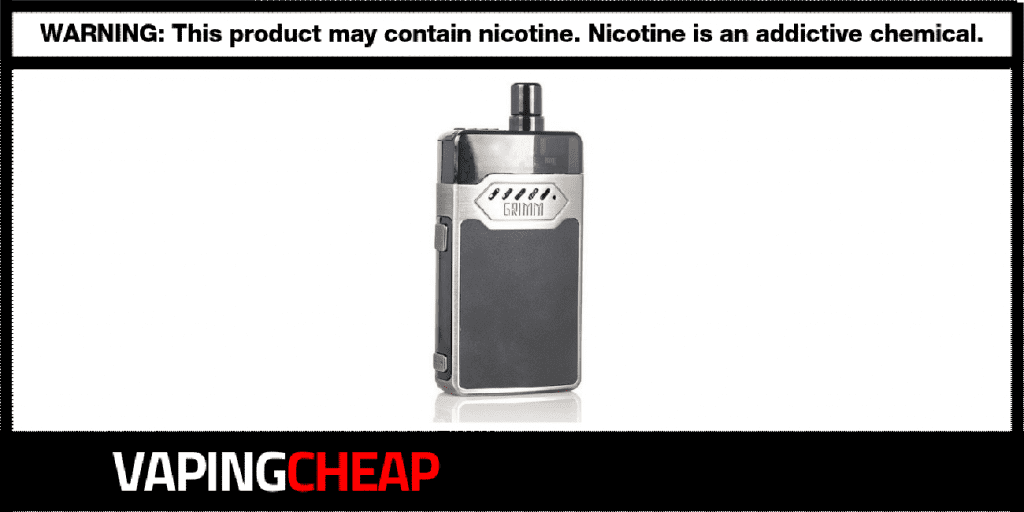 The Hellvape Grimm Pod System is now in stock and on sale. Grab yours for only $6.99! There's various color options available including Red Carbon Fiber, Rainbow Carbon Fiber, Stainless Steel and others.
The Grimm 30w Pod System by Hellvape, Grimm Green and Ohm Boy packs a large 1,200mAh battery, and is primarily constructed of zinc alloy material. What's great about this pod mod is that it not only provides up to 30w of power, but you can fully control the output wattage from 5w all the way to 30w using the wattage up and down buttons.
There's an OLED display screen as well which will show you the wattage setting, coil resistance, and battery life.
Aside from the Hellvape Grimm Pod Mod utilizing a refillable pod cartridge, it also uses replaceable coils. The Grimm Refillable Pod Cartridges hold 2ml of e-liquid, so it is TPD Complaint. Also, it fills from the top, making it incredibly easy and fast to fill with your favorite regular or nicotine salt vape juices. When it comes to the Grimm coils, there's two options.
Firstly, there's the 0.7 ohm H3-01 mesh coil head, which is catered more for a direct lung vape experience. Secondly, you have the 1.2 ohm H3-02 regular coil, which is better suited for a mouth to lung vape. It's super easy to install these coil heads into the pod vape as well, as it features a threaded coil installation design. Lastly, the airflow is fully adjustable via the airflow control ring from underneath the installed replaceable coil.
Grimm Green and Ohm Boy have released quality products over the years, and this new collaboration with Hellvape is no different. The Hellvape Grimm 30w Pod System will certainly satisfy most, if not all vapers with its replaceable coil system, ease of use, and sleek finish.
Hellvape Grimm 30w Pod Kit Features:
Built In 1,200mAh Battery
Wattage Output Range: 5w - 30w
Voltage Output Range: 0.5v - 4.6v
Zinc Alloy Construction
OLED Display Screen
Ergonomic & Compact Size
Refillable Pod Cartridge

2ml E-Liquid Capacity
Top Fillling System
Snap In Connection

Replaceable Coil Heads

0.7 ohm Mesh Coil
1.2 ohm Regular Coil
Fully Adjustable Airflow

Color Options: Black
What's Included
Hellvape Grimm Pod Kit
0.7 ohm H3-01 Mesh Coil
1.2 ohm H3-02 Regular Coil
Micro USB Cable for Charging
User Manual
Check Out The Hellvape Grimm Kit Review
More Great Vape Deals...
---
Vandy Vape Mato RDTA $21.99
Here are cheap deals and discounts on the new Vandy Vape Mato RDTA. Get this atomizer from only $30.36plus free[...]