ThunderHead Creations Tauren One RTA $19.28 + FS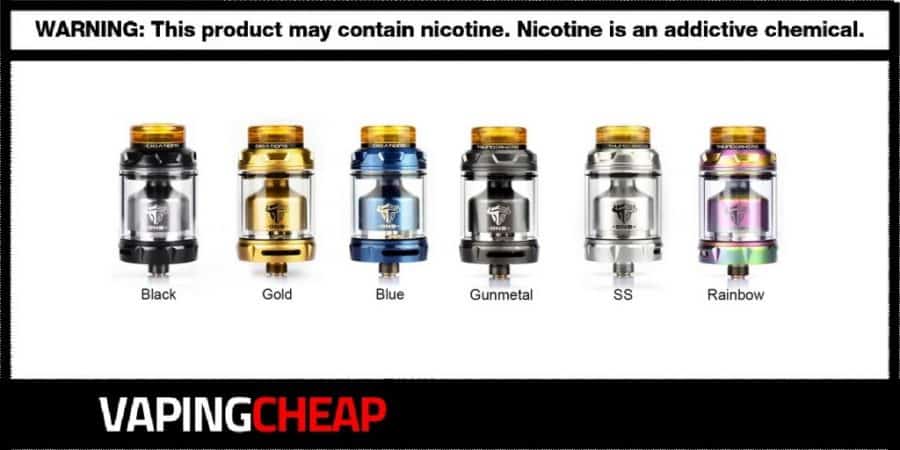 For a limited time only, the ThunderHead Creations Tauren One RTA is on sale for as low as $19.28 using code "ChinaFighting". Free worldwide shipping is included. There are various color options that you can choose from.
This new atomizer by ThunderHead Creations sports an overall diameter of 24mm, so it'll fit most of your devices with zero overhang. In addition, it's primarily constructed of 304 stainless steel. It does include a wide bore drip tip, and it is compatible with 810 drip tip sizes.
Also, it has an e-liquid capacity of either 2ml or 4.5ml (with the bubble glass tank section). Filling it can be done quite easily with its top fill system.
There's a couple of features as to why this RTA is pretty unique. Firstly, it's build deck which is designed for single coils. It's super easy to install your coils, and can fit your larger coils for flavor such as Aliens or Fused Claptons. Secondly, it features a unique 3D honeycomb airflow system, which not only provides an incredibly smooth draw, but amazing flavor as well. The actual airflow is designed for travel under, to the side and at the top of your coil. Lastly, the airflow is fully adjustable.
All in all, this is a great deal on the new ThunderHead Creations Tauren One RTA. If you're searching for a new single coil RTA, then you'll definitely want to check out this new tank. With it's airflow and deck design, it's looking to be one of the Best RTAs this year!
Tauren One 24mm RTA Features:
304 Stainless Steel Construction
24mm Base Diameter
41mm Height
2ml or 4.5ml E-Liquid Capacity
Top Fill
810 Wide Bore Drip Tip
Single Coil Building Deck
Fully Adjustable Bottom Airflow

Unique 3D Honeycomb Airflow System
26 Micro Airholes

Unique Aluminum Packaging with 510 Stand
Includes Replacement Tank Section & Spare Parts
Color Options

Silver
Rainbow
Black
Gun Metal
Blue
Gold