Smok Rigel Mod $20.69 | 230w Starter Kit $30.99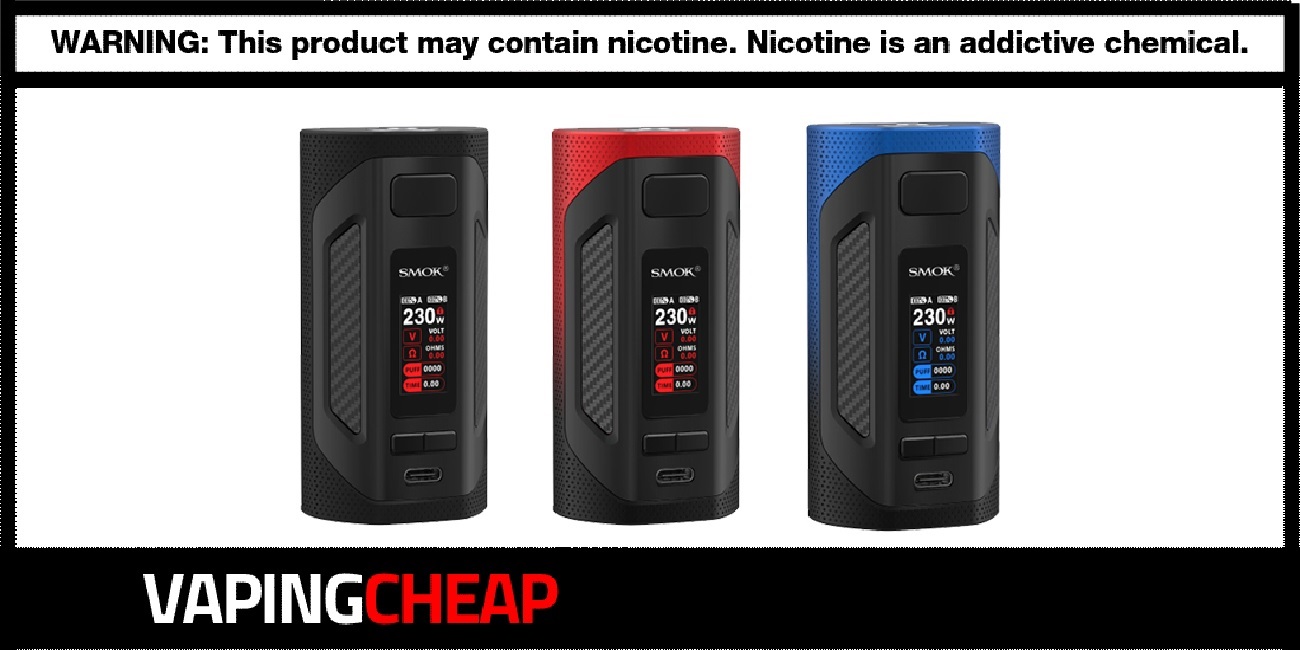 For a limited time only, the Smok Rigel Mod is now in stock and on sale for only $20.69. No code is required for this discount. You can get the kit for only $30.99 when applying the code "RigelK".
The full 230w starter kit is also available from a USA based store for only $36.74 after the discount code "Vapor25". You can choose between 5 different color options which are Black, Black/Blue, Black/Red, Black/Green and Silver.
The Smok Rigel 230w is one of their latest dual battery devices. Being powered by two high drain 18650s, it delivers 230w maximum. You can charge the mod using a USB Type-C Cable, but we always recommend an external battery charger.
With its rubber coating and carbon fiber material, it's incredibly comfortable in the hands. It's pretty compact too, so it's easy to take with you on the go!
The Rigel Box Mod does feature a large TFT display screen right on the front. What's great about it is that you can customize it! You can select between 6 different color options. You'll also find the firing button and wattage adjustments buttons both below and above the screen.
You do decide on getting the Rigel 230w Starter Kit, you'll also get the Smok TFV9 Tank. Primarily constructed of stainless steel and sporting an overall diameter of 28mm, it matches the Rigel 230w perfectly. When it comes to capacity, you've got a massive 6.5ml! Filling is easy as it can be done from the top.
There's a couple of the Smok TFV9 0.15 ohm mesh coils in the box as well. However, it is compatible with the entire TFV8 coil line. This means you've got plenty of coil heads you can use with this one. Lastly, it sports an adjustable bottom airflow design.
The Smok Rigel 230w mod or starter kit is an excellent pickup for the price it's going for. It has more than enough power, ergonomics for a comfortable vape experienced and paired with an excellent tank atomizer that's good for both clouds and flavor.
Smok Rigel 230w Starter Kit Features:
Smok Rigel Box Mod

Requires 2 high drain 18650 batteries (Not Included)
Maximum wattage output: 230w
Large TFT Display screen
Rubber and Carbon fiber coating
Multiple safety features
Three button design
USB Type-C Cable Compatible

Smok TFV9 Tank

Overall diameter: 28mm
Maximum e-juice capacity: 6.5ml
Top fill design
Uses the new Smok TFV9 Coils
Compatible with the TFV8 Coil Line
Adjustable bottom airflow
What's Included:
Smok Rigel Mod
TFV9 Sub Ohm Tank
Two 0.15 ohm TFV9 Mesh Coils
User Manual
USB Type-C Cable
Extra Tank Section
Be sure to check out the review for the Smok Rigel 230w Kit