QP Design Gata RTA $51.00 (USA)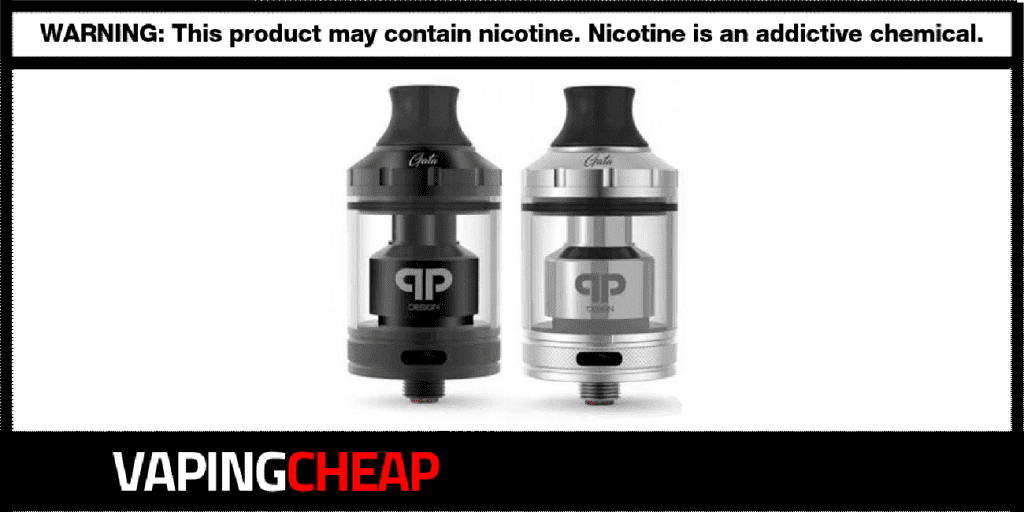 The QP Design Gata RTA is back in stock and on sale at a USA based store. Get yours for $51.00 when using code "HARDWARE15". Free shipping is included when spending over $100. There are two color options, which include Silver and Black.
QP Design's Gata RTA is their latest atomizer release, and is completely different in comparison. It all comes down to the airflow, which we'll cover shortly. Firstly, the Gata RTA by QP design sports a base diameter of 24mm.
Additionally, each individual unit is serialized, and includes two different tank sections. You have the option of a Pyrex glass which holds 4ml, and can be filled from the top. The next option is an acrylic tank that holds 2ml, and fills from the bottom.
When using the 4ml tank section, the top fill design is threaded, but only takes half a turn to open it. This makes it quick and easy to fill. It's recommended to use this specific tank section for direct lung vaping, and the shorter 2ml variant for mouth to lung vaping. However, you can use either for both vape experiences.
Now, the airflow system is what truly makes the QP Design Gata RTA unique. It's been designed to deliver both a restrictive direct lung vape, and mouth to lung vape. Included in the packaging, you will receive two airflow control rings. Each are catered to a specific vape experience.
There's also an Ultem honeycomb airflow insert inside of the build deck for MTL. This cuts down the airflow internally to provide an even tighter, and proper mouth to lung vape. As expected, you can also adjust the airflow from the outside using the AFC ring, giving you a bunch of different airflow options.
Building and wicking the Gata 24mm RTA is easy too. It features a post-less styled build deck. It's not the newest build deck, and we've seen it with some other RTAs. However, it works incredibly well.
Just like their Fatality M25 RTA, the Gata is priced higher than the usual, but it comes with a lot and offers a one of a kind vape experience. With its ability to deliver two styles of vape in one, its amazing flavor production, and overall quality, it's an awesome atty worthy of any vaper's collection.
QP Design Gata 24mm RTA Features:
Base Diameter: 24mm
Stainless Steel & Pyrex Glass or Acrylic Construction
Serialized
2 Tank Sections

Glass - 4ml (Top Fill)
Acrylic - 2ml (Bottom Fill)

Post-Less Build Deck with Side Mounted Screws
Honeycomb MTL Airflow Insert
Fully Adjustable Bottom Airflow

MTL Airflow Control Ring (3 Different Settings)
DTL Airflow Control Ring (Cyclops Slot)

Gold Plated 510 Contact
MTL & DTL Delrin 510 Drip Tips
Color Options: Silver, Black
What's Included
Gata 24mm RTA by QP Design
2ml Acrylic Tank Section
4ml Glass Tank Section with Top Fill
MTL AFC Ring
DTL AFC Ring
Bag of Spares
Check Out The QP Designs Gata RTA Review