Exvape Expromizer TCM DL RDTA $22.86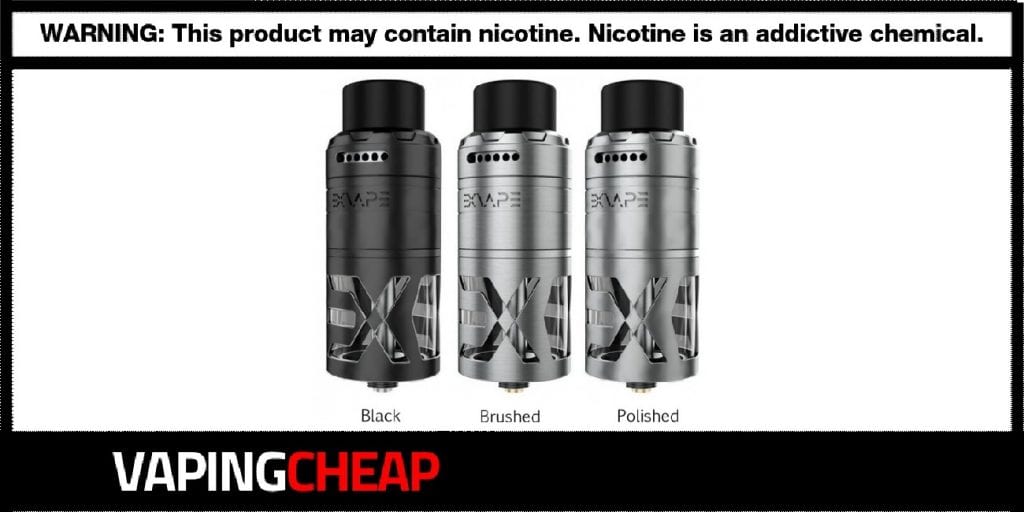 The new Exvape Expromizer TCM DL RDTA is now up for pre-order! Buy yours cheap at only $22.86 after using code "SS15" and logging into your account. Free shipping applies to orders over $50. It's also on sale at a different China based store for only $26.99 with the coupon "TCMDL". Choose between three colors including Black, Brushed Stainless Steel and Polished Stainless Steel.
The newest RDTA from Exvape, the Expromizer TCM was designed in Germany, and is their first self-winding direct lung atomizer. Additionally, it is mostly crafted out of stainless steel material and has an overall diameter of 25mm. You'll notice it's taller size, but that's for good reason! It offers a massive 7ml capacity, and fills from the top.
The Expromizer TCM DL Top-Coiler Mesh RDTA offers a build deck that's quite different from other RDTAs. It's a single mesh coil build deck, but uses a clamp system to hold the coils in place. This design makes it a breeze to build on and takes mere seconds to install your coil. Also, there's plenty of space for cotton, so wicking won't be an issue.
When it comes to this atomizer's airflow system, it comes from the top, and can be fully adjusted. To adjust, simply rotate the top cap. There's six holes on each side, right over the fill port. This helps prevent leaking while providing a smooth draw. Lastly, it has a wide bore heat resistant drip tip and a gold plated 510 connection pin.
If you're into mesh vapes, and looking for a new RDTA that holds a ton of vape juice, then look no further! The Expromizer TCM DL RDTA 25mm by Exvape has everything you need plus more.
Exvape Expromizer TCM DL 25mm RDTA Features:
Designed in Germany
Overall diameter: 25mm
Maximum e-juice capacity: 7ml
Top fill design
Clamp style mesh coil build deck
Self-Winding Feature
Adjustable top airflow system
Stainless steel construction
Wide bore drip tip
Gold plated 510 connection pin
What's Included:
Exvape Expromizer TCM RDTA
O-Ring Kit
Winding Tool
Screwdriver
Two Mesh Coils
Cotton Strands
Spare Parts
User Manual