OFRF nexMESH Sub Ohm Tank $4.11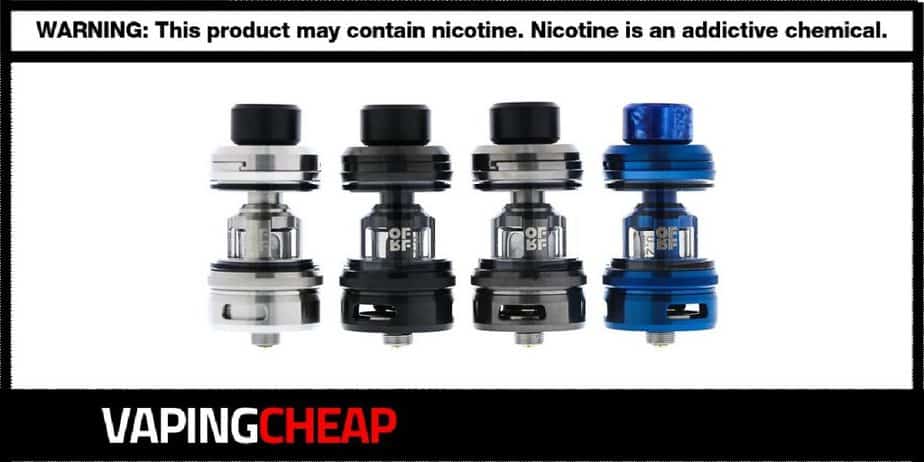 The OFRF nexMesh Sub Ohm Tank is now in stock and on sale from a USA based store for only $4.11. No discount code required. It's also available from a USA based store for as low as $18.00 using discount code "Hardware10". There are multiple color options available including Gunmetal, Black, Silver, Gold and more.
OFRF's nexMesh Tank sports an overall diameter of 25mm, and is primarily constructed of stainless steel. It does have a maximum e-liquid capacity of either 4ml or 5.5ml (with included bubble glass).
Filling this atomizer is quite easy due to the simple push button top fill mechanism. You won't have to worry much about leaking either since it does have a leak resistant silicon guard.
There is one major feature of this tank that does make it stand out when comparing it to some of the best sub ohm tanks. That feature is the replacement coil heads. They're powered by OFRF's nexMesh Coil Technology which feature an innovative conical design. When you vape, the conical shape maximizes bottom of the coil airflow intake. The actual airflow is adjustable too, so you can fine tune it to your preferred draw.
Included with this tank, you do receive two coil heads, a nexMESH Conical Mesh Coil A1 which has a wattage range of 55w to 85w, and the 0.15 ohm mesh coil. Now the second coil is constructed of SS316L, and rated between 40w and 75w. Lastly, each coil does feature a Twin Absorption System Design, which provides efficient wicking.
All in all, this is an excellent deal for the OFRF nexMesh Sub Ohm Tank. If you enjoy mesh tanks or OFRF's mesh coils, then you'll definitely want to add this tank to your collection. It's unique coil design is sure to provide intense flavor production. With this deal, you can't go wrong. For you vapers looking for the latest version, check out the new NexMesh Pro.
OFRF nexMesh Vape Tank Features:
Overall Diameter: 25mm
Maximum Vape Juice Capacity: 4ml or 5.5ml (With Bubble Glass Section)
Top Fill

Push Button Top Cap Locking Mechanism

Adjustable Bottom Airflow
Wide Bore Resin Drip Tip
Stainless Steel & Glass Construction
Double Vapor Compression System
Powered by OFRF nexMesh Coil Technology

Maximizes Bottom of the Coil Airflow Intake
T.A.S (Twin Absorption Wicking System)
Conical Mesh Coils
Includes 0.2 ohm & 0.15 ohm Replacement Coils

Leak Resistant Silicon Guards
Available Color Options

Black
Stainless Steel
Gun Metal
Gold
Blue
Rainbow
Check Out The OFRF nexMesh Tank Review