OBS Land Pod Kit $8.96 (USA)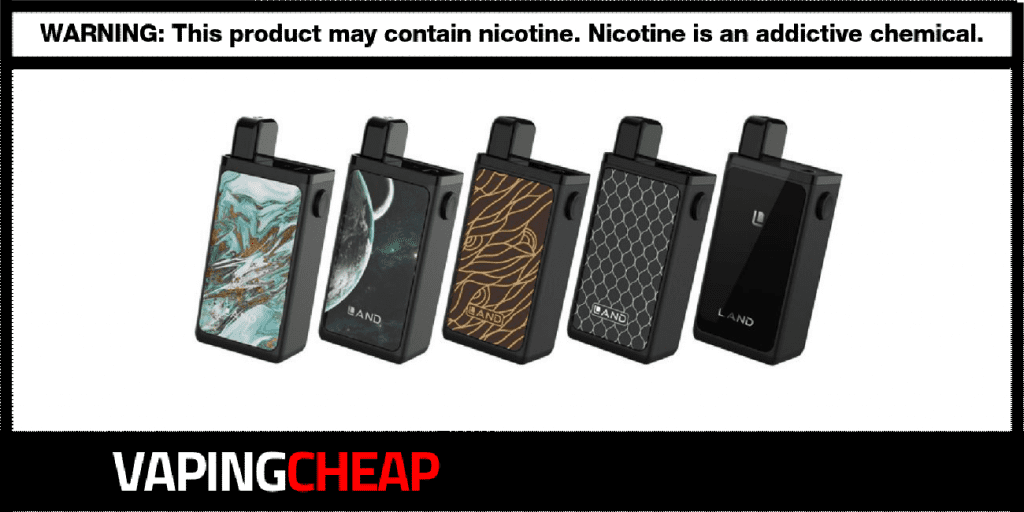 Here's a cheap deal on the OBS Land Pod Kit. Get it for only $8.96 when using the code Strikesweek10". Free shipping applies to USA orders over $75. It's also available from a China based shipper for only $16.19 using code "LandVS". There's 5 different color options available which include White, Original, Ripple, Earth and Black.
The OBS Land Pod Vape Kit has a compact design, but still is able to fit a large 750mAh battery. Charging can be done using a regular micro USB cable, and best of all, it can be fully charged within one hour, so you'll be back to vaping quickly. A cool feature of this pod vape is that it has a switch on the side, which can slide up or down. What this does is either expose the installed pod cartridge or retract it down, giving it a super stealthy look.
OBS' Land Pod Kit does have a simple one button operation as well, so it's very easy to use. Five clicks will turn this pod mod on or off, and simply pressing the firing button will allow you to vape. This pod device also has a wattage output range between 7w and 10w. When it comes to the Land Pod's refillable cartridge, it has a 1.5ml e-liquid capacity alongside a side filling design. This does help prevent any leaking, and it's pretty easy to fill. Inside of the pod cartridge, there's a 1.4 ohm coil, so it's perfect for mouth to lung vaping, and nicotine salt vape juices.
If you're a fan of OBS products, and looking for a new pod mod kit, then you'll definitely want to check out the Land Pod Kit by OBS. You really can't go wrong at this price, and as with OBS, you'll be getting a quality made vaping device.
OBS Land Pod System Kit Features:
Built In 750mAh Battery
1 Hour Charge Time
Wattage Output Range: 7w - 10w
Voltage Output Range: 3.3v - 4.2v
Single Firing Button
Adjustable Switch (Retract & Reveal Pod)
Many Safety Protections

Pod Protection
5 Minute Power Off Protection
Short Circuit Protection
Low Voltage Protection

Firmware Upgradeable
Compact & Ergonomic Form Factor
Refillable Pod Cartridge

1.5ml E-Liquid Capacity
Side Filling Port
No Leaking Design
1.4 ohm Resistance

5 Color Options
What's Included
OBS Land Pod Mod
OBS Land Refillable Pod Cartridge
USB Cable for Charging
User Manual
Check Out The OBS Land Pod Kit Review
More Great Vape Deals...
---
Hellvape Grimm RBA Coil $5.69
Here's a cheap deal and discount for the Hellvape Grimm RBA Coil. Grab yours for just $5.69 when you apply the code[...]