o2pur E-Juice Blowout Sale!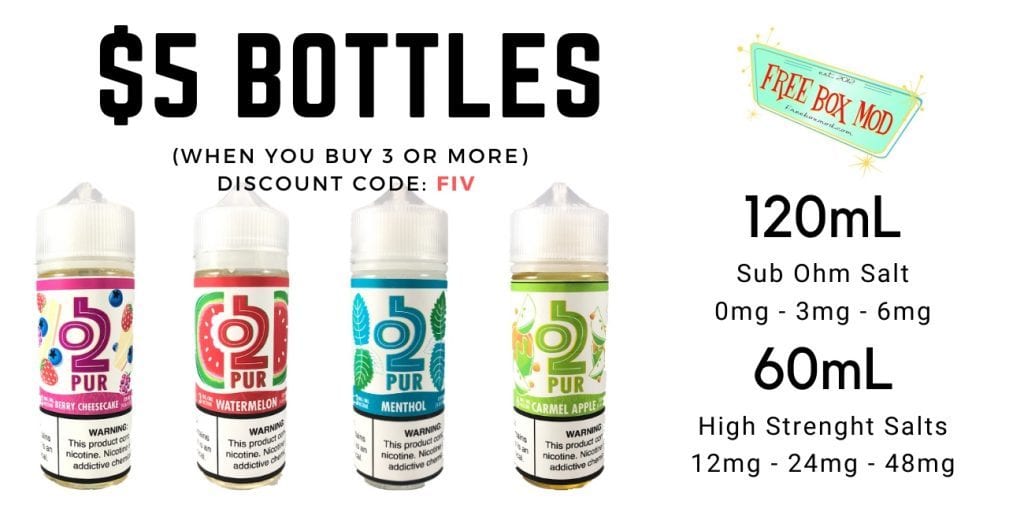 For a limited time only, FreeBoxMod is having a blowout sale right here where you can get a 120ml bottle for only $5 with a purchase of 3 or more bottles using coupon code "Fiv"!
During this blowout sale sale you can get a 120ml bottle of 02pur Sub-ohm salt or 60ml high strength salt for only $5.00 using the provided coupon! The o2pur has 8 amazing flavors to choose from which are Island Breeze, Berry Cheesecake, Strawberry, Blueberry, Watermelon, Caramel Apple, Original Menthol and Original Tobacco.
The sub-ohm salt nicotine strength available is 0mg, 3mg, 6mg and high strength salt available in 12mg, 24mg and 48mg. Not to mention, the Island Breeze is one of their top seller, so this is a flavor definitely worth trying out!
All in all, this is a excellent e-juice sale! If you're looking to try out some new flavors or e-juice line, then this is a e-juice sale you got to check out! Be sure to check out this e-juice sale at Yourfbm where you can get a 120ml or 60ml bottle of 02pur for only $5.00!
E-Juice Sale Details:
120ml or 60ml bottle for only $5.00 using code "Fiv"!
Chubby Gorilla Bottle
Sub Ohm Nicotine Strength: 0mg, 3mg and 6mg
Salt Nicotine: 12mg, 24mg and 48mg
Flavors To Choose From:

Island Breeze: Passion + Orange + Guava with hints of coconut and pineapple! This Tropical wonderland is our BEST SELLER of all time!
Berry Cheesecake: Rich & Creamy Cheesecake covered with Fresh Blueberries, Blackberries, Boysenberries, Strawberries, and Raspberries!
Strawberry: Real, Fresh, & Sweet! Like it was just picked from Grandpa's strawberry patch! No cough medicine or artificial taste at all - our customers love this all-time great!
Blueberry: Sweet flavorful blueberry, perfectly ripened blueberry & fresh from the bush! It tastes so REAL you won't believe it!
Watermelon: Juicy & Sweet Watermelon! Freshly picked and perfectly ripened!
Caramel Apple: Crisp sweet and tangy apple covered in caramel! O2pur Caramel apple tastes like a REAL caramel apple from a gourmet confectionary shop!
Original Menthol: O2pur Menthol is the long time favorite of former menthol smokers everywhere. A true menthol flavor with no mints or candy hints - this is the menthol for real menthol lovers.
Original Tobacco: O2pur Tobacco is the favorite of our most loyal fans. The same formula has been satisfying former smokers since 2012!