Nevoks Angus RDA Kit $20.80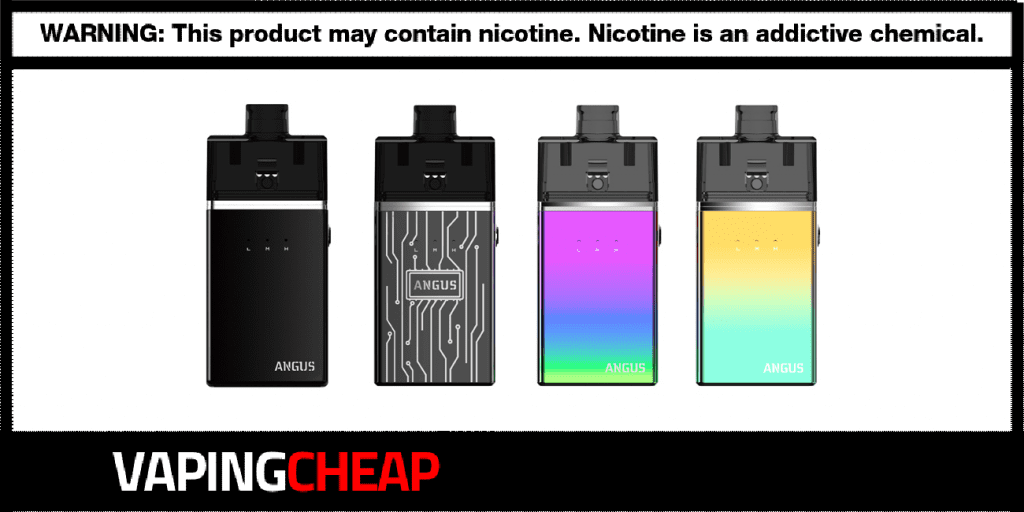 Here's a cheap deal and sale on the Nevoks Angus RDA Kit. Get yours for only $20.80. To get this discount, simply use code "ANGUS". There's two color options you can choose which are Stainless Steel and Black.
The Angus Kit by Nevoks is very unique starter kit aimed at bringing together an all in one kit that's user friendly, and just convenient. To start, the Angus RDA starter kit has a built in 1,700mAh battery, and charges via micro USB. There's an LED light indicator that will notify you of the charging status. Once it's fully charged it'll glow green for about 5 minutes and then turn off. The Angus RDA Kit can provide up to 60w of power, and there's three different power levels you can quickly cycle through. Also, it has a very fast firing speed, so as soon as you hit that fire button, you're vaping with no delay.
Now what makes this kit unique is definitely the square RDA up top. For one, it features a slide design, allowing you to easily take it off, and put it back into place. There's a wide bore drip tip too, which is perfect for cloud chasing. The most unique feature is the actual building deck. It's compatible with both mesh style coils, and regular coils, allowing you to change up the vape.
There's not too many RDAs that can do this, so it's definitely a huge pro. When it comes to actually installing coils, it can be done fast. This is thanks to the clamp style build deck the Nevoks Angus RDA Kit features. Additionally, wicking can be done easily too, as there's pretty large juice wells. Simply fluff up your cotton, and gently tuck it into those deep juice wells, and you're good to go. With the amount of cotton you can fit, you'll be able to drip quite a bit of e-juice.
We'd say that the Angus RDA Kit by Nevoks is definitely one of a kind. With it's ease of use, portability, and price point, it's an excellent backup or a solid option for vapers looking to get into rebuilding. Keep in mind that this is a limited time vape starter kit deal, so don't miss out on this super low price.
Nevoks Angus RDA Starter Kit Features:
Built In 1,700mAh Battery
Micro USB Charging
Maximum Wattage Output: 60w
Three Wattage Levels (Low, Medium, High)
Fast Firing Speed
LED Battery Light Indicator
Various Safety Features
Unique Square RDA

Sliding Design
Clamp Style Deck
Compatible with Mesh & Regular Coils
Easy to Wick
Large Juice Well
Wide Bore Drip Tip

Zinc Alloy Construction
4 Color Options
What's Included
Nevoks Angus Device
Additional Mouthpiece
0.5 ohm Ni80 Regular Coils (3)
0.18 ohm Ni80 Mesh Coils (4)
Cotton
Screwdriver
Bag of Spares (O-Rings, Spring & Screw)
Charging Cable
User Manual