Lost Vape Centaurus DNA250C Box Mod $110.98 + FS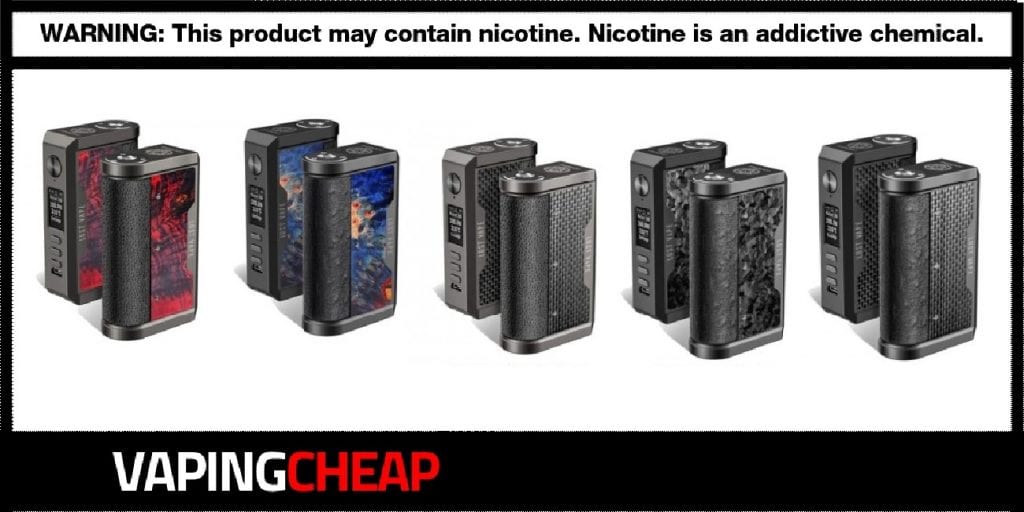 The Lost Vape Centaurus DNA250C Box Mod is now in stock and on sale! Buy yours from a China based store from only $110.98 plus free shipping using discount code "Deals"! It's also available from a USA based shipper for only $125.41 plus free shipping and a leather case! There's various color options available including the limited Stabwood editions.
The Lost Vape Centaurus DNA250C Box Mod requires two high drain 18650 batteries and can deliver a maximum wattage output of 200w. This is thanks to it being powered by the popular Evolv DNA250C chipset. With this, you'll be able to completely customize the Lost Vape Centaurus, and update its firmware. It's overall design is familiar, but that's not a bad thing! It's incredibly comfortable.
Lost Vape's Centaurus DNA250C vape mod comes ready with temperature control for various wires, Replay, and much more. Since being DNA powered, it sports a large 0.96 inch color display screen alongside a four button layout. Also, there's a bunch of different safety protections built in, which is always a huge pro.
A unique feature this box mod has is the included USB on the Go power bank, which allows you to practically charge it anywhere you are.
When it comes to DNA box mods, Lost Vape has delivered plenty of awesome devices. The Centaurus DNA250C mod is definitely one to add to their awesome lineup, and will certainly be highly sought after, especially the limited stabwood series!
Lost Vape Centaurus DNA250C 200w Mod Features:
Requires two high drain 18650 batteries (Not Included)
Maximum wattage output: 200w
Powered by the Evolv DNA250C Chipset
Escribe Software Customization and Firmware Upgradable
Stainless Steel and Leather Construction
Multiple User Modes

Temperature Control
Replay Mode
TCR Mode
Curve Mode

Large OLED Display Screen
On The Go USB Power Bank
Multiple Safety features
Four Button Layout
What's Included
Lost Vape Centaurus DNA250C Mod
User Manual
USB Type-C Cable
Warranty Card
USB On The Go Power Bank
Check Out The Lost Vape Centaurus DNA250C Review