The Kanger Pro Tank 3 vs Pro Tank 2 — A Buyer's Guide and Review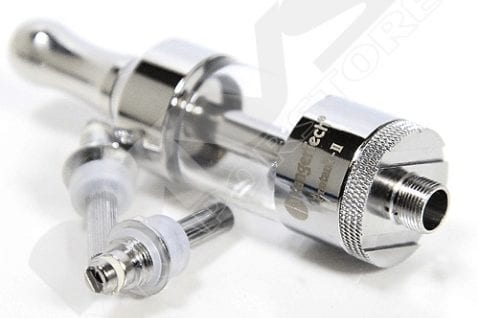 For those of you who are familiar with Kanger's extensive range of vaping tank systems and associated products, you know that they're known for cross-compatibility between products, quality vapor production and affordability.

The vaping world, this site in particular, is all about sharing information, because there's nothing more disappointing than forking out on a system that's going to let you down and need to be replaced, especially if you're a newbie vaper who just doesn't know any better.
Today I'm setting out to find answers to the more obvious questions, particularly for those of us already in possession of a Protank 2. Questions like Kanger Pro Tank 2 vs Pro Tank 3 - would it really be an upgrade? What is the actual difference between the Protank 2 and Protank 3 and how will those changes affect me?
Essentially: how do I chose the best Kanger tank for me?
Let's run through those questions and try to get them answered, maybe we'll run into further questions on the way, and if so, I intend to answer those too!
Kanger Protank 2 Vs 3: Would It Really Be An Upgrade?
It's interesting that we even have to ask this question. I mean, it stands to reason that a number 3 in the same range should feature some sort of upgrade in design which will justify forking out for a whole new tank system. Yet, on the surface these tanks look absolutely identical.
Well, the changes become apparent when you start to dismantle the piece and, once you start increasing that wattage you'll begin feeling the effects those changes have.
So the answer to this question is yes and no. Depending, really, on your vaping preferences the Pro Tank 3 may or may not be an upgrade over the Pro Tank 2. I advise you, therefore, to read on.
Difference Between The Kanger Protank 2 and 3
To answer this question I will break both pieces down into their components, highlighting differences and what they mean to the vaper.
The Shape Of The Mouth Piece/Drip Tip
The mouth piece on the Pro Tank 2 is ever so slightly extended and has a definite lip right at the tip, where as on the Pro Tank 3 it's just a fluid teardrop shape. Also the Pro Tank 3 can be fitted with a 510 drip tip, which is definitely an upgrade.
Internal Changes And Bonding
The new base and improved bonding on the Kanger Protank 3 Atomizer System, leakage improves on the Protank 2's design. That's right, the Protank 3 is now entirely glue-free and the stronger construction of the base means that the Protank 3 is much less likely to leak.
The Protank 3 also features a silicone grommet on the atomizer head instead of a rubber one, this means that you need to make sure you screw the head in just right or you'll have a problem with vapor production.
510 Threading On The Kanger Pro Tank 3
This means that you'll no longer have to buy a separate adapter to hook up to a 510 threaded Mod.
The Pro Tank 3 Upper Base Has A Shorter Canal
This small design change means that where the Pro Tank 2 head is compatible with the Pro Tank 3 upper base, the Pro Tank 3 head is not compatible with the Pro Tank 2 upper base. The Pro Tank 3 coil head is far deeper, you'll understand why with the next point.
Replaceable Parts
This is a great feature of the new Protank 3 system, not only is this tank system a breeze to disassemble and what's more, all individual components are replaceable.
Single Coil (Protank 2) vs Dual Coil (Protank 3)
Clearly, this is the biggest change and the factor which is intended to make you want to upgrade to a Protank 3 but, if you ask me, it's not that simple.
Although the dual coil is designed to allow more vapor production, I barely noticed a difference in actual vapor quantity. On testing both devices with the same e-liquid and over the same wattage range I found the two setups gave me the same airflow with one big difference…
Heat.
The Protank 2 already gives me an awesome, rich draw and really good performance on a higher wattage, so all the Protank 3's dual coil system really does is increase the heat level, power and liquid consumption.
The Protank 3 coils are going to give you a hotter vape and on a higher wattage with a greater risk of burning.
You won't be able to just keep toking, you'll need to take a break when the head starts to heat up too much.
Both pieces provide excellent flavor and vapor production but I personally prefer the cool vape of the Protank 2. The hot vape will give you a more intense flavor but for me, this isn't everything.
Remember though, if you are a slow and deep inhaler, the dual coil system might really be an upgrade for you. I'm rough on my tanks so for me a dual coil system like this can get a little too hot.
To find out more about what I mean when I talk about a cool vs a hot vape, take a look at this video - it will also give you a closer look at the real differences between the internals.
Compatibility
Where the Protank 2 is cross compatible with various other systems, the Protank 3 is not as easy.
However, you may be mainly looking for 510 compatibly…in which case you'd chose the Protank 3, although the Protank 3's dual coil design makes it incompatible with a number of other systems at the same time.
How Do I Choose The Best Kanger Tank For Me?
If you're going to be operating your system on 9 or 10 watts and not doing series after series of deep straight to lung draws then sure, opt for the Protank 3: the dual coil delivers more flavor and punch with less effort, and the new internal bondings and base construction perform better over an extended period.
However, keep in mind that a dual coil system means there's a lot of heat that wasn't there before so although the longevity is meant to be improved, the system will also, possibly, take more strain.
If, like myself, you're a serial vaper who doesn't like to put his or her piece down, the Protank 3 can get a little hot.
Conclusion
Depending on what kind of vaper you are, you may or not need 2 coils instead of one. That said, both pieces offer unique benefits.
To be honest with you, I'm a fan of both pieces. Both pieces delivered excellent flavor and a rich easy vape.
Airflow can be noisy business with any of Kanger's pieces and it's hard to avoid that gurgling after an extended session but with both the products in question Kanger delivers outstanding value for money (the Protank 2 comes in at about $12.50 and the Protank 3 at about $16.00), along with cross compatibility and a full, killer vape.
Some of my comments about the Kanger Protank 3 Atomizer System sound a little on the negative side but this is just because of my personal vaping style. The new Protank 3 delivers all the internal modifications that I would think are necessary, considering the fact that it's a dual coil system now so absolutely: big ups to Kanger in that respect.
New bonding materials and an improved base mean that overall, the system is made to balance out with the heat that's now been added. This essentially means that longevity and overall performance on the two models will be very much the same.
For me, someone who prefers a deep, cool vape…I may as well stick to my Protank 2 but for a newbie who's likely to take a smaller draw and who wants a burst of flavor and a nice warm cloud, the Protank 3 is an excellent option.
So that's it from me —hopefully I've been able to clarify a few things for you. Depending on your vaping style and whether you're a newbie vaper or not, the choice is still very much up to you.
Remember, when purchasing your new Kanger Protank, to ask the assistant about security features on the pack, this will ensure that you get a quality piece and not one of the many knockoffs I've seen floating around lately! Also, check out our Best Sub Ohm Tanks article for even more options.
Now go out there, find the perfect juice and start puffing!