Innokin Sceptre Pod System $13.99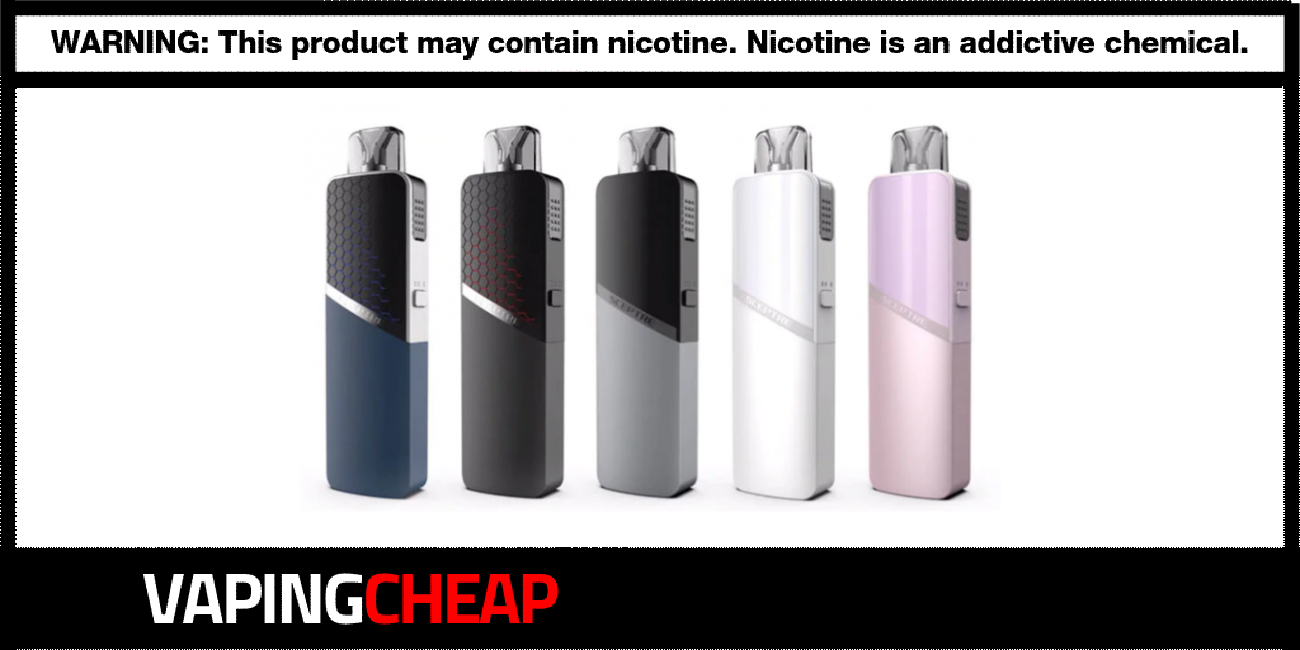 Here's a great deal and discount for the Innokin Sceptre Pod System. Buy yours for only $13.99 after using the code "Sceptre". There's seven color options available which are Black, White, Blue, Gray, Vogue Green, Groove Black and Pink.
Innokin's Sceptre Pod Mod is a highly compact and portable device constructed from zinc alloy with rubber panels for added grip. Additionally, it sports a larger built-in 1400mAh battery that can be recharged using a micro USB cable. It's impressive that Innokin packed such a big battery in a super slim form factor. Even though it's slim and portable, it still delivers 20w max.
The Sceptre Pod Kit by Innokin has two different user modes. The first one is a standard and the other is the boost mode. Boost mode gives you more power and a much warmer vape experience. To change between the modes simply press and hold the fire button when the device is off. You can also turn the device on and off by clicking the button three times. Simple and easy to do, perfect for all vapers.
What's better is that you can tell which mode you're using by looking at the LED indicator. Purple means boost mode while green indicates standard. Just like many other pod systems, this one uses a draw activated firing system. On top of all that, the Sceptre also has many safety features to keep the device and user protected.
You do get one refillable pod cartridge with the Sceptre Kit. It has a maximum e-juice capacity of 3ml and can be filled from the side. Furthermore, it does come with two replacement coil heads in the box. The 1.5 ohm coil for mouth to lung while the 0.5 ohm is for direct lung. Lastly, another great feature is that it does have an adjustable airflow design, which means you can fine tune the draw.
If you're in the market for an ultra slim pod system that's easy to use plus delivers both MTL and DL vaping, then definitely check out the Innokin Sceptre. At the price it's going for, you just can't go wrong with it!
Innokin Sceptre 20w Vape Pod Kit Features:
Internal 1400mAh battery

Recharge using a micro USB cable

Maximum wattage output: 20w
2 User Modes: Boost Mode and Standard Mode
Large Power Button
LED indicator lights
Multiple safety features
Zinc alloy construction
Compatible with the Sceptre Refillable Pod

Maximum e-juice capacity: 3ml
Side fill design
Uses two types of coil heads
Adjustable airflow system
What's Included:
Innokin Sceptre Pod System
Refillable Pod
0.15 ohm coil head
Micro USB Cable
0.5 ohm coil head
User Manual
Be sure to check out the review for the Innokin Sceptre 20w Pod Kit...