Hellvape Dead Rabbit V2 RTA $19.55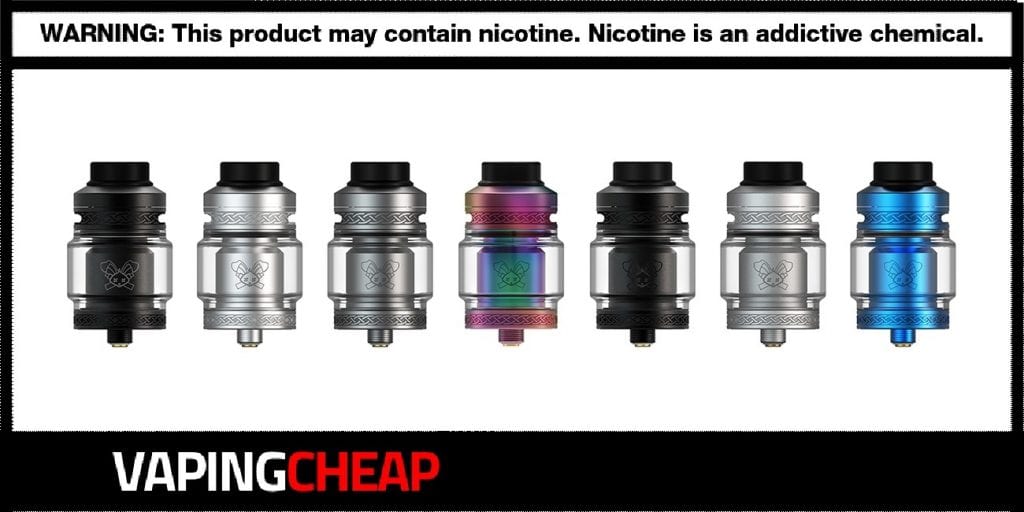 Here's an excellent deal and cheap price for the Hellvape Dead Rabbit V2 RTA. Buy yours now for just $19.55 using coupon "NS12". It's in stock at a USA based store for $24.65. There's a ton of color options available including Gold, Matte SS, Blue, Rainbow and more.
Hellvape is back with an improved version of an original, but still keeps some key features in this version 2. Firstly, the base diameter remains the same at 25mm. With its larger size, it can hold a maximum of 5ml of vape juice. To fill this RTA, simply slide the top cap to reveal the large filling port. This is an awesome fill method that we've seen with other RTAs, and makes the process that much easier.
The biggest change of the Hellvape Dead Rabbit V2 RTA is the build deck. It adopts the four post design, like we've seen with the Dead Rabbit V2 RDA, but with a twist. They raised the posts to give you even more room to build on and it also makes it easier to cut the leads off the coils. With that being said, coil installs would be an absolute breeze.
It gets even better, just like the original, it supports both single and dual coil builds. Whether you want to throw in a huge single coil, or dual coils, you sure can with the Dead Rabbit V2 RTA tank. Another unique feature is on the bottom of the build deck. It uses a PC thermal insulation plate, which helps redirect heat from your mod while preventing accidental scratches.
The Hellvape Dead Rabbit V2 RTA keeps another key features which is the adjustable top airflow design. However, it features a diagonal honeycomb design which not only smooths out the draw, but provides excellent flavor production. Not to mention, you won't be getting any leaking either. Lastly, it's constructed out of stainless steel material and has an engraved logo on the chamber.
Whether you're a fan of the original version or in the market for a new top airflow tank that supports various coil builds, you'll want to check out the Dead Rabbit V2 RTA by Hellvape. It offers some awesome improvements in the design, providing you vapers with an even better quality product.
Hellvape Dead Rabbit V2 25mm RTA Features:
Overall diameter: 25mm
Maximum e-juice capacity: 5ml (Bubble Glass), 2ml (Straight Glass)
Sliding top fill design
Four post build deck
Supports single and dual coil builds
Adjustable top airflow
Stainless steel construction
Gold plated 510 connection pin
Wide bore drip tip
Various color options
What's Included:
Hellvape Dead Rabbit V2 RTA
Bubble Glass Tank
Dead Rabbit Sticker
Accessories
User Manual
Check Out The Hellvape Dead Rabbit V2 RTA Review
More Great Vape Deals...
---
Vapefly Firebolt Cotton $1.89
For a limited time only, the Vapefly Fireboly Cotton 20pcs is now on sale right here for only $2.99! No coupon code required to get this[...]
Asmodus Lustro Box Mod $24.99
Temperature Control Box Mod The Asmodus Lustro Box Mod is now in stock and on sale right here for only $36.00 using coupon[...]